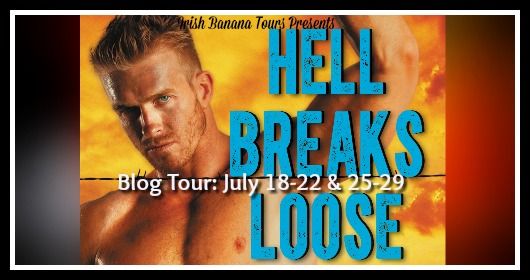 Hell hath no hunger like a man let out of a cage . . .
Shy and awkward, First Daughter Grace Reeves has always done what she's told. Tired of taking orders, she escapes her security detail for a rare moment of peace. Except her worst nightmare comes to life when a ruthless gang of criminals abducts her. Her only choice is to place her trust in Reid Allister, an escaped convict whose piercing gaze awakens something deep inside her. Reid is nothing like her other captors.
He's tougher, smarter…and one blistering look from him makes her hotter than any man ever has.
Reid spent years plotting escape and revenge . . .years without a woman in his bed. For this hardened felon, Grace Reeves isn't just out of his league—she's from another planet, but that doesn't stop him from wanting her. Escaping Devil's Rock was tough, but resisting this woman could be the end of him. For a man with nothing to lose, protecting her . . . claiming her as his own, becomes more necessary than his next breath.
I want to thank Avon for supplying me with a copy of this book to read and give an honest review. Receiving this book for free has in no way altered my opinion or review.
I was anxiously awaiting the next book in this series. As you can imagine, watching a series where criminals are the main characters is completely enthralling. I am loving every minute of seeing how their stories play out. Just when I think there is no way they could possibly get out of a situation, they do. Just when I think they could not possibly find love, they do. Just when I think Jordan can't come up with another twist, she does! How does she do that?
If you haven't read the first book in this series, I cannot promise there won't be some spoilers about the main character from that book. It's nothing you won't learn fairly quickly in that book, but still...if you don't want to know it, stop here!
This is Reid's story. If you read the first book in the Devi's Rock series, you'll remember Reid as the man who friended Knox and North when they went into prison. And also as the man who vowed to look after Reid once Knox was paroled. And Reid is nothing if not a man of his word. So when given the chance to try and set some wrongs right, but not being able to keep his word to Knox, he's torn, but takes his chances. I love Reid's hard edges. He's a man who hasn't had a chance to experience life since he was put in the pen at such a young age. He's spent eleven years not knowing what it's like to be free and is set to spend the rest of his life under the same circumstances. I won't tell you how he gets a chance at this freedom, just know that it comes at a price and he puts himself in a position to surely pay for it. I love the mysteriousness of Reid. You don't really know his story and he's not really willing to give away any details. It kept me riveted to the story for sure.
Grace is the president's daughter. Always under surveillance. Always escorted. Never able to lead a regular life. She wants for nothing but it's not enough. She yearns for freedom, even if it's just one night to be on her own and not worry about what everyone else thinks or how she has to act or who has to follow her around. But when she takes that once night of freedom it comes at a price, and that price might just be her life. Grace is shy and awkward and does what she's told. She's not a strong woman when we meet her. But all this changes when she is put in the position where her life might be on the line.
Throw together a hardened criminal and a shy first daughter and it's surprising how fast the sparks fly. I love that Jordan starts the book off with a bang. There's no censure, but just pure raw emotion and chemistry between these two. And though you might find the plot a little odd, it actually works well. I wasn't sure it would. I mean, how could it, right? But Jordan really develops such a great bond between these two. And it's not Stockholm Syndrome, though I had my doubts at first. It really is an emotionally charged connection that holds these two together.
And there is the right amount of steamy thrown in, of course. Passion and lust surely play a role, but you see tenderness in the relationship and there's also a bit of humor which I loved. There is so much intensity in how they relate it's hard not to love them together.
The plot of this story is interesting and certainly keeps you on your toes. There are a few instances I was sure neither character would survive the situation! Jordan kept me on my toes! And the pacing was pretty perfect. I wasn't sure Jordan would be able to keep me interested with the direction she took (let's just say a large portion of the story only involves the two characters and no one else) but it really worked!
I cannot wait to see where the rest of this series goes. Jordan never disappoints me with her unique story lines and intricate and interesting plots! Who would have thoughts inmates as heroes would have hit home!
Sophie Jordan took her adolescent daydreaming one step further and penned her first historical romance in the back of her high school Spanish class. This passion led her to pursue a degree in English and History.
A brief stint in law school taught her that case law was not nearly as interesting as literature - teaching English seemed the natural recourse. After several years teaching high school students to love
Antigone
, Sophie resigned with the birth of her first child and decided it was time to pursue the long-held dream of writing.
In less than three years, her first book,
Once Upon A Wedding Night
, a 2006 Romantic Times Reviewers' Choice Nominee for Best First Historical, hit book shelves. Her second novel,
Too Wicked To Tame
, released in March 2007 with a bang, landing on the USA Today Bestseller's List.
a Rafflecopter giveaway