Author: Michael Rubens
Pub. Date: August 2, 2016
Publisher: Clarion Books
Pages: 304
Formats: Hardcover, eBook



PLAYLIST SELECTS
"Alison" Elvis Costello
The song that sets the book in motion, the song the protagonist sings – well, attempts to sing – to a girl named Alison and gets clubbed over the head with his mandolin for his efforts. And, by the way, a great song by a fantastic songwriter.
"Fireflies" Rhett Miller and Rachel Yamagata
Big fan of Rhett Miller's songwriting and lyrics, both as a independent artist and as the lead singer of the Old 97s. Love the sad, almost languid back and forth duet in this song. It's also the song that inspires Austin to see what it's like to lay down on some train tracks, an activity I do not recommend.
I recently got a chance to hang out with Rhett after one of his shows in NYC, and it was a struggle to not transform into some sort of slobbering, puppy-like fanboy (perhaps you've had a similar experience). Rhett was gracious and warm and funny and seemed genuinely pleased to hear that I mention him and his music in the book, and at least pretended to be excited to get a signed copy of it. The moral of this story: buy more music by the Old 97s and Rhett Miller.
"Starfishin'" Amy Correia
Amy Correia is just a fantastic singer-songwriter and should be massively famous. I used to go see her perform in NYC way back, and each time it felt special. And speaking of Amy Correia...
"Blind River Boy" Amy Correia
Another beautiful song from Amy Correia – actually about the immensely talented Jeff Buckley, and how he died young, drowning in the Wolf River in Memphis. A song Austin and his father Shane sing together while sitting near their own river.
"Too Much" Sufjan Stevens
I often think Sufjan Stevens' songs are like being lost in an angel's fugue state. Another Sufjan song makes a key appearance in the book at a pivotal moment.
"Roll in My Sweet Baby's Arms"
The book begins and ends with a mandolin, so here's a selection featuring my mandolin hero, Chris Thile. I play* mandolin, and when I was learning it was difficult to find a teacher in NYC so I was constantly buying instructional books and tapes and VHS cassettes. The point is, somewhere I have a dusty VHS tape featuring a very young Chris Thile – and I mean very young, as in maybe twelve – relating his mandolin wisdom in what I remember as a prepubescent voice, an experience that was both enlightening and vaguely humiliating.
* I use this verb here in a very loose and admittedly charitable manner.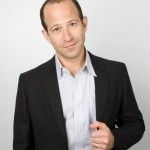 Michael Rubens is the author of
The Sheriff of Yrnameer
and
Sons of the 613
. He was a producer for several years for the Emmy- and Peabody-award-winning Daily Show with Jon Stewart, and has written and produced for CNN, Oxygen, the Travel Channel and other networks. It's theoretically possible that you saw him as the host of Eclipse Chasers: Ghana on the Travel Channel. He was also, for a very brief period, the World's Least Effective Bouncer. He lives with his wife and daughter in Brooklyn, New York, and feels that the practice of writing one's bio in the third person is somewhat questionable.
He is represented by John Silbersack at Trident Media Group.
a Rafflecopter giveaway
Tour Schedule
Week One:
7/25/2016-
The Cover Contessa
-
Guest Post
7/26/2016-
Owl Always Be Reading
-
Review
7/27/2016-
Once Upon a Twilight
-
Excerpt
7/29/2016-
Fall Into Books
-
Guest Post
Week Two:
8/1/2016-
YA Book Madness
-
Review
8/2/2016-
Curling Up With A Good Book
-
Guest Post
8/3/2016-
Here's to Happy Endings
-
Review
8/4/2016-
Books and Ladders-
Excerpt
8/5/2016-
Riddle's Reviews
-
Review