PULL
Author: Anne Riley
Release Date: February 2, 2016
Publisher: Spencer Hill Press
Rosie Clayton witnesses a mugging on her first night in London—and then the scene rewinds itself.
She finds herself standing in the same place again, with the mugging happening just like before, except this time a stranger steps in and stops it. There's no way the same incident can have two outcomes. Rosie thinks she's losing her mind, until just a few days later, the stranger saves her.
The stranger, Albert, and his band of misfit crime-fighters, have the special ability to Pull, which allows them to rewind just enough time to undo a recent event. Someone is hunting Albert and his crew– and now that Rosie's been seen with them, she's a target too. Rosie is left with no choice but to trust Albert to keep her safe.
As Rosie learns more about this unbelievable ability and the people – if you can call them that – who want them dead, she discovers that the group's desire for her blood might be more than mere coincidence. Each step into this magical side of London introduces Rosie to a family history that she never knew existed, and dangerous forces that could unravel her world in an instant.
Her family may be the reason they're all being hunted—and she may be the only one who can figure out how to save them. Sure, between the lot of them, they have a few shots to get it right. The thing about Pulling, though, is you have to be alive to do it.
10 Random Things About Anne Riley:
1) I studied abroad in Madrid, Spain, as a sophomore in college. I'm now fluent in Spanish, and teach it on the high school level.
2) Nothing strikes fear in my heart like the ringing of my doorbell. Whoever it is, I assume they're at my house to kill me. I always hide--every time.
3) I wrote my first book when I was nine years old. It was about ferrets.
4) I prefer to dip my fries in mayonnaise, not ketchup.
5) I have two daughters, ages 5 and 3, and another daughter due in the spring. My husband is woefully outnumbered.
6) One summer, I took bellydance lessons. I had a jingly skirt and everything. It was really, really awkward.
7) I'm quite tall--5'10"--and it took me until about age 28 to finally appreciate my height instead of feeling ashamed of it. My daughters (ages 5 and 3) are tall, like me, and I make every effort NOT to comment on it, because I remember how embarrassing it was to always have that pointed out when I was younger!
8) I grew up in a farmhouse that was built in the late 1920s. My room had a (sadly nonfunctioning) maid's bell, and there was a small, dark coal cellar in the basement. The cellar was such a creepy place--but such great fodder for stories!
9) I have an unhealthy obsession with pimiento cheese.
10) I once sent a handwritten letter to Madeleine L'Engle--and she sent me a handwritten letter back. I still have it somewhere at my parents' house, in my old room.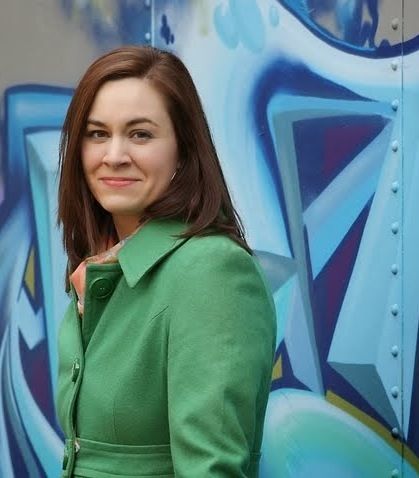 Anne Riley is an author of young adult fiction cleverly disguised as a high school Spanish teacher. She lives in Birmingham, Alabama, with her family.
Anne began writing at the ripe old age of nine, when she penned a literary classic about… well, she doesn't really remember what it was about, but she's pretty sure the main characters were ferrets.
These days, she writes stories about teenagers instead of ferrets.
GOODREADS
|
TWITTER
|
WEBSITE
a Rafflecopter giveaway
WEEK ONE
January 18th
Such A Novel Idea
REVIEW
January 19th
The Cover Contessa
TEN RANDOM THINGS
January 20th
Shelf Life
REVIEW
January 21st
Curling Up With A Good Book
BOOK EXCERPT
January 22nd
The Goth Girl Reads
REVIEW
WEEK TWO
January 25th
A Dream Within A Dream
REVIEW
January 26th
Kindle And Me
MUSIC PLAYLIST
January 27th
Her Book Thoughts
REVIEW
January 28th
Feed Your Fiction Addiction
REVIEW
January 29th
Readsalot
REVIEW