Inked
Release Date: January 20th 2015
Tattoos once were an act of rebellion.
Now they decide your destiny the moment the magical Ink settles under your skin.
And in a world where Ink controls your fate, Caenum can't escape soon enough. He is ready to run from his family, and his best friend Dreya, and the home he has known, just to have a chance at a choice.
But when he upsets the very Scribe scheduled to give him his Ink on his eighteenth birthday, he unwittingly sets in motion a series of events that sends the corrupt, magic-fearing government, The Citadel, after him and those he loves.
Now Caenum, Dreya, and their reluctant companion Kenzi must find their way to the Sanctuary, a secret town where those with the gift of magic are safe. Along the way, they learn the truth behind Ink, its dark origins, and why they are the only ones who can stop the Citadel.
Eric Smith takes you on a high-octane fantasy adventure, perfect for anyone who has dreamed of being different… only to discover that fate is more than skin deep.
"INKED is an action-packed read with a hero I could root for, magic I wanted to have, and a vivid fantasy world to back it all up. Smith's prose had me turning pages way past my bedtime." - Susan Dennard, author of SOMETHING STRANGE & DEADLY
"A fast-paced page-turner from Eric Smith filled with magic, mystery and mayhem." - Kristi Helvig, Author of BURN OUT
"With a lively cast of characters and a captivating idea, INKED draws its readers into a world where magic lives on every page." Kat Zhang, author of The Hybrid Chronicles series
An interview with Eric Smith!
Did you always know you wanted to be a writer or did you want to be something else?
I did go back and forth a bit when I was a kid. There was definitely a moment when I thought I'd be a veterinarian. I'm a big animal lover. My wife and I have a dog, a chinchilla, and a bunny. But, that wasn't quite in the cards for me. I wrote ferociously as a kid on a beat up electric typewriter and gave those short stories out to kids.
No one liked them, hahah.
I really dove into writing in graduate school, thanks to some incredibly supportive professors that pushed me a lot. Now, two published books later, and a third one on the way in May, I thank them whenever I get a chance.
How long does it take you to write a book from start to finish?
Depends on the book, I think. The Geek's Guide to Dating took a few months, but those were some really long days and nights of trying to finish it on a deadline. Inked however, and the sequel, those didn't really have deadlines.
I probably worked on Inked for a solid year and a half before I found my agent, and revised it for another year with my editor after it was sold. Inked 2, took about a year.
Some other projects I've got kicking around… yeah, I think those both took a year or so. So let's go with a year. That feels like the average.
How do you come up with themes for your stories?
I like to pull from real life experience. Inked's all about not wanting to be kept in a box, and do what people expect of you. And some of my other projects deal with similar topics. Stuff that I felt like I struggled with as a teenager, that I know plenty of other kids wrestle with now.
Do you have a schedule of when you write?
Generally during the day. I'm a literary agent, so when I don't have manuscripts to read or edit, or books to put on submission, that's generally when I get to work. So no real schedule, but the weekday, mornings and afternoons, those are my favorite times.
How are you able to balance other aspects of your life with your writing?
It can be tough. Luckily, my favorite things to do other than writing, is reading and teaching about writing / books. So all of that, that's easy to balance, cause it all sorta blends together, you know?
But I definitely make sure I set aside proper time for my wife and my friends. Writing generally stops after 5PM. That's Netflix time, or going out to eat time, or whatever. Given, I usually end up rambling about whatever I'm reading or writing during that time.
What elements do you think make a great story line?
Oooh, this is hard. Memorable, relatable characters, most definitely. If a reader can see themselves in the story, and in the characters and their actions… that's a good story. Especially when that story breaks down boundaries and does something different and unique.
What was the hardest thing about writing a book?
Knowing when it's done. Absolutely. It's really hard to put down a draft and say "this is it, it's finished" and send it off to my editor / agent. That struggle is pretty intense.
How many books have you written so far? Do you have a favorite?
I've got three published, two that are actually out, one that's on it's way. The Geek's Guide to Dating, which is a humor / pop culture book, and my YA series, Inked. The first book came out last year around this time, and the second, Inked II (the title will be revealed soon, yay!), should be out in May.
Do you have a favorite character?
That I've written, or in general?
If we're talking about one I've written… probably Rausch, in Inked. He's actually based on a good friend of mine, a writer buddy, down to the appearance and even the name. So he has a special place in my heart.
Characters that I haven't written, probably Captain Nemo in 20,000 Leagues Under the Sea. That's the book that really swept me up into the book world and wanting to write. He was an outcast, who had a difficult time finding his place. Lots to relate to. Love him.
Ugh, I am a cliché. There's a Starbucks that I really like around the corner from me. If I'm not there, I have a little home office. If it's neither of those two places, I'll hop around from coffeeshop to coffeeshop in the city.
When deciding on how to publish, what directed you to the route you took?
Well I love Bloomsbury. They published absolutely fantastic books. And when my agent told me their digital imprint, Bloomsbury Spark, was interested, I jumped at the chance. I mean, that's a legendary publishing house. Why wouldn't I want to be there?
When it comes to direction, definitely my agent. Her guidance always points me in the right direction. Hi Dawn!
What kinds of things do you like to do outside of writing?
I play a lot of video games. Maybe too many. I also love the outdoors, like going on really long walks and exploring different parts of the city where I live.
What kinds of advice would you give to someone who wants to start writing?
First, read as much as you can. Particularly in the genre you want to be writing in. Absorb as much as possible. Then, just dive in. Don't get held up thinking about it too much. Don't be that writer who talks about writing, but never does. Hit the keyboard, attack that blank screen.
What is your favorite book? Favorite author? Do you have an author that inspired/inspires you to write?
High Fidelity
by Nick Hornby, and Hornby is also my favorite author. While Jules Verne definitely helped me catch the reading bug and made me want to write, Hornby really hooked me.
Do you have any go to people when writing a book that help you with your story lines as well as editing, beta reading and such?
I do! I have a few good pals that I write with all the time, as well as a critique group that I meetup with every other week or so.
Are you working on anything now?
I am! It's a secret, and it's sold. It'll hopefully be announced this month.
Thanks so much for stopping by today, Eric. It was great having you here with us on The Cover Contessa!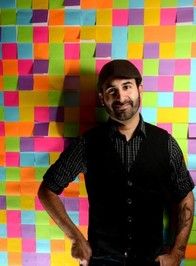 Eric Smith is the author of THE GEEK'S GUIDE TO DATING, out now via Quirk Books, and INKED, a YA novel out with Bloomsbury Spark.

His writing has appeared locally in the Philly Weekly, The Inquirer, and on Philly.com. He's written for the Huffington Post, BuzzFeed, Boing Boing, and is a regular contributor to BookRiot and Geekosystem.

His essays have appeared in the Bygone Bureau and The Apiary, and his first published piece will appear in THE ASTEROID BELT ALMANAC with the Hand & the Hand Press in April 2014.

He's the co-founder of Geekadelphia, a popular hyperlocal geek blog in Philly, and the Philly Geek Awards, a ceremony honoring local geeks in his city.

Eric holds a BA in English from Kean University and an MA in English from Arcadia University. He currently lives in Philly. You can find him on Twitter at @ericsmithrocks and @geekadelphia.
a Rafflecopter giveaway