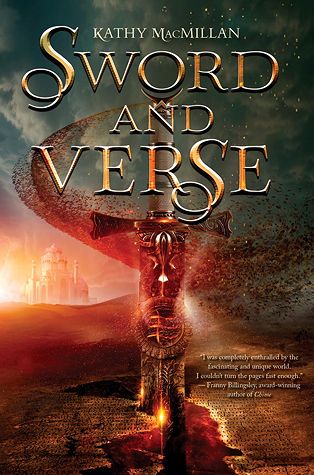 Raisa was just a child when she was sold to work as a slave in the kingdom of Qilara. Despite her young age, her father was teaching her to read and write, grooming her to take his place as a Learned One. In Qilara, the Arnathim, like Raisa, are the lowest class, and literacy is a capital offense. What's more, only the king, prince, tutor, and tutor-in-training are allowed to learn the very highest order language, the language of the gods. So when the tutor-in-training is executed for teaching slaves this sacred language, and Raisa is selected to replace her, Raisa knows any slipup on her part could mean death.

Keeping her secret is hard enough, but the romance that's been growing between her and Prince Mati isn't helping matters. Then Raisa is approached by the Resistance—an underground army of slave rebels—to help liberate Arnath slaves. She wants to free her people, but that would mean aiding a war against Mati. As Raisa struggles with what to do, she discovers a secret that the Qilarites have been hiding for centuries—one that, if uncovered, could bring the kingdom to its knees.
Title: Sword and Verse (Sword and Verse #1)
Author: Kathy MacMillan
Publisher: Harper Teen
Publication Date: January 19, 2016
Brooke's Review:
I want to thank Harper Teen for providing me with a copy of this book to read and give an honest review. Receiving this book for free has in no way altered my opinion or review.
I will say that when I first saw this title on Edelweiss and read the synopsis, I wasn't really all that interested. But then I saw it popping up on my newsfeed through my bookish friends. And everything they were saying was great. So I went back and read the blurb again. And I decided it intrigued me and I wanted to see what all the hype was about. I've been more and more turning to fantasy novels lately. Turns out, the hype was all it was about for me. Unfortunately, this book just didn't hit the mark.
What to say about Raisa, the main character. I didn't connect with her is my first thought. When we meet her she's quite young, though she doesn't seem so from how she is portrayed. In just a few chapters she quickly ages, but I don't see her change much with her experience. I see the same girl I saw on the very first few pages. She's naive for sure, and easily swayed. Especially by the handsome prince who woos her almost immediately. And then the book takes off into this romance that's not even a whirlwind. It's just kind of there all of a sudden and you're wondering where it came from. I found her weak for a girl who was going to rebel against everything in the end. Why would people even want to follow her? She gave me no reason for it.
And Mati, I didn't understand his attraction to Raisa at all. He barely knows her, yet he's so in love with her. I didn't get an idea of what his personality was like. I didn't see how he could want to be with her. I also didn't see him grow as a character. He's set to become the king of all this land but he barely trains for it. And then he's off to this political summit and that political summit, yet we never see what he gets out of them. He's flat and uninteresting and I just did not see what Raisa saw in him besides his title.
Then there's the plot. Who wouldn't want to read about a world where reading was pretty much banned for anyone except those who are part of the royalty. I thought it would be fascinating to find out how this Kingdom came to be. But I still have no idea, to be honest. Where was the world building? Fantasy heavily relies on the author building a world that is believable despite the fact that it could never possibly be real. But I didn't get that at all in this book. I wasn't sure what type of land it was, though it struck me that it was desert like, so maybe something based of the Middle East?
And then there's the fact that the entire book revolves around the romance. I thought for sure Raisa would be the voice of her people. But really, she's just this love sick girl who can't think of anything else but her price. And there's no build up to their relationship. Where's the tension and the swooning that is supposed to happen with these types of books? It just wasn't there. Faster than a blink of an eye, they are together and doing things I certainly would want them to wait on since they barely know each other. There was no thrill of the chase.
Finally at 88% there was some action that moved the book along. Before that time I will say it was a struggle for me feel invested in the book. There was nothing to move the plot along. And I pushed myself to finish it because I thought for sure it would pick up. and it did but much too late for my taste.
Overall this book was just too boring for me. It lacked any of the enchantment I was hoping for from a fantasy adventure. I have no idea what the world is really like, nor do I know why it came into existence. And I really couldn't even explain to you what the characters look like or what their personalities were like except for being flat. I struggled to connect with them and have any feeling for them at all. I'm even surprised that it is going to be a series as this first book wraps up enough and doesn't leave me wondering where the next part will go.
Unfortunately, I won't be continuing on with this series.