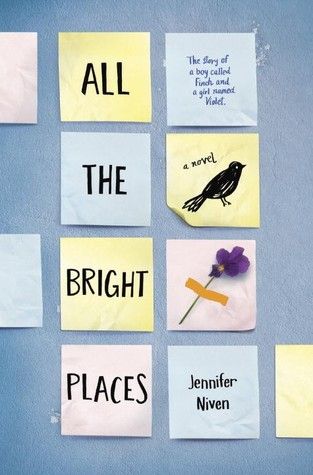 The Fault in Our Stars meets Eleanor and Park in this exhilarating and heart-wrenching love story about a girl who learns to live from a boy who intends to die.
Soon to be a major motion picture starring Elle Fanning!
Theodore Finch
is fascinated by death, and he constantly thinks of ways he might kill himself. But each time, something good, no matter how small, stops him.
Violet Markey
lives for the future, counting the days until graduation, when she can escape her Indiana town and her aching grief in the wake of her sister's recent death.
When Finch and Violet meet on the ledge of the bell tower at school, it's unclear who saves whom. And when they pair up on a project to discover the "natural wonders" of their state, both Finch and Violet make more important discoveries: It's only with Violet that Finch can be himself—a weird, funny, live-out-loud guy who's not such a freak after all. And it's only with Finch that Violet can forget to count away the days and start living them. But as Violet's world grows, Finch's begins to shrink.
This is an intense, gripping novel perfect for fans of Jay Asher, Rainbow Rowell, John Green, Gayle Forman, and Jenny Downham from a talented new voice in YA, Jennifer Niven.
Includes a PDF Help Line Resource Guide and a Note Read by the Author.
Title: All The Bright
Places
Author: Jennifer Niven
Publisher: Knopf
Publication Date: January 6, 2015
Brooke's Review:
I want to thank Knopf for providing me with a copy of this book to read and give an honest review. Receiving the book for free has in no way altered my opinion or review.
I can't even remember if I read the blurb for this book, but it was slated as Eleanor and Park meets The Fault in Our Stars. And, even though I haven't read Eleanor and Park, I figured this couldn't be a bad thing because I loved TFiOS and I know my friends loved E&P. So I figured I'd just dive right in and see where it went.
Violet Markey has known tragedy. Less than a year ago she lost her older sister in a car accident. Since then, she hasn't really been living. Too scared to drive, or even get in a car, she rides her bike or walks to school. She's isolated herself from her friends, her family, and her boyfriend. And she's quit all her after school activities. She hasn't touched the e-magazine she and her sister Eleanor made together. Her depression has engulfed her to the point that she's not even sure who she is anymore. She questions why she was the one to live. When she decides that life may not be worth living anymore, Theodore Finch is thrown her way and her world is turned around.
I loved Violet's character. She's strong, but her soft spots are evident. And the best part of her is how she is able to serve as this bright spark that pulls Theo from his own deep depression.
Theodore Finch is, well, he's different. Or rather, he's misunderstood. He comes across as almost a genius, noe who really doesn't know how to be social with others. He's thoughtful and funny, intelligent and snarky. If you liked Gus from TFiOS, then you will no doubt love Theo's awkwardness and penchant for turning situations funny and fantastic. Yet there's a sadness about Finch that just makes you want to hold him. He knows that he has something wrong with him that causes him to pull away from the world and yet he cannot seem to do anything about it. He's never honest with the adults in his life. Who he is honest with is Violet because she seems to be the one thing that makes his life shine. Throughout the book my heart completely broke for Finch. I so wanted him to get the help he needed. I wanted him to open up and show Violet who he really was so she could help him, too. But his thoughts always verged on how he could take his own life rather than how Violet might be able to help him.
Don't get me started on his family, who completely ignored all his cries for help. He's labeled as the weirdo, the freak, the outcast, the trouble maker. When he goes into his bout of depression, his family says "that's just how he is." No one ever questions that this poor boy might need some serious help or he might decide that life is just not worth living. I was angry at the family for the entire book. And don't get me started on his abusive father, who treats him as no more than a throw rug.
Niven addresses mental illness at it's core. She doesn't let things slide because it's too hard to get to the heart of the issues, she puts it out there and sticks the reader's face right into it. She demonstrates exactly how someone who feels there is nowhere to go can go to the place that takes it all away. There is suffering and grief, but there is also happiness in between, demonstrating the ups and downs someone with bipolar disorder may experience. Throughout the book I was on the edge of my seat trying to figure out exactly what would happen. Would Violet break through to Finch. Would Finch see that she only wanted him to seek the help he needed? In the end I will let you see what happens because I certainly don't want to spoil it.
And Niven's writing is amazing. I cannot tell you how well she portrays the two characters as the chapters in this book alternate between points of view. You watch their development as they become closer and closer.
If you're looking for a book that will get your heart running the emotional gauntlet, this one is it. There are happy and sad places throughout, but mostly Niven makes use really understand the seriousness of mental illness and just how it affects not only the person who experiences it, but those around them, as well. Lovers or John Green, Rainbow Rowell, and Jay Asher will be swept away by Niven's true to life portrayal of people who deal with Depression and just how deep into despair they can go.
By the time I was ten, I had already written numerous songs, a poem for Parker Stevenson ("If there were a Miss America for men, You would surely win"), two autobiographies (All About Me and My Life in Indiana: I Will Never Be Happy Again), a Christmas story, several picture books (which I illustrated myself) featuring the Doodle Bugs from Outer Space, a play about Laura Ingalls Wilder's sister entitled Blindness Strikes Mary, a series of prison mysteries, a collection of short stories featuring me as the main character (an internationally famous rock star detective), and a partially finished novel about Vietnam. I was also an excellent speller from a very early age.
In 2000, I started writing full-time, and I haven't stopped... I've written eight books (two of those are forthcoming), and when I'm not working on the ninth, I'm contributing to my web magazine, Germ (
www.germmagazine.com
), thinking up new books, and dabbling in TV. I am always writing.