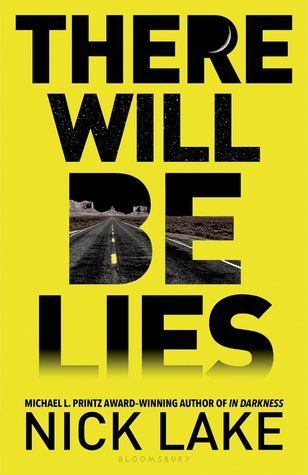 In four hours, Shelby Jane Cooper will be struck by a car.

Shortly after, she and her mother will leave the hospital and set out on a winding journey toward the Grand Canyon.

All Shelby knows is that they're running from dangers only her mother understands. And the further they travel, the more Shelby questions everything about her past—and her current reality. Forced to take advantage of the kindness of unsuspecting travelers, Shelby grapples with what's real, what isn't, and who she can trust . . . if anybody.

Award-winning author Nick Lake proves his skills as a master storyteller in this heart-pounding new novel. This emotionally charged thrill ride leads to a shocking ending that will have readers flipping back to the beginning.
Title: There Will Be Lies
Author: Nick Lake
Publisher: Bloomsbury USA Childrens
Publication Date: January 6, 2015
Brooke's Review:
I want to thank Bloomsbury USA Children's for providing me with a early copy of this book to read and give an honest review.
Unfortunately, I think this book just wasn't for me. It's not that it's not well written. As a matter of fact, I think the writing is really great. It flows really well and keeps my interest enough. But it didt pull me in so that I wanted to keep reading. It didn't make me cling to the book. I just can't seem to get into the plot, or the characters. Even at 130+ pages into the book, I still hadn't connected with anyone and that was getting on my nerves. I wanted to be empathetic with the main character, but I just couldn't do it.
And the way the dialogue was presented on the page, no quotes for when the characters talk, throws me too much to keep my interest. So I must refrain from rating it or writing a full review.
This who like mystery with a bit of the paranormal thrown in will most likely enjoy this book.
My name is Nick and I write and edit books for young adults. My first YA novel IN DARKNESS, was published by Bloomsbury in 2012 and won the Michael L Printz Award for Excellence in YA Literature. I also wrote a book called HOSTAGE THREE about a girl kidnapped by Somali pirates.
THERE WILL BE LIES is coming in January 15 and is about a girl who learns that everything she knows is a lie. To say it's a book with a twist in the story would be a massive understatement. There is also a talking coyote in it.
I live with my wife, daughter and son in a 16th century house in England with almost 19th century amenities. Sometimes the heating even works.
I like: reading, art, music, food containing sugar, cities at night, the countryside in the daytime, vintage furniture, modern standards of heating (see above), travelling.
I dislike: being sick, failing, being underdressed in the cold, being overdressed in the heat, the unnecessary suffering of children, being punched in the face.