Welcome to The Cover Contessa's stop on the Anomaly blog tour!


Anomaly
(Schrodinger's Consortium #1)
Reality is only an illusion.
Except for those who can control it…

Worst. Birthday. Ever.
My first boyfriend dumped me – happy birthday, Josie!- my dad is who knows where, I have some weird virus that makes me want to hurl, and now my ex is licking another girl's tonsils. Oh, and I'm officially the same age as my brother was when he died. Yeah, today is about as fun-filled as the swamps of Dagobah. But then weird things start happening…
Like I make something materialize just by thinking about it.
When hot badass Reid Wentworth shows up on a motorcycle, everything changes. Like, everything. Who I am. My family. What really happened to my brother. Existence. I am Oculi, and I have the ability to change reality with my thoughts. Now Reid, in all his hotness, is charged with guiding and protecting me as I begin learning how to bend reality. And he's the only thing standing between me and the secret organization that wants me dead…
Brooke's Review:
I'd like to thank Entangled Teen for providing me with a copy of this book to read and give an honest review. Receiving this book for free has in no way altered my opinion or review.
So this is one of those book that starts out with a bang. We're pushed right into Josie's world that takes a turn for the worst, and right on her birthday when her boyfriend decides to break up with her! Worst way to start it, right? But right from the start I knew that there were great things waiting for Josie, so I wasn't worried that she wouldn't bounce back. And that she did.
My most favorite part of this book was the geeky nerd that Josie is. And she's not afraid that others know about it. She intelligent, but she's also really strong. And she loves Star Wars, so what's not to like. She was easy to relate to and seemed down to earth and genuine. And I love that she's so open to all the changes she's going through.
Enter Reid. Yup, he's the swoon worthy man of the story. And I love that you get his point of view. He's got secrets he's keeping from Josie, things he can't tell her because he's sure they will make her run the other way. But when push comes to shove, it's really about his need to protect her, and so his secret remains locked away. At least for a while.
Kuper certainly fills her story with tons of action. While there were parts that were slow, there were enough twists and turns to keep me coming back and wanting to know how it would all end. And the way the characters can change things was really interesting. Kuper also did a nice job with the world building in this book. There really wasn't anything left to question, the descriptions really leant to understanding what exactly was happening and why. I did find a few plot holes in the book, places where I thought there really needed to be more explanation so it would coincide with what we had been exposed to earlier, but they didn't take away from my enjoyment of it.
I will say that Josie's relationship with her mom made me sad. And the way her mom used her as a pawn also made me mad. I didn't feel like she cared about Josie. I suppose this leant to Josie becoming more independent and self-serving when the need arose, which was good since she's fighting some kind of evil at every turn.
Oh and did a mention my cover love for this book? From the first moment I saw it, the cover alone made me want to pick up a copy of this book. The blurb only made me that much more interested.
Overall it was a very enjoyable read. I am curious to see how Kuper plays the next book out.
Tonya Kuper's debut, ANOMALY, the first in the Schrodinger's Consortium young adult scifi trilogy, releases November 2014 by Entangled Teen. She lives in Omaha, NE with her two rad boys and husband, is a music junkie, and a chocolate addict. Star Wars & Sherlock fan.

Author Links:
You could win one of these prizes!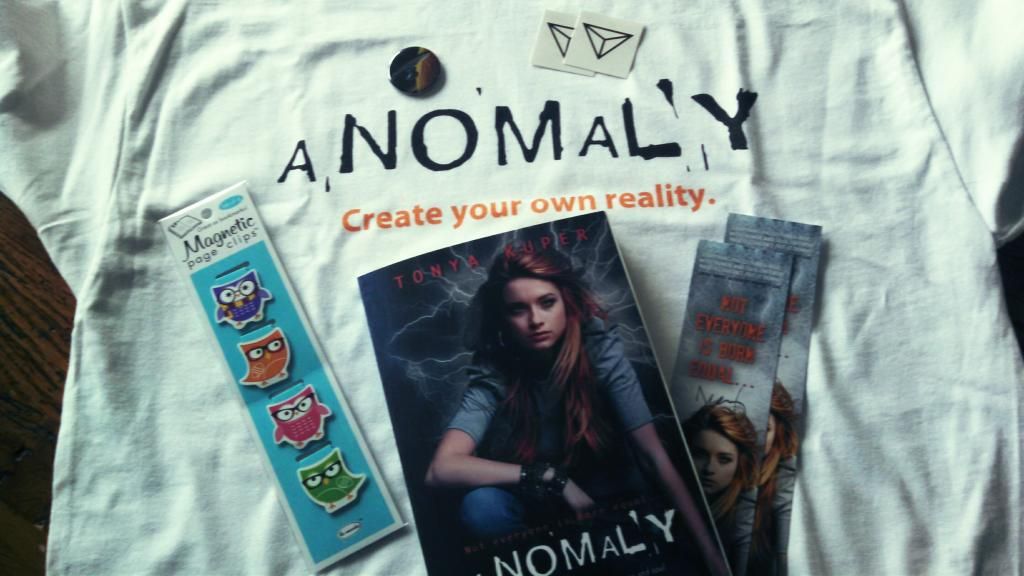 a Rafflecopter giveaway