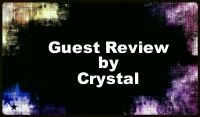 Confined by law to the kingdom of Alvair until the age of eighteen, Alexa has lived a sheltered existence under the watchful eye of her sword-wielding guardian, Ivy. Her love interest, Caleb Whitman, is exactly the opposite. A merchant sailor and seeker of rare artifacts, Caleb has lived a life of adventure in nearby San Lucero, the long-time rival of Alvair.
After her eighteenth birthday, Alexa's quiet existence becomes tumultuous, and she realizes she does not need to seek to find adventure. Myths become real, legend becomes fact, and Alexa discovers that she possesses rare abilities which make her a target for both sides in a centuries-old struggle for power. She must use every resource available to her—including her talents with the supernatural Amulets—to help her friends, rekindle her romance with Caleb, and save her island home from destruction
Crystal's Review:
I was given a copy of Amulet of Elusion for my honest review.
I took the opportunity to review the book because I liked the topic and story idea, but this one just wasn't my cup of tea. The plot is great and the characters have great potential, but I couldn't connect with them or get a feel for the setting. I'd be interested in reading the second book in the series to see where the story goes (and hope that now that Alexa and Caleb are established, the story centers more on the amulets).
If you're looking for a romantic read entrée with some prophecy and intrigued on the side – this one might be for you.
Hello friends and fellow book lovers! I am primarily a reader on this site, though I do also write books as a hobby. If you enjoy Fantasy, you may want to check out
The Lost Amulet Chronicles
. If you prefer Chick Lit, you may be interested in
The Cursed Existence of Jessalyn Bell.
Currently, I am working on
Amulet of Destiny,
the final installment of
The Lost Amulet Chronicles,
which should be ready for publication in summer 2014. When I'm not reading, writing, or working as a graphic designer and copyeditor, I enjoy spending time with my husband and my two rug rats.