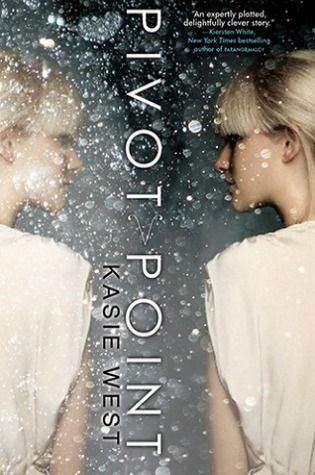 Blurb From Goodreads:
Knowing the outcome doesn't always make a choice easier . . .
Addison Coleman's life is one big "What if?" As a Searcher, whenever Addie is faced with a choice, she can look into the future and see both outcomes. It's the ultimate insurance plan against disaster. Or so she thought. When Addie's parents ambush her with the news of their divorce, she has to pick who she wants to live with—her father, who is leaving the paranormal compound to live among the "Norms," or her mother, who is staying in the life Addie has always known. Addie loves her life just as it is, so her answer should be easy. One Search six weeks into the future proves it's not.
In one potential future, Addie is adjusting to life outside the Compound as the new girl in a Norm high school where she meets Trevor, a cute, sensitive artist who understands her. In the other path, Addie is being pursued by the hottest guy in school—but she never wanted to be a quarterback's girlfriend. When Addie's father is asked to consult on a murder in the Compound, she's unwittingly drawn into a dangerous game that threatens everything she holds dear. With love and loss in both lives, it all comes down to which reality she's willing to live through . . . and who she can't live without.
The Cover Contessa's Review:
I had heard so many good things about this book from so many friends, but I wasn't sure if I'd like it. So I put off reading it. Why did I do that? Honestly this book is right up my ally, especially since I've been on somewhat of a sci-fi type kick lately. Any book that uses Xmen type characters is tops for me. So I'm glad I jumped into this one!
If you could see your future depending on your choice would you watch it? And in the end, how hard would it be for you to choose? For Addison (Addie), this is a common occurrence. She has the ability to see how her choice will shape her future. But that doesn't always help her choose. Just because you know doesn't make it any easier! I don't know if I'd want to know, or have the choice. On the one hand, things might be revealed that would cause you harm, or perhaps cause others harm, and that would be hard to watch. Certainly I wouldn't want this to happen. on the other hand, the outcome might not be great for either choice, then what would I do?
I really like the cover of this book. It's simple and straight forward. Not much to it, really. So I can't really say much about it.
Addie was a nice character but she wasn't really anything different or fantastic. She's strong, but I think her para abilities help with that. However, when she's faced with a choice, she flounders a bit (who wouldn't, really) and this made her a bit wishy washy for me. She does want to do the right thing, which is admirable. I liked seeing her inner thoughts, how her mind worked to try and bring the best outcome. She's definitely a bit of a bleeding heart, not wanting to hurt people no matter what. One thing I'll say about her, she is loyal and that goes a long way in making her likable for me. She was definitely relatable and I think she had some really great growth during the book.
Duke, hated him. I just didn't like him from the start. He gave me the creeps, and rightly so! How does he all of a sudden take an interest in a girl he's never really talked to before? It just struck me wrong from the start. He was too quick to want the romance and I knew he had another agenda and I didn't like it one bit! He can be good looking and cocky all he wants, but he still rubbed me the wrong way! Despite his swoon worthiness and charm, I never felt the pull towards him.
Trevor, on the other hand, was so great. I loved his nerdy quality the most. And he wasn't afraid to lay things out in front of Addie. He smart and funny. Definitely a bit secretive. He has a terrific heart. And he wants to get to know the real Addie, with no false pretenses. And his relationship ship with Addie was slower to move than that with Duke. I liked the build that West inserted into her story. I suppose that was kind of the point, though, to pair Addie with these two guys who are so totally different but still each have their attractions for her.
Laila was a great best friend. She's a bit rough around the edges, but you could tell she cared deeply for Addie. And her life was rough, but Addie stood by her side no matter what. They were great together. Loyal and full of heart as a pair of best friends should be. Laila had a tendency to jump into things more quickly than she fought about them, and Addie was kind of her anchor with that.
When I was first reading the book, I didn't realize that West was using alternating chapters to show Addie's visions of her choices. I was a bit lost, but then I picked up on it. Once I got into it, I liked the alternating POV. And it wasn't hard to keep them separate at all, which I thought would happen once I figured it all out. It was a great way to write the story. West was able to keep it fast paced and filled with action, suspense, romance and hard ships. She had me on the edge of my seat wondering what would happen next. Try as I might, I had no idea what Addie would choose and that kept pushing me through the book!
The writing was fun and flowed well. It's unique and fun. And West provides a unique story than I've read before, a nice change from the typical paranormal/sci-fi books I've read. West builds her world well. I didn't feel there were any info dumps or breaches that I could focus on. And West does a great job with her character growth and development. She really shows us each of their abilities and how they can be used.
I can say the ending had my heart in my throat. I didn't see things coming the way they did (although I had some trust issues with a particular secondary character, so I wasn't surprised at his role in things). And I really thought it would go a different way, but it didn't. I can definitely tell you that I'm not sure I would want Addie's power. I think it would kill me to know the outcome of things and be forced to make a choice! And now I need the second book (which I have but haven't been able to get to!).
I write YA. I eat Junior Mints. Sometimes I go crazy and do both at the same time. My novels, published through Harper Teen are: PIVOT POINT, its sequel SPLIT SECOND (Feb 2014), and THE DISTANCE BETWEEN US (a contemporary novel). I also have two more contemporaries, ON THE FENCE coming out July 1, 2014, and THE FILL-IN BOYFRIEND coming out the summer of 2015. My agent is the talented and funny Michelle Wolfson.