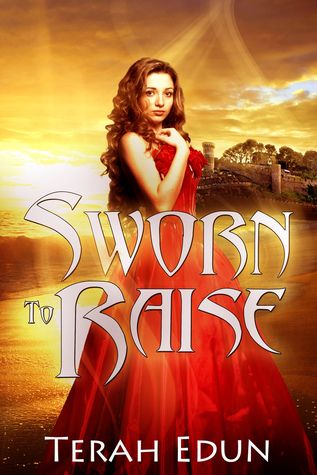 BOOK 1
Sworn to Raise by Terah Edun
Publication date: April 10th 2013
by Amazon Digital
Genre: YA Fantasy

Synopsis:
Seventeen-year-old Ciardis has grown up in poverty, a cleaner in a small vale on the outskirts of the kingdom. But beneath her kingdom's seemingly idyllic surface lies a hidden secret. Whispers of an inept crown Prince are growing ever louder—intensified by the five year anniversary of the soulbond initiations.

Amidst scandalous whispers, Ciardis finds herself chosen to train for the Companion's Guild. She leaves her home and sets off on a personal journey to become a Court Companion. A position she'd never thought possible for a lowly servant to obtain, she must prove that she has the skills to attract a Patron.

But she must master those skills quickly. If the legends are true, only Ciardis can harness the power to raise a Prince in an Imperial Court sworn to bring him down.

This sensational series debut melds intricate storylines with remarkable characters and unforgettable magic. Sworn To Raise is ideal for fans of Kristin Cashore, Michelle Sagara, and Maria Snyder.
BOOK 2
Sworn to Transfer by Terah Edun
Publication date:

September 20th 2013


by Amazon Digital
Genre: YA Fantasy
Synopsis:

Eighteen-year-old companion trainee Ciardis Weathervane has won the friendship of the royal heir and saved his claim to the throne. Yet her interference in the inheritance rights leaves more harm done than good. With the death of the Princess Heir, the Ameles forest - the home of the kith, is dying.


The inhabitants of the forest, magic-wielding non-humans, are defiant. They have not forgotten their long struggles nor are they content to watch as the last of their lands perish. As humans begin to die in gruesome deaths, the Emperor dispatches the royal heir to the forests with the solution to the kith concerns.

With enemies closing ranks in Sandrin, Ciardis can little afford to leave the city's nest of vipers to take on a new task. But she's given no choice when her loyalty to the crown and courts are called into question.

To keep the Companions' Guild happy and the favor of the Imperial Court, Ciardis will be tested in frightening new ways, especially when she's faced with an obstacle that could risk the lives of her friends and the family she never thought she had.

This second novel continues the story of Ciardis Weathervane from Sworn To Raise.
Second book can be found here on September 20, 2013:
http://www.amazon.com/s?_encoding=UTF8&field-author=Terah%20Edun&search-alias=books-ca
A night wolf came barreling out of the forest, snarling and white teeth bared in the moonlight. It hit Meres—or, rather, it tried
to. His sword gleamed as it arced through the air to slice into the night wolf's chest. The wolf howled in pain and kept coming. Two others emerged from the trees and ranged around their small group, preparing to attack. Meres began to speak, not in the language of humans but in the language of beasts.
He was trying to reason with the wolves. It wasn't working.
Vana edged forward. "Alexandra, take the one closest to you. I'll take care of the other two."
Vana gathered magic and shot the arrow in her bow. It split in two. Not when it hit its target, but before. The split arrow had reformed into two perfect arrows. One arrow angled left and the other angled right to target the two remaining night wolves. Ciardis was expecting the arrows to inflict a small wound on the large wolves. They were the size of horses, with heads as large as oxen's heads. She didn't think they'd go down easy. She was wrong.
The wolves were thrown back into the woods. Ciardis heard distinct thumps and yelps as they landed. Without pause, Vana knocked a second arrow as she waited for them to return.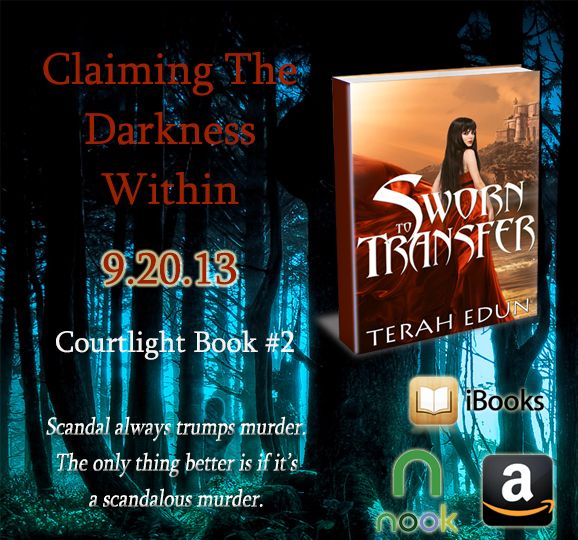 Terah Edun is an international development professional and author/lover of all things Young Adult Fantasy fiction. She is a native Georgian, adoptive Washingtonian, unrepentant expat currently living in South Sudan, brilliant dreamer, lover of dogs and not-so-closet geek. Her first novel, Red Madrassa, was released on
November 8th
and her second novel, Sworn to Raise, comes out in April 2013.
Author Links:
a Rafflecopter giveaway