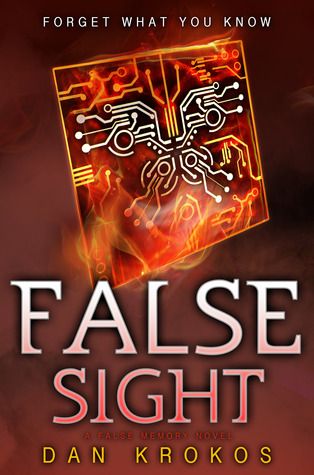 All Miranda wants is a normal life. She's determined to move past the horrible truth of her origin as a clone so she can enjoy time with her boyfriend, Peter, and the rest of her friends at school. But Miranda quickly learns that there's no such thing as normal - not for a girl who was raised to be a weapon. When one of her teammates turns rogue, it begins a war that puts the world in jeopardy. Now Miranda must follow her instincts - not her heart - in order to save everything she's fought so hard to keep. with the image of a terrible future seared into her mind, what will she have to sacrifice to protect the people she loves?
Dan Krokos's sequel to the tour de force False Memory is a mind-blowing thriller with high-octane action that will leave readers begging for the final book in this bold and powerful trilogy.
As with the first book, I really love the cover. I love that it is simple and, unlike so many YA novels these days, there isn't a brooding guy or girl on the cover vying for my attention. Simplistic, futuristic, and just fantastic.


The Cover Contessa's Review:
I want to thank Disney Hyperion for sending me a copy of this book to read and review. Receiving this book for free has in no way influenced my opinion or review.
First, I have to say that I read the first book of this series in no time. I loved it so much and could not wait to break into the second one. I can honestly say that Dan is now one of my favorite writers and I will read anything he writes! As a matter of fact, I want to break into his middle grade series next!
If you did not read the first book in this series, then stop here. I can't promise there won't be a spoiler from that book!
So, if you didn't read the first book in this series, you would not understand this one at all. You really need the back ground from the first one to not only understand the world but also the characters and their relationships. You have to understand the family unit they have and how they were created to understand their motives for trying to find those who want to kill them. They have a keen sense of how to stay alive and they will use all their will to do so.
And the characters continue to be relatable and realistic, in sic-fi, futuristic, robot type of way.
Miranda is the most kick butt heroine I have ever met. She's fantastically stealth and strong. She gives everything 110% without a second thought. She does have her moments where she is a bit selfish and has her angsty moments, but she has all good intentions in mind for sure.
And Peter, ugh, he continues to be one of the most swoon worthy book boyfriends I have ever met. He's completely committed to Miranda and to making sure his friends are safe. He's such a fantastically created character. He's as strong as Miranda and he struggles just as much as she does with how to protect everyone. And the romance between him and Miranda is subtle, yet you feel this strong bond between them that you know just can't be broken. I love that the book doesn't center around the romance, it centers around the story!
As for Noah and Rhys, well, I love their banter and the way they interact. I didn't think I would have laughable moments in this book, but I did, and mostly because of this relationship.
I was completely surprised by the turn this book took. I knew it was science fiction, but I never thought there would be anything otherworldly about the book. But there is, and it was such a great addition to the story! Think alternate dimensions, time travel and post-apocolyptic worlds! It's really entertaining and almost impossible to put down. As a matter of fact, Krokos goes so far to the top, I'm not sure how he's going to take it any further in the third book!
And talk about puzzles. This book is filled with mysteries that build upon one another until the entire truth is revealed. It's amazing how Krokos helps you put it altogether as you go. I really had no idea what twist or turn the book would take next, it left me breathless almost every time. And then I found myself struggling with a whole slew of emotions I never thought would come from this book.
This series is completely addictive. Just like the first, it is filled with action, adventure, great relationships, scary scenes and even a bit of romance. And the chapters are a quick read and leave you wanting more at each end. And the end, oh gosh, it made me cry! Yup, I didn't think this series would bring tears to my eyes, but it did! What a cliff hanger that leaves me wanting the third book!
After pumping gas for nine years to put himself through college, Dan Krokos, now twenty-seven, dropped out to write full-time.
He is currently hard at work on three separate projects: the final stop for Miranda North in the
False Memory
series, the next adventure for thirteen-year-old Mason Stark in
The Planet Thieves
series, and his first adult thriller.
All of Dan's books have been optioned for film or television, and False Memory recently won the International Thriller Writer's Award for best Young Adult book
. He enjoys watching TV, playing MMORPGs, and drinking coffee.