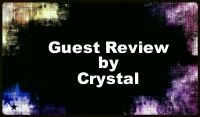 Magic, Demons, arranged marriages, and war.
Margariete, is a young shelted princess who wants to marry for love and when she thinks her father has arranged a marriage for her to an older man she runs away and learns somthing of her world and about trust and loyalty. She also learns about her new developing powers, and makes new friends.
Crystal's Review:
I was given the first book, Phoenix Angel, to review and I loved it. I was so excited to be given the second book, The Guardian, for my review as well - which I loved even more than the first one! When does that ever happen?
In Phoenix Angel, we learn that our main characters aren't who we think they are... twice. In the Guardian, we meet Maggie and Lily again, but this time as Princess Margariete and Esilwen in a different realm, or shard. We learn the the backstory of these two characters and the roll they play in the good vs. evil battle that they're thrust into in the first book. The Guardian really explained a lot of the things that Phoenix Angel more or less just touched on and several times I had a little "aha moment". This book kept me on a constant cliffhanger with sometimes jaw dropping twists. The battles, the creatures, the magic, the mystery, the love and the heartbreak, the sacrifices and revelations.... it just kept going and kept getting better. I don't want to write too much because I don't want to spoil it for anyone!
I'm a big fan of fantasy books and Gerry and Hall do an amazing job of painting the image of this other shard and the lands within it. I was very impressed. I'm really looking forward to the third book and hoping they whisk us away to another shard again.
Crystal
A. Gerry developed an interest in fantasy at a young age. In middle school, she fell in love with writing short stories and was thrilled when her sister proposed creating a series of novels together. Her fondness of writing comes from many sources, but the most prominent is her avid devotion to video games. Some of her favorites include Mass Effect, The Elder Scrolls series, and anything that lets her shoot zombies. She received a Bachelor's Degree from Southern Utah University and teaches at a local charter school.
C. Hall has been addicted to the many realms of fantasy and science fiction all her life. She joined her first peer writers' group in the sixth grade, joyfully sharing world building at a young age. A graduate of Southern Utah University, she now teaches at a local charter school. When she isn't busy designing activities for her Mythology class or going on field trips with the Star Wars Club, she is spending time with her sister, A Gerry. C. Hall's favorite authors include J.R.R Tolkien, J.K. Rowling, and Tracy Hickman.