Welcome to the Shudder Blog Tour!
Today I'm featuring Samantha Durante's second book in her Stitch Trilogy:
Shudder (Stitch #2)
Haven't read the first book in the series, Stitch? You can see my review HERE and you can buy it here: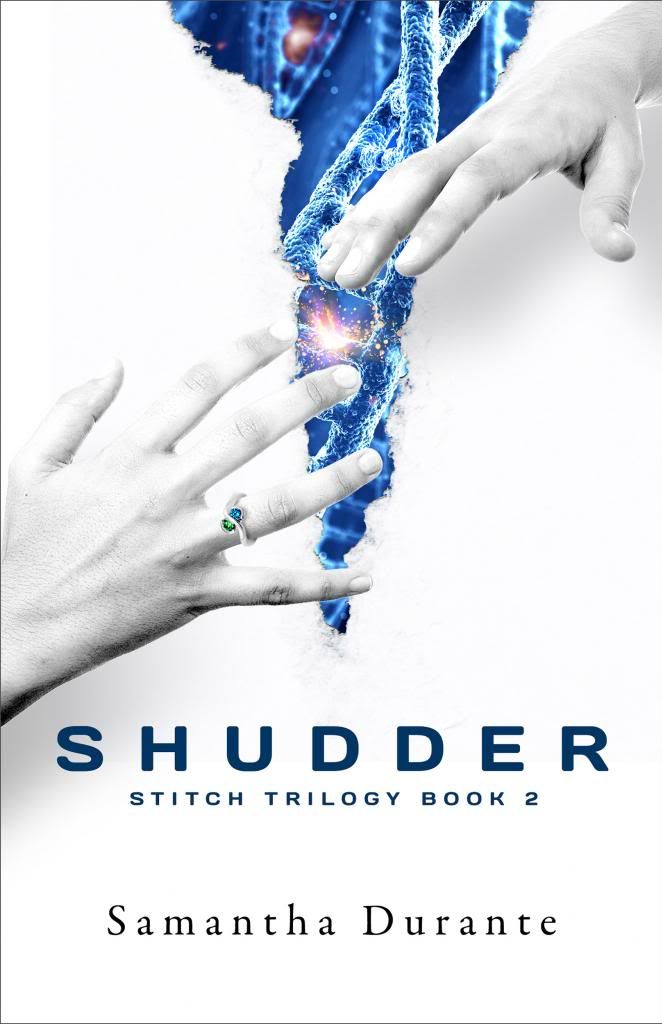 It's only been three days, and already everything is different.
Paragon is behind her, but somehow Alessa's life may actually have gotten worse. In a wrenching twist of fate, she traded the safety and companionship of her sister for that of her true love, losing a vital partner she'd counted on for the ordeal ahead. Her comfortable university life is but a distant memory, as she faces the prospect of surviving a bleak winter on the meager remains of a ravaged world. And if she'd thought she'd tasted fear upon seeing a ghost, she was wrong; now she's discovering new depths of terror while being hunted by a deadly virus and a terrifying pack of superhuman creatures thirsting for blood.
And then there are the visions.
The memory-altering "stitch" unlocked something in Alessa's mind, and now she can't shake the constant flood of alien feelings ransacking her emotions. Haunting memories of an old flame are driving a deep and painful rift into her once-secure relationship. And a series of staggering revelations about the treacherous Engineers – and the bone-chilling deceit shrouding her world's sorry history – will soon leave Alessa reeling…
The second installment in the electrifying Stitch Trilogy, Shudder follows Samantha Durante's shocking and innovative debut with a heart-pounding, paranormal-dusted dystopian adventure sure to keep the pages turning.
The Cover Contessa's Review:
I want to thank the author for sending me a copy in return for an honest review. Receiving this book for free has in no way influenced my opinion or review.
If you haven't read the first book in this series, I would stop right here. There might be spoilers for it and I would not want to ruin it for you.
As with the first book, I really like the cover of this one. it certainly draws you in. And if you understand what the Stitch is, the rip in the front completely makes sense.
This book picks up just a few days after the end of the first book. We join Alessa and Issac as they search outside of Paragon for a suitable headquarters for the rebels.
This book is packed with action and adventure. You are not sure what's going to happen at every turn. I can honestly say it kept me on my toes not knowing what to expect next. My emotions ran the gamete from fear, to elation, to happiness and some sadness, as well.
Alessa begins to grow during this book. She is torn for her love: between Issac and what she remembers with Joe. She's also torn between finding a place for the rebels to make their base and wanting to keep those she loves safe. She's not sure if she wants to join the rebellion or run from it.
Issac, on the other hand, knows what he must do. He must fight for what he thinks is right and that includes keeping Alessa safe. He also must fight for his family, even if they aren't his "real" family. He wants to make sure the rebellion succeeds in freeing those who are imprisoned within the walls of Paragon.
We also get three other points of view in this book: a girl named 14, Nikhil, and Phoenix, and the Engineers of the entire plot. I won't go into who the females are, as that's part of the mystery of the book, but it's interesting to watch the book move along through all five points of view. It's also interesting to see how the world came about as viewed by those that run Paragon. And a bit scary once you understand their motives.I never felt like I didn't know who was talking. Each character is well thought out and unique unto itself.
I was really able to connect with all the characters. They are real and totally relatable.
While I felt somewhat confused with the first book as to whether it was a paranormal, sic-fi or dystopian, until I got to the very end, this book was not confusing at all. From the start you know the characters are set within a post-apocolyptic type of world. But there is also a monster element that is introduced and remains quite a mystery until the end of the book. I wasn't sure what to make of these creatures, although I had an idea what they might be. The plot is reminiscent of a type of Holocaust, which is scary unto itself.
Durante's writing is interesting. While the chapters are told from differing points of view, they are not in first person. The entire book is done from an omniscient narrator. I can tell you that this is not an easy task, but Samantha does it really well. She is able to surprise and shock throughout the entire book. The writing flows well and is easy to follow. And Durante gives us tons of back story in this book, which helps in understanding the first book even better. It enhances the world building and really gives you the reason for why Paragon came into existence.
I really enjoyed this book, actually more than the first. There are so many twists and turns my mind was kept engaged the entire time. And the twist at the end, while not surprising to be honest, certainly leaves us with thoughts of what could possibly happen next. I am looking forward to the final installment in this series.
Want to read an excerpt?
Here you go!
The next morning Alessa woke feeling contented and at ease. The warm press of sunlight caressed her shuttered eyelids through the opening of the shelter, the delicious aroma of roasting food mingling with the faint scent of wood smoke. She breathed deeply and fluttered her eyes open to find Isaac huddled over the fire.
"Hungry? I've been boiling these acorns for a half-hour and I think I finally got the bitterness out."
"Acorns?
That's
what smells so good?" She sat up to take a closer look at a large can sitting on the edge of the flames.
Isaac laughed. "No, those are the onions
you're smelling
– I found a whole patch of them yesterday. They're small, but very flavorful once you roast '
em
up. Here, try."
Isaac used a smooth piece of bark to scoop her up some food from the containers in front of him, which she gratefully consumed in one ravenous bite. She never imagined she'd be so happy to start the day with wild onions and acorns, but Isaac's cooking was certainly hitting the spot.
"
Mmmmm
."
He smiled brightly. "You like?"
"Very much so," she nodded.
"Didn't realize I was a man of so many talents, did you?"
Thinking back to the night before, she had to admit she agreed. She knew Isaac was kind and smart and funny – and, as he'd proven last night, gifted in
other
ways as well – but she didn't know he could cook.
Sounds good, right? I think you will rather enjoy it as I did! So go go go!
Follow the tour HERE!
Samantha Durante lives in Westchester County, New York with her husband, Sudeep, and her cat, Gio. Formerly an engineer at Microsoft, Samantha left the world of software in 2010 to pursue her entrepreneurial dreams and a lifelong love of writing. A graduate of the University of Pennsylvania's Jerome Fisher Program in Management & Technology, Samantha is currently working full time for her company Medley Media Associates as a freelance business writer and communications consultant. The Stitch Trilogy is her debut series. Learn more about Samantha at
www.samanthadurante.com
.
Goodreads/Website/Facebook/Twitter
Enter the Giveaway HERE!!!