Welcome to Author Thursday hosted by Never Too Old for YA & NA Books group on Goodreads.
Today we welcome author Kelly Hashway for an interview!
Have you read any of Kelly's most awesome books?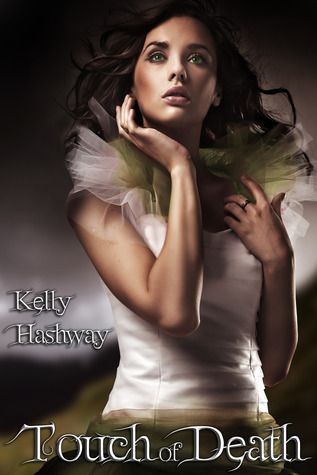 Jodi Marshall isn't sure how she went from normal teenager to walking disaster. One minute she's in her junior year of high school, spending time with her amazing boyfriend and her best friend. The next she's being stalked by some guy no one seems to know.
After the stranger, Alex, reveals himself, Jodi learns he's not a normal teenager and neither is she. With a kiss that kills and a touch that brings the dead back to life, Jodi discovers she's part of a branch of necromancers born under the 13th sign of the zodiac, Ophiuchus. A branch of necromancers that are descendents of Medusa. A branch of necromancers with poisoned blood writhing in their veins.
Jodi's deadly to the living and even more deadly to the deceased. She has to leave her old, normal life behind before she hurts the people she loves. As if that isn't difficult enough, Jodi discovers she's the chosen one who has to save the rest of her kind from perishing at the hands of Hades. If she can't figure out how to control her power, history will repeat itself, and her race will become extinct
Jodi knows that any slip-ups made by the Ophi--a special group of necromancers born under the 13th sign of the zodiac--will fall on her shoulders... and that Hades is just waiting for them to screw up so he can wipe out the Ophi line.
Unfortunately, Jodi has only convinced one Ophi to join her school: A hot guy named Chase who jeopardizes her relationship with Alex. Jodi loves Alex, but Chase can enhance her powers with just a touch—making her stronger than any Ophi has ever been.
Her mixed emotions send her powers surging out of control, and the dead start rising without her conscious summoning—exactly what Hades doesn't want! If she chooses Alex over Chase, she may lose the battle to Hades, leading the Ophi race to extinction. If she chooses Chase, she might be able to stop Hades for good… but lose everything else.
Jodi needs to figure things out fast--because death is stalking her at every turn
Seventeen-year-old Meg Flannigan wasn't very lucky at love. In sophomore year, her idiotic boyfriend dumped her by making out with another girl in front of her locker. Ouch! Now a senior, and with a little more self-confidence, Meg catches the eye of not one, but two guys at school. Lucky! Both attend her tennis matches, vie for her attention, and are each gorgeous in their own way. So what's the problem? Meg has already chosen one of them, and the one waiting in the sidelines will do anything to change her mind. She's enjoys the attention right up until it's her heart that's caught in the middle, and she risks losing both. Can Meg Love All, or will choosing be her undoing?
Seventeen-year-old Meg Flannigan thought she'd made up her mind about love. But with two guys still vying for her attention, she wonders if she made the right decision. Ash is everything she's ever wanted in a boyfriend: loyal, loving, and totally hot. But then there's Noah: fun, sexy, and the more he sticks around, the more Meg wants him there.
What's a girl to do?
Make up her mind, before it's too late! Gorgeous freshman Liz has set her sights on Ash, and Noah is beginning to remind Meg of her last boyfriend—the one who broke her heart. Can she figure things out before she ruins not one, but two relationships? Or is she doomed to serve up heartbreak?
So let's hear what Kelly has to say!
Did you always know you wanted to be a writer or did you want to be something else?
I've always wanted to be a writer, but when I was young I didn't realize people did this for a living. It seemed too good to be true.
How long does it take you to write a book from start to finish?
It really depends on the book, but I like to fast draft. On average, it takes me about two weeks to draft a book. After that I spend a lot of time on revisions.
How do you come up with themes for your stories?
At the risk of sounding crazy, I always feel like my characters come to me with these amazing stories they want me to tell. I often feel like I'm watching a movie in my head and I just try to type fast enough to keep up.
Do you have a schedule of when you write?
I write while my daughter is at school, which usually means five and a half hours of uninterrupted time. If I'm fast drafting, I'll also write for another two hours when she goes to bed at night.
How are you able to balance other aspects of your life with your writing?
I write around my daughter's schedule because Mom—I think that should always be capitalized. ;) — is my first job. I'm also an avid reader and a runner, so I read while running on my treadmill in the mornings. You get used to the bouncing words.
What elements do you think make a great story line?
Great characters, lots of conflict, some swoon-worthy moments, and killer dialogue.
What was the hardest thing about writing a book?
Knowing that not everyone will like it. Writing is a very personal thing, and knowing it will be judged is tough sometimes.
How many books have you written so far? Do you have a favorite?
I've sort of lost track. Over 10 definitely. It's so hard to pick a favorite. The Touch of Death series got me my first book deal, so it will always hold a special place in my heart.
Do you have a favorite character?
Hmm, Jodi (from the Touch of Death series) is a lot like me, so I naturally connect with her. I also really love Sam, the MC in my upcoming YA paranormal The Monster Within (Spencer Hill Press, 2014). She has such a tough life, but she's a fighter. I envy that about her.
At my dining room table where I can spread out with my laptop, notebook, day planner, flash drives, books, and multiple purple pens.
When deciding on how to publish, what directed you to the route you took?
My dream was always to find an agent who would have my back and know what was best for my career.
Have you gotten feedback from family about your book(s)? What do they think?
My mom is my best and toughest critic. She lets me know when I can do better, and I love that about her. Really my entire family is very supportive and most read my books.
What kinds of things do you like to do outside of writing?
Playing with my daughter tops the list. We love dancing around to music, playing with Monster High dolls, and coloring. I also am an avid reader and runner.
What kinds of advice would you give to someone who wants to start writing?
Read everything you can get your hands on. It's the best research. And write every day, even if it's only a paragraph or two. The more you write, the better you get at it.
What is your favorite book? favorite author? Do you have an author that inspired/inspires you to write?
I love Rick Riordan. He pulls me in from the first sentence and doesn't let go. I also love Becca Fitzpatrick. The dynamic between Patch and Nora in the Hush, Hush series is incredible.
Do you have any go to people when writing a book that help you with your story lines as well as editing, beta reading and such?
I have an amazing critique group and my number one beta reader is my mom because as I said, she's tough! And I can always count on my agent to give me great feedback.
Are you working on anything now?
I'm working on books two and three in the Birth of the Phoenix series coming out through Month9Books as well as two new YA series that are untitled as of right now.
Thanks for having me, Brooke!
Thanks so much for being here, Kelly! It's been wonderful having you!
le Fortune (Month9Books, 2014).
I write for children of all ages from picture books up to young adult. I am proudly represented by Lauren Hammond of ADA Management. My debut YA, TOUCH OF DEATH, released January 15, 2013 through Spencer Hill Press. Also look for my other YA novels: STALKED BY DEATH (Spencer Hill Press, August, 2013), THE MONSTER WITHIN (Spencer Hill Press, April 2014), THE DARKNESS WITHIN (Spencer Hill Press, TBA), and INTO THE FIRE (Month9Books, spring 2014). My debut MG series CURSE OF THE GRANVILLE FORTUNE releases fall 2014 through Month9Books.
Goodreads/Website/Facebook/Twitter
a Rafflecopter giveaway