Welcome to The Cover Contessa's stop on L.M. Justus's Welcome To The Darkness Tour hosted by Xpresso Book Tours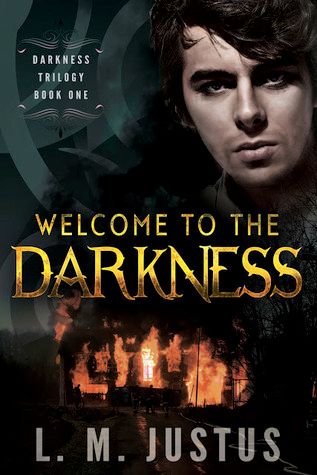 A typical teenager, seventeen-year-old Reed Hennessy doesn't realize how lucky he is to lead a normal life until he loses everything, including his humanity. The attacker who slaughters his family and destroys their home turns out to be a vampire, a creature Reed had considered a myth.
Now a vampire himself, but with the unique ability to walk in sunlight, Reed struggles in the dark underworld he didn't even know existed. His only two allies in his fight to stay alive are his reluctant mentor, Nathaniel, a vampire with over two hundred years' worth of emotional baggage, and Sarah, a rookie cop with a secret ability of her own.
Together, Reed and his companions face a harrowing, cross-country journey before stumbling into a plot which could mean the end of everything for humans and vampires alike.
He opened the last door at the end of the hallway, and my breath caught in my throat as we walked into a shockingly large space. The room was half the size of my school gymnasium, and the walls were a mix of brick and stone. The entire floor was laid with an intricate design of mosaic tiles, and a dim, flickering light came from what seemed like hundreds of candlelit wall sconces. The room was deserted except for a middle-aged woman standing on a raised platform at the end of the room, and the large throne in the center of the platform, occupied by someone I assumed was the Queen. If this was the Queen, she was definitely not what I was expecting. She didn't appear to be a day older than twelve or thirteen.
"Your Majesty," Nathaniel said with a respectful bow.
The Queen's gaze rested on Nathaniel, and then swept over to me to size me up from head to toe. Her skin was deathly pale, her eyes a cold crystal blue and she sat eerily still. Her long, blond hair fell in a thick curtain of ringlets over her shoulders. She looked like a zombie child, and if I'd had to use just one word to describe her, it would have been 'creepy.'
"So this is the newling of whom you spoke," the Queen said in her young, yet commanding voice. She shifted her icy gaze back at me and said, "Come forward."
I took a reluctant step closer to the throne and stopped.
"Closer," she snapped. Her gaze darkened and she pointed to indicate a spot on the floor right in front of her.
I stole a quick, questioning glance at Nathaniel, and he nodded urgently for me to obey. I stepped forward until I was only a few inches from the Queen. The tips of my shoes nearly touched her own.
"Kneel before me," the Queen commanded. She was clearly used to being obeyed despite looking so young and tiny.
I did as I was told and knelt before her. She tilted her head to the side while she inspected me, like she was a predator considering how she might attack her prey. I had the scary thought maybe that was exactly what she was doing.
Lisa Justus' path to becoming an author took a circuitous route through the University of Waterloo where she earned a Bachelor of Mathematics, followed by jobs in quality assurance and technical writing at a high-tech company. With a keen interest in creative fiction, she wrote her first fantasy novel as part of NaNoWriMo as well as an early chapter book for her kids when they were younger. Her YA paranormal fantasy novel Welcome to the Darkness is the first book in the Darkness Trilogy.

These days Lisa is busy writing her fourth novel, reading, finishing her basement, doing volunteer work, and trying to stay in shape by running somewhat regularly. She, her husband, and their three children live in Ottawa, Ontario.
Author Links:
a Rafflecopter giveaway