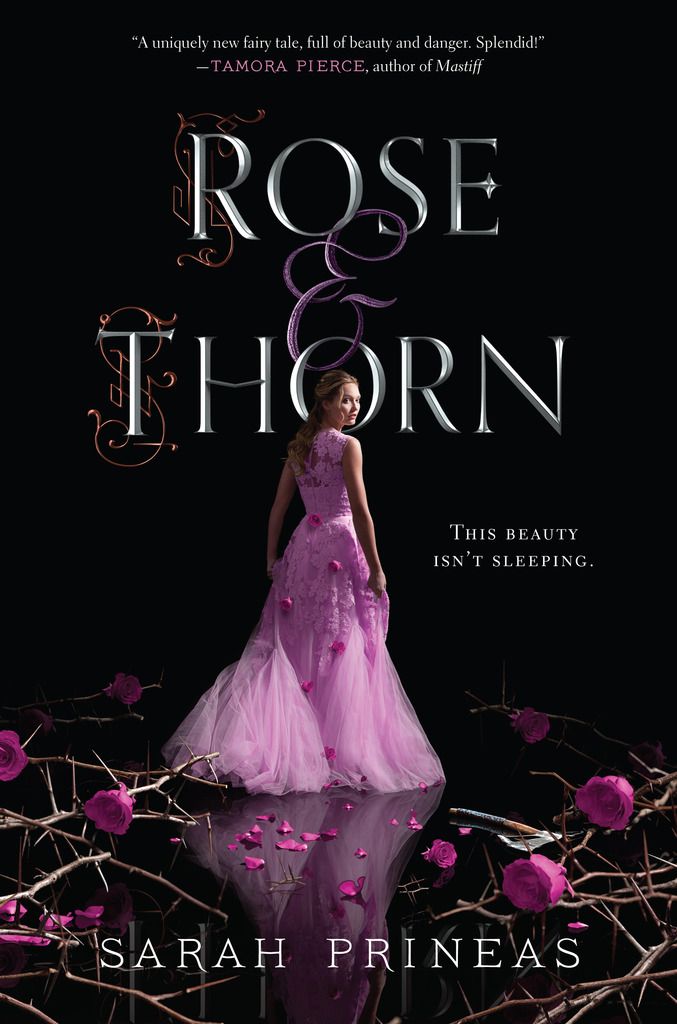 Title:
ROSE & THORN
Author: Sarah Prineas
Pub. Date: September 13, 2016
Publisher: HarperTeen
Pages: 416
Formats: Hardcover, eBook
This beauty isn't sleeping! Sarah Prineas's darkly imaginative retelling breaks down the classic story of Sleeping Beauty in a big, bold way. Brimming with action and romance, beautiful Rose must escape the curse that will force the kingdom to fall into a century-long slumber and fights for the freedom to find her own happily ever after.
After the spell protecting her is destroyed, Rose seeks safety in the world outside the valley she had called home. She's been kept hidden all her life to delay the three curses she was born with, curses that will have drastic consequences if they take effect. Accompanied by the handsome and mysterious Griff and Quirk, his witty and warmhearted partner, Rose tries to escape from the ties that bind her to this forced fairy tale. But will the path they take lead them to freedom, or will it bring them straight into the prescribed story they are trying to avoid?
Set in the world of Prineas's Ash & Bramble fifty years later, Rose & Thorn is a powerful retelling of Sleeping Beauty. If you like your fairy tales dark, your heroines daring, and your suitors dashing, this is the book for you.
Today we welcome Sarah Prineas for an interview!
1.
How long does it take you to write a book from start to finish?
I am a fast writer.

The first draft can take anywhere from six weeks to six months.

I wrote 40,000 words of Rose & Thorn during NaNoWriMo two years ago.

But the revision process takes longer, sometimes as much as a year.
2.
Do you have a schedule of when you write?
Some writers are disciplined and do their 1000 words a day or their two hours of butt-in-chair, but that's not how I work.

I can go for weeks without writing anything, and then write 6,000 words in a weekend.

Generally, though, I write in the mornings until my dog completely loses his mind, and then we go outside for the rest of the day.
3.
How are you able to balance other aspects of your life with your writing?
I'm a full-time writer, so it's not hard.

That said, I live on 40 acres in rural Iowa, so I do a lot of work outdoors, taking care of our huge gardens and various livestock and beehives.

Keeps me busy!
4.
What was the hardest thing about writing a book?
Every book presents different challenges.

For me, the hardest thing is getting all the plot points lined up so they make sense.

For that, I rely on my genius editor.
5.
How many books have you written so far? Do you have a favorite?
So far I've written nine and a half middle grade novels (seven have been published, one has to be revised, and one is coming out next year) and two YA's.

Plus I've got two other middle grade novels coming out in the next two years.
Heh.

I have a home office ... which I never use.

It's full of boxes of books and random papers.

Instead I write in my living room with my two dogs on the couch next to me (they are big dogs; they don't leave me much room).
7.
When deciding on how to publish, what directed you to the route you took?
I went with traditional publishing because I rely on my professional editor to make my books as good as they can possibly be.
8.
What kinds of things do you like to do outside of writing?
One afternoon a week I work at an independent bookstore, which is super fun—I love talking to people about books.

I also do a lot of outdoor work, a nice balance with writing.
9.
What kinds of advice would you give to someone who wants to start writing?
Two things.

First: keep at it!

There's lots to learn, and it can take years.

Second: find a writing group—you can learn just as much from giving a critique as receiving one.
10.
Do you have any go to people when writing a book that help you with your story lines as well as editing, beta reading and such?
Mainly I rely on my genius editor at HarperCollins.

She and I are working on our tenth book together, so we make a good team.
11.
Are you working on anything now?
Yep!

Always.

It's a middle-grade novel about a boy who is a dragon.
12. Tell us 5 things that make you smile
My dogs, my goats, Skyping with friends on Wednesday nights, a hot cup of coffee, my tall, lanky purple-haired kid.
13. If you could travel anywhere in the world to visit a place so you could use it as a background for a book, where would it be?
The next book I'll write is set in a library, so I'd love to travel all over the world to see ancient, huge, magical libraries.
Thanks so much for being with us today, Sarah. It was great having you here!
Book#1
Pub. Date:
September 15, 2015
Formats:
Hardcover, eBook
When the glass slipper just doesn't fit…

The tale of Cinderella has been retold countless times. But what you know is not the true story.

Pin has no recollection of who she is or how she got to the Godmother's fortress. She only knows that she is a Seamstress, working day in and out to make ball gowns fit for fairy tales. But she longs to forsake her backbreaking servitude and dares to escape with the brave young Shoemaker.

Pin isn't free for long before she's captured again and forced to live the new life the Godmother chooses for her—a fairy tale story, complete with a charming prince—instead of finding her own happily ever after.

Sarah Prineas's bold fairy tale retelling is a dark and captivating world where swords are more fitting than slippers, young shoemakers are just as striking as princes, and a heroine is more than ready to rescue herself before the clock strikes midnight.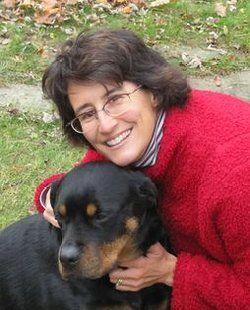 Hi there! I'm Sarah Prineas, author of the Magic Thief series published in the US by HarperCollins and in 17 other languages around the world, and the Winterling trilogy. I live in rural Iowa with my mad scientist husband, two kids, and two cats. My next book is called Ash & Bramble, and it's a YA.
Here's my website:
http://www.sarah-prineas.com
and here's my book website (with games, wallpaper, and extras!):
http://www.magicthief.com
Thanks for reading!
a Rafflecopter giveaway
Tour Schedule:
Week One:
10/10/2016-
Novel Novice
- Interview
10/11/2016-
A Dream Within A Dream
- Review
10/12/2016
Seeing Double In Neverland
- Guest Post
10/13/2016-
Mom with a Reading Problem
- Review
10/14/2016-
Two Chicks on Books
- Interview
10/17/2016-
Once Upon a Twilight
- Review
10/18/2016-

YaReads

- Guest Post
10/19/2016-
Eli to the nth
- Review
10/20/2016-
The Cover Contessa
- Interview
10/21/2016-
Mundie Moms
- Review