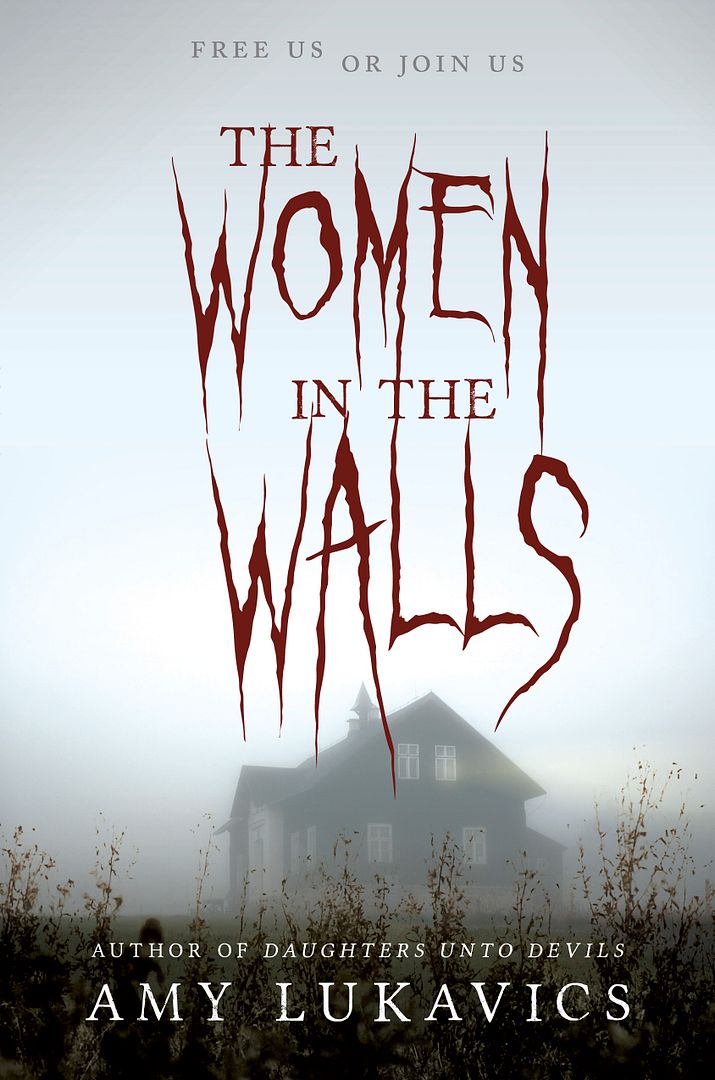 Title:
THE WOMEN IN THE WALLS
Pub. Date:
September 27, 2016
Publisher:
Harlequin Teen
Formats:
Hardcover, eBook
Lucy Acosta's mother died when she was three. Growing up in a Victorian mansion in the middle of the woods with her cold, distant father, she explored the dark hallways of the estate with her cousin, Margaret. They're inseparable—a family.
When her aunt Penelope, the only mother she's ever known, tragically disappears while walking in the woods surrounding their estate, Lucy finds herself devastated and alone. Margaret has been spending a lot of time in the attic. She claims she can hear her dead mother's voice whispering from the walls. Emotionally shut out by her father, Lucy watches helplessly as her cousin's sanity slowly unravels. But when she begins hearing voices herself, Lucy finds herself confronting an ancient and deadly legacy that has marked the women in her family for generations.
Today we welcome Amy for an interview!
1.
Did you always know you wanted to be a writer or did you want to be something else?
It's weird—I always adored reading and had a blast doing creative writing assignments in school, but I never really dared to dream about actually growing up to become an author. At one point I wanted to write for girls magazines, but that dream pretty much died when I tried to figure out the financial logistics of going to New York City to attend college, LOL!
2.
How long does it take you to write a book from start to finish?
It depends. Usually by the time I actually start putting words on paper for a new project, it's been stewing in my brain for months or even years. Once I'm actually writing it, the first draft can take anywhere from three to six months.
3.
How do you come up with themes for your stories?
I don't really come up with themes on purpose, they seem to kind of just sneak in there when I'm not looking, which so far has worked okay for me.
4.
Do you have a schedule of when you write?
When I'm drafting, I like to write first thing in the morning or late at night. I usually aim to get two thousand words per day, which sometimes happens and sometimes does not.
5.
How are you able to balance other aspects of your life with your writing?
.
It's definitely been a challenge, especially since having two kids, but I find that if I'm organized with my time, there's almost always time for everything and everybody.
6. What elements do you think make a great story line?
Isolation, fear of the unknown, exploration of family and friend relationships.
7.
What was the hardest thing about writing a book?
Making yourself write on a deadline, even if you don't particularly feel up to it.
8.
How many books have you written so far? Do you have a favorite?
So far I've written six books, only two of which have been published, and started a few others that are still waiting for me to come back to them. I'm about to finish my seventh book, which releases next year. Whichever one I'm currently working on is usually my favorite!
9.
Do you have a favorite character?
I have to say, I had a blast writing the characters Nancy Shaw and Clara Owens, of The Women in the Walls. They're not main characters, but whenever I got to write them I always had a ball.
I also loved writing the devil from the woods, from Daughters unto Devils. Talk about creepy fun!
I used to write at my kitchen table, but I finally scored an old used desk from the Goodwill that now serves as my writing place. I love it.
11.
When deciding on how to publish, what directed you to the route you took?
After finishing my first book, I was constantly Googling stuff about what the first step would be, and before long I realized that all of the most informative answers came from the same website, a forum at AbsoluteWrite.com. It was there that I learned how to properly query agents and pursue traditional publication.
12.
Have you gotten feedback from family about your book(s)? What do they think?
My side of the family is actually very small (there are five people total, including me,) but my mom was very enthusiastic about Daughters unto Devils, which was nice. I don't think anyone in my family is too surprised that I ended up writing horror—I've always loved scary, weird stuff. They've all been very supportive.
13.
What kinds of things do you like to do outside of writing?
I love cooking, doing crafts, playing video games, relaxing with my family, and hanging out with friends.
14.
What kinds of advice would you give to someone who wants to start writing?
Don't be too hard on yourself. Think of it more like you're figuring out a puzzle as opposed to running a marathon. Also, come to realize that writing a bunch of words only to delete them is actually very productive and will help you become a better writer.
15.
What is your favorite book? favorite author? Do you have an author that inspired/inspires you to write?
I have too many favorite books to name! I will say that I adore Stephen King, Joe Hill, Stephanie Kuehn, Jennifer McMahon, and Paul Tremblay though. The author that inspires me to write the most is probably Shirley Jackson—she is just the master of atmosphere.
16.
Do you have any go to people when writing a book that help you with your story lines as well as editing, beta reading and such?
I have a few writing friends who sometimes read my work when it's nearly finished, but I mostly rely on the feedback of my agent, who is very editorial and always seems to understand what I'm trying to do, every time. I'm very lucky to have her in that way—I'm able to show her my roughest first drafts and not be afraid of her reaction.
17.
Are you working on anything now?
I'm just about to finish the first draft of my 2017 release, which is called The Ravenous. It's sort of like The Virgin Suicides meets Pet Sematary—five sisters have to turn to murder when one of them dies and is brought back to life craving human flesh.
18.
Tell us 5 things that make you smile
the television show Rick and Morty, my editor (he is very funny,) my friends, Tumblr, and my kids/husband.
19.
Tell us 5 things that make you sad
Humidity, the last episode of Angel, the realization that my cat Frodo is getting old, the ending of The Fireman, and the fact that I have to wait nearly a year for more Game of Thrones.
20.
If you could travel anywhere in the world to visit a place so you could use it as a background for a book, where would it be?
I would love to visit an Irish castle and set a book there, or really any interesting haunted locations.
Thanks so much for stopping by today, Amy. It was great having you with us! I hope you get to visit that Irish castle!
Ever since she was little, Amy was especially intrigued by horror books and movies. Raised in a small mountain town in Arizona, she sustained herself on a steady diet of Goosebumps, Fear Street, and Scary Stories to Tell in the Dark books before discovering Stephen King in her mother's bookshelf.
Amy lives with her husband, their two precious squidlings, and an old gentleman cat by the name of Frodo. When she isn't writing, she enjoys cooking, crafting, and playing games across many platforms.
a Rafflecopter giveaway
9/19/2016-
The Cover Contessa
- Interview
9/20/2016-
Emily Reads Everything
- Review
9/21/2016-
Curling Up With A Good Book
- Guest Post
9/22/2016-

RhiReading

- Excerpt
9/23/2016-
A Gingerly Review
- Excerpt
9/26/2016-

Ohana Reads

- Review
9/27/2016-

Bibliobibuli YA

- Guest Post
9/28/2016-

Smada's Book Smack

- Review
9/29/2016-
A Dream Within A Dream
- Interview
9/30/2016-

BookCrushin

- Review