True love can't be strategized.
After book blogger Vivian Galdi's longtime crush pretends their secret summer kissing sessions never happened, Vivian creates a list of safe crushes, determined to protect her heart.
But nerd-hot Dallas, the sweet new guy in town, sends the mission and Vivian's zing meter into chaos. While designing software for the bookstore where Vivian works, Dallas wages a counter-mission.
Operation Replacement Crush is in full effect. And Dallas is determined to take her heart off the shelf.
There's just something about nerds. They're adorkable, quirky, and irresistible. When I wrote THE REPLACEMENT CRUSH, I gave the hero Dallas my favorite nerd qualities: intelligence, humor, thoughtfulness…and a couple of exceptional talents, because every nerd has at least one. Half the fun of spending time with nerds is discovering their hidden areas of expertise, because when they're into something, they dive deep, becoming experts in whatever it is.
The nerds I know and love are secure in who they are, embracing what they love and not caring about what's considered cool, or not. If necessary, they could destroy their nemeses with sarcastic wit, but they probably won't because they're decent people…unless push comes to shove, or someone they care about is caught in the crossfire. Then you probably want to get out of the way.
Here are a few of my favorite famous nerds:
And this guy. Many early readers and reviewers of THE REPLACEMENT CRUSH told me that Dallas reminded them of Dylan O'Brien, which made me very happy because you'll find Dylan on my Pinterest board for this book. He was definitely character inspiration for Dallas.
Once upon a time, nerds were uncool and the punch line of many jokes, but as the world has embraced technology, that's changed. Now nerds are the new cool, and hot nerds? Well, my heroine Vivian and her best friend Jaz have a lot to say about that…
The morning chimes sounded and suddenly Jaz and I were swept up in the laughing, noisy crowd swirling toward the main doors.
"Chicken," Jaz teased. "You just lost your shot at some morning tongue action."
"Shut up." I glared at her, accidentally bumping into a tall, solid body as we navigated the crowd. I glanced up to see the same guy I'd noticed earlier, who'd now overheard two embarrassing tongue-related discussions in approximately three minutes. His lips quirked, then he disappeared into the crowd.
Jaz grabbed my arm. "Who was that guy?"
"I don't know. He must be new." I frowned at her. "He's not your type, though. Glasses."
She rolled her eyes. "I didn't think you were that shallow, Viv. Haven't you heard of nerd-hot?"
That stung. If anyone knew about nerd-hot, it was me, the pasty bookstore girl and romance book blogger.
"I know all about nerd-hot," I whispered, sliding into a desk next to Jaz in homeroom, tugging down my skirt. "And that guy wasn't it."
Jaz waggled her eyebrows at me. "Are you blind? Think Clark Kent. Super sexy hiding behind glasses and geeky clothes." She leaned in close. "Like Henry Cavill. Be still my heart."
I loved geek-turned-superhero as much as the next girl, but Jaz was making a big leap. "Celebrity deprivation is affecting your vision."
"Settle down everyone." Ms. Kilgore's glare landed on us, so we stopped whispering. She tossed out names, marking attendance on her iPad. I zoned out, doodling Superman capes in my notebook until Ms. Kilgore threw a verbal flamethrower that caught my attention.
"Jake Fontaine," Ms. Kilgore said as she glanced up over her reading glasses. My head snapped around.
"Present-ay," Jake drawled from the back row, smirking.
I drank in the sight of him, all messy dark hair and sculpted perfection. I willed him to look at me, which he finally did. I smiled, feeling my whole body blush as I remembered his lips on mine.
But instead of returning my smile, he stared through me like he didn't even know me.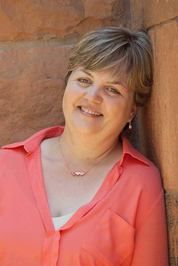 Lisa Brown Roberts still hasn't recovered from the teenage trauma of nearly tweezing off both eyebrows and having to pencil them in for an entire school year. This and other angst-filled memories inspire her to write YA books about navigating life's painful and funny dramas, and falling in love along the way.