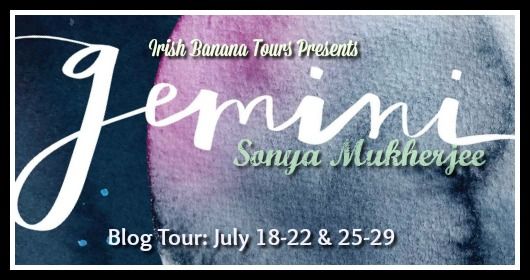 In a powerful and daring debut novel, Sonya Mukherjee shares the story of sisters Clara and Hailey, conjoined twins who are learning what it means to be truly extraordinary.
Seventeen-year-old conjoined twins Clara and Hailey have lived in the same small town their entire lives—no one stares at them anymore. But there are cracks in their quiet existence, and they're slowly becoming more apparent. Clara and Hailey are at a crossroads. Clara wants to stay close to home, avoid all attention, and study the night sky. Hailey wants to travel the world, learn from great artists, and dance with mysterious boys. As high school graduation approaches, each twin must untangle her dreams from her sister's, and figure out what it means to be her own person.
Told in alternating perspectives, this unconventional coming-of-age tale shows how dreams can break your heart—but the love between sisters can mend it.
LINKS: Amazon | B&N | Indiebound | iBooks | The Book Depository
Playlist
Gemini has two protagonists – Clara and Hailey, identical twins who are conjoined, but who have very different interests and personalities. When I thought about putting together a playlist for the book, I realized that it didn't make sense to try to squeeze both girls into one list. They each needed their own.
Clara loves astronomy and stargazing, and that's what this playlist is all about. I looked for songs that not only related to those topics, but also shared a certain mellow mood – the kind of music that Clara would want to listen to while leaning her head back against Hailey's and gazing up at the late-night sky.
"Under the Milky Way," The Church
This is one of my all-time favorite songs. Sure, Clara might quibble about the fact that we're really in the Milky Way, not under it, but I think she would agree that this music perfectly evokes the tranquil beauty of looking up into a clear night sky, far away from any city lights, and allowing yourself to be awed by that incredible view of our galaxy.
"Bright," Echosmith
The first time I heard "Bright" on the radio, I immediately thought of Clara and Max, the cute new boy at school who shares Clara's interest in astronomy. After all, it's a love song about seeing shooting stars and being dazzled by constellations together. That's Clara's love language.
"Across the Universe," The Beatles
One of the great Beatles songs. Not only does it touch on the theme of traveling through the universe (albeit abstractly), but there's that refrain of "nothing's gonna change my world," which sounds so certain, but can never really be true for anyone. I can almost imagine Clara clinging to this line as Hailey tries to convince her to change almost everything about the world they share.
"Starlight," Muse
The lyrics were probably intended metaphorically, but if you take them literally, this could be a song about traveling far into outer space, perhaps toward a distant planet, and far from everything and everyone you've ever known – what Clara most longs for, and what she most dreads.
"(Let's Kiss) While All the Stars Are Falling Down," Hammock
I mean, obviously, yes. Let's do that.
"Walking on the Moon," The Police
Clara dreams of seeing the Earth from space, making contact with life on another planet, and yes, walking on the moon. You think the lyrics are really about how it feels to fall in love? Well, how do you think it would feel to fall in love while also walking on the actual, literal moon?
"Meteorites," LIGHTS
It's about meteorites, which are among Clara's passions, and it's also about seeing greater heights. Clara might fear that, but she wants it, too.
"I Wish I Was the Moon," Neko Case
This is a sad song, but it also has a lovely wistful feeling. I can imagine Clara listening to it while she looks up at the full moon, connecting with it so strongly that she can even imagine being the moon.
"Leave the Planet," Galaxie 500
Impromptu trip to outer space? Yes! Sounds like an ideal Friday night date.
"Underneath the Stars," The Cure
You could get lost in the stars while listening to this song, couldn't you? It's romantic and dreamy, like something you could float away on.
"I Took a Ship on a Gemini Spaceship," David Bowie
OK, this one doesn't quite fit with the other songs, but it's about a GEMINI SPACESHIP. I could not pass that up.
I grew up in California's Gold Country, where I spent a lot of time sitting in trees, reading books and writing stories in my head. Now I live in the San Francisco Bay Area, where I spend a lot of time sitting in coffee shops, reading books and writing stories on my laptop. I like to play board games with my husband and kids, watch the kids' soccer games, and scare them with my terrible dancing.