Pub. Date:
April 26, 2016
Formats:
Hardcover, eBook, audiobook
ONE SUMMER in the French countryside, among sun-kissed fields of lavender . . .
ANOTHER SUMMER in upstate New York, along familiar roads that lead to surprises . . .
When Summer Everett makes a split-second decision, her summer divides into two parallel worlds. In one, she travels to France, where she's dreamed of going: a land of chocolate croissants, handsome boys, and art museums. In the other, she remains home, in her ordinary suburb, where she expects her ordinary life to continue — but nothing is as it seems.
In both summers, she will fall in love and discover new sides of herself. What may break her, though, is a terrible family secret, one she can't hide from anywhere. In the end, it may just be the truth she needs the most.
From New York Times bestselling author Aimee Friedman comes an irresistible, inventive novel that takes readers around the world and back again, and asks us what matters more: the journey or the destination.
Today we welcome Aimee for an interview!
1. Did you always know you wanted to be a writer or did you want to be something else?
I wanted to be a writer since I COULD write—probably around age five or six. It gave me this sense of wonder and satisfaction and confidence that almost nothing else in life did. I scribbled stories and novels into notebooks and journals all through my childhood and teen years. When I was in college, I realized I also wanted to work in publishing as an editor; I loved the idea of being involved with the creation of books on every level. And I'm so fortunate to be both an editor and a writer today.
2. How long does it take you to write a book from start to finish?
It really depends, book to book. On average I'd say about one year from first draft to final. TWO SUMMERS, however, took much longer, I think because of the structure—it's essentially two full books in one. I had to do several different outlines and scrap a few different drafts (originally, I had the character working at a summer camp, then a bookstore, which both got thrown out for the final draft!). It took me a little more than three years overall (and a lot of self-doubt, anxiety, and chocolate). There were moments when I really thought I might throw in the towel, but with the support of my editor, agent, friends, and beta readers, I'm very thankful to say I kept going.
3. How do you come up with themes for your stories?
I have this theory that all writers have "obsessions" that show up organically in their novels as similar themes. I tend to write a lot about secrets and discovery, which are topics that fascinate me and that I have fun exploring through fiction. I try my best to weave the themes in a natural way through the plot so that one complements the other.
4. Do you have a schedule of when you write?
I work full-time as a book editor, so I typically squeeze in my writing on the weekends and on certain evenings, when I have the energy (but really all I have the brain power for on most weeknights is a Netflix binge). Sunday tends to be the most

productive writing day for me; knowing I have limited time to work usually forces me to be more productive than I might be otherwise.
5. How are you able to balance other aspects of your life with your writing?
It's very tough, because writing requires so much deep, abiding commitment—you really need to give yourself over to the characters and the story, and sometimes that means sacrificing other things, like going to the gym or plans with friends. I'm trying to be better, though, about folding in activities as "rewards" for hitting certain word count goals, etc. (though I definitely wouldn't count the gym as a reward! Hmm…maybe that could be punishment for when I DON'T hit my goals…).
J
6. What elements do you think make a great story line?
Conflict—every great story needs conflict. The main character should want something or expect something that he or she cannot get or achieve. And this character, and all the characters in the story, need to feel compelling and authentic enough so that the reader will want to follow them on this quest. Also, this doesn't necessarily work for EVERY story, but I'm a big believer that it never hurts to throw a little romance into the mix!
7. What was the hardest thing about writing a book?
Writer's block. That horrible feeling of being stuck, of hitting a wall, of knowing what you want to say but not being able to make the words obey you. In those moments, I generally know it's time for me to take a little breather, to step back and go for a walk, or see a movie, or talk to a friend. Usually, after some distance, I can come back to the manuscript fresher and tackle the problem anew. But sometimes that process takes days or weeks or months.
8. How many books have you written so far? Do you have a favorite?
Two Summers
is my eighth YA novel! (I've also written two books for younger readers under the name Ruth Ames). In many ways, my favorite book will always be my very first published novel, South Beach, because writing it and seeing it on shelves was such a special, never-to-be-repeated kind of thrill. But usually my favorite book is also whatever is the newest one to come out, so in this case—Two Summers!
9. Do you have a favorite character?
In Two Summers, my favorite character might be Eloise; I LOVE the juiciness that comes with writing villains…even though Eloise turns out to be not exactly as she seems (I don't want to say much more for fear of spoilers…). I also love Miranda, the main character in my book Sea Change; she's very rational and logical, which is the opposite of how I am (I tend to be more emotional and dramatic) so it was fun to explore that side. Also, on a super-exciting note—Sea Change is being adapted into a two-hour TV pilot for Lifetime, so soon I will get to SEE the character of Miranda come to life. Which is insane! I can't wait.
If I'm lucky, I'm able to write at home, at my desk, but that's a rarity, because I get too easily distracted by my fridge, my TV, my comfy bed. So, if I'm wise, I plop myself down at a café, put in my earbuds, and tap away at my laptop for hours while drinking huge quantities of iced coffee. I also really love writing on long train rides.
11. When deciding on how to publish, what directed you to the route you took?
I'm fortunate in that I owe my start as a YA writer to the fact that I worked in publishing at the time; an editor I knew gave me the opportunity to write my first book for her, which is a very atypical path for most writers. This is not to say, though, that there haven't been MANY, many bumps on the road, as there always are, in all forms of publication and publishing. I always say that writers are naturally thin-skinned people who need to develop thick skins to deal with the ups and downs of publishing.
12. Have you gotten feedback from family about your book(s)? What do they think?
My family members are huge champions of my books and my writing, and for that I am very grateful. Even my dad has read and enjoyed my books, and he's not exactly the target audience, so that means a lot!
13. What kinds of things do you like to do outside of writing?
Read. Make playlists on Spotify. Read some more. Explore hidden parts of New York City. Go to museums. Try new restaurants. Look at Instagram. And, of course…read. :)
14. What kinds of advice would you give to someone who wants to start writing?
Read! Read widely and broadly, learn from the books you love AND the books you don't love. And if there's something you can't stop thinking about, something that's haunting you or compelling you? Write about it. Chances are there's a story in there, or a kernel of truth that will grow into a story.
15. What is your favorite book? favorite author? Do you have an author that inspired/inspires you to write?
Well, this is a nearly impossible question to answer because I have so many favorites, and they're changing all the time (I usually say my favorite book is Jane Eyre, and my favorite author might be Toni Morrison). But I would like to single out The Baby-Sitters Club, a series that I ADORED growing up, and that in so many ways inspired me to want to be a writer. I joke that my earliest stories were BSC fan fiction. I knew I wanted to write the same types of books: realistic stories about friendships, families, school, crushes—stories that in their relatability had resonance. Ann M. Martin is life.
16. Do you have any go to people when writing a book that help you with your story lines as well as editing, beta reading and such?
My big sister, who is an English professor, is a super-smart and helpful reader. She's totally honest and upfront about what is not working for her, which may be the most helpful aspect of a critique partner. So I know when she says she loves something, she's not just saying that to appease me.
17. Are you working on anything now?
Yes, I am tinkering with a new idea for a YA standalone! I'm a superstitious writer, though, so I'm not quite ready to say much more…
18. Tell us 5 things that make you smile
A vanilla-chocolate twist ice cream cone
A good book, and time to read it
19. Tell us 5 things that make you sad
The state of the world, sometimes
Bullies, in all their forms
The fact that there was only 1 season of Freaks and Geeks
20. If you could travel anywhere in the world to visit a place so you could use it as a background for a book, where would it be?
My family is from Eastern Europe, and I'd love to go to Prague for the first time and experience all that beauty and history. Maybe for my next book!
Thanks so much for stopping by today, Aimee. It was great having you here!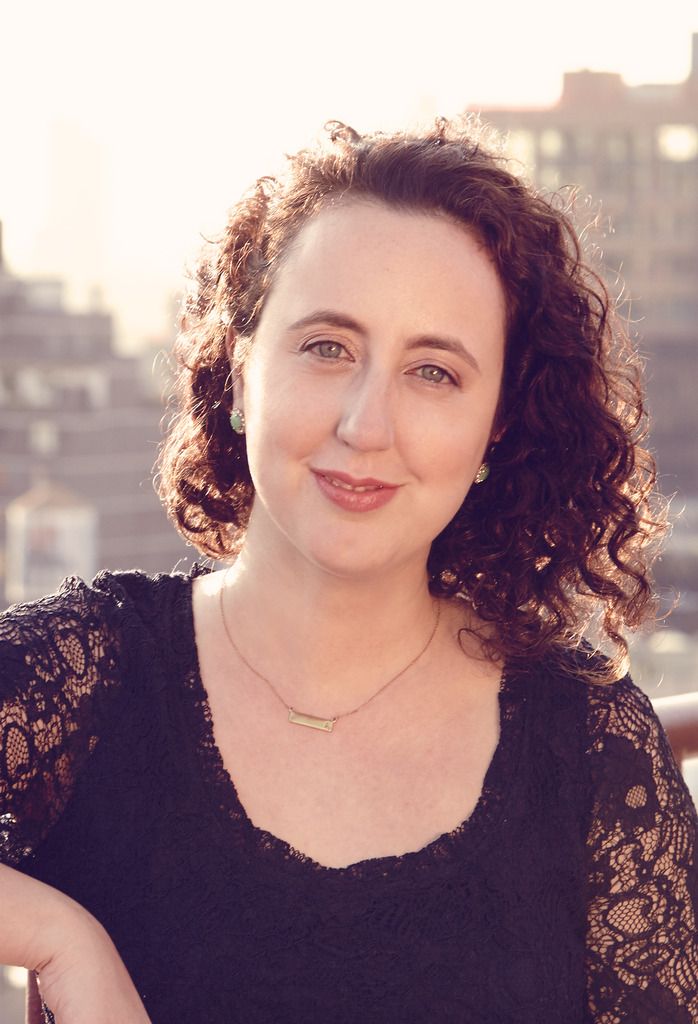 Aimee Friedman was born and raised in Queens, New York, in an apartment filled with books and different languages. She wrote her first story at the age of five, and was off and running from there. Aimee wrote all through her years as a student at the Bronx High School of Science and then Vassar College. After graduating from college in 2001, she became a children's book editor, a job she still does, and loves, to this day! Aimee published her first novel, the New York Times bestseller, South Beach, in 2005, and is now the author of several novels for young adults, the latest being Two Summers. Aimee lives in New York City, where she can usually be found writing in cafes, window-shopping, or searching for the perfect iced latte.
3 winners will receive a signed finished copy of TWO SUMMERS and TWO SUMMERS travel bags, US Only.
a Rafflecopter giveaway
6/27/2016-
Novel Novice
- Guest Post
6/28/2016-
Page Turners Blog
- Review
6/29/2016-
The Cover Contessa
- Interview
6/30/2016-
Just Commonly
- Review
7/1/2016-
YA Book Nerd
- Interview
7/4/2016-
Here's to Happy Endings
- Review
7/5/2016-
Andi's ABCs
- Guest Post
7/6/2016-
A Dream Within A Dream
- Review
7/7/2016-
Curling Up With A Good Book
- Guest Post
7/8/2016-
Margie's Must Reads
- Review