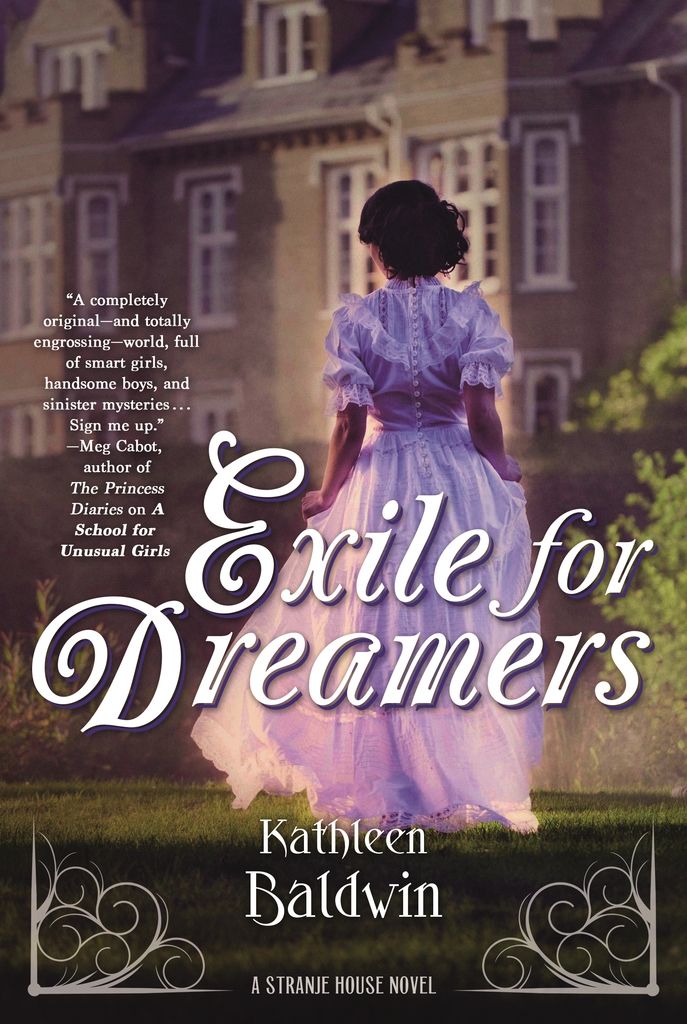 Title:
EXILE FOR DREAMERS
Author: Kathleen Baldwin
Pub. Date: May 24, 2016
Publisher: Tor Teen
Format: Hardcover, eBook
A School for Unusual Girls is the first captivating installment in the Stranje House series for young adults by award-winning author Kathleen Baldwin. #1 New York Times bestselling author Meg Cabot calls this romantic Regency adventure "completely original and totally engrossing."

Tess can't run far enough or fast enough to escape the prophetic dreams that haunt her. Dreams bring nothing but death and grief, and Tess refuses to accept that she may be destined for the same madness that destroyed her mother. Until her disturbing dreams become the only means of saving Lord Ravencross, the man she loves, and her friends at Stranje House from Lady Daneska and her lover, the Ghost-agent of Napoleon, who has escaped from Elba. Can the young ladies of Stranje House prevail once more? Or is England destined to fall into the hands of the power-mad dictator?

"Enticing from the first sentence." -New York Times Book Review

A School for Unusual Girls is a great next
Welcome Kathleen!
1.
Did you always know you wanted to be a writer or did you want to be something else?
A.
My mom and teachers guessed I'd be a writer long before I did. I thought I'd grow up to be a heart surgeon. But in a way, I still work on people's hearts, just in a completely different way.
2.
How long does it take you to write a book from start to finish?
A.
It takes me approximately 6-8 months to write my current novels.
3.
How do you come up with themes for your stories?
A.
Themes are extremely personal for me. They influence my voice the story structure, everything! The themes in my stories are emotional issues I've struggled with and maybe in some ways still deal with.
4.
Do you have a schedule of when you write?
A.
I do try to keep to a schedule. Recently, I have dedicated my mornings to writing. I try to make it the first thing I do when I get to my computer. So far this is leading to a much more productive experience while writing while on deadlines and a greater sense of accomplishment.
5.
How are you able to balance other aspects of your life with your writing?
A.
That's the trick isn't it? Let me know if someone has nailed this perfectly. As mentioned in my answer to the previous question, I think setting & keeping to a schedule may help with that. (I'm hoping) To be a good writer we must allow for time for other things – for life. My nature is to be very flexible & "go-with-flow" so that can help (or hurt).
6.
What elements do you think make a great story line?
A.
I like books where the conflict feels real – genuine. I like characters to be doing extraordinary things but in a believable way. Does that make sense?
7.
What was the hardest thing about writing a book?
A.
Sitting. I don't like to sit for very long. I like to move around. But there's one more challenging aspect of writing while on deadline. That's stopping and taking the time to listen to my deep subconscious and allow the story to flow from there. That's when the storytelling magic happens.
8.
How many books have you written so far? Do you have a favorite?
A.
I'm currently writing the third book in the Stranje House series, which means I've written 7 and 2/3. My favorite so far is EXILE FOR DREAMERS. Although I always fall in love with my latest book.
9.
Do you have a favorite character?
A.
I still adore Sebastian, Lord Wyatt, from book one.
A.
I'm working on a new space in my house for my office, but right now out of my bedroom.
11.
When deciding on how to publish, what directed you to the route you took?
A.
It was important to me for these books to be available kids in schools. So my agent focused on publishers that marketed to schools and libraries. I adore my team at TorTeen / Tom Doherty and Associates. My publisher is an extraordinary woman, and my editor is brilliant. Tor has done a wonderful job with these books.
1
2.
Have you gotten feedback from family about your book(s)? What do they think?
A.
My family has been very supportive with my writing. My husband is my biggest fan and always reads the first drafts. My daughter says she identifies with the female characters at Stranje House, and likes how the girls tap into their unique gifts. My sons are supportive as well. I'll never forget the day my son came home from high school and told me he saw a girl reading my book tucked inside her history book during class.
13.
What kinds of things do you like to do outside of writing?
A.
I love being outdoors. I've been an adventurer since I was young: rock-climbing, desert survival training, back-country skiing, white water rafting. Anything outdoors I love, even the simplest of things like tending to my fruit & vegetable garden brings joy to my heart.
14.
What kinds of advice would you give to someone who wants to start writing?
A.
Live a full life. Observe. Really observe, observe REAL life – not TV and movies. Record how you feel and why. Read. Think about what you've read, what you liked about the work and what you didn't, but mostly about what you liked.
15.
What is your favorite book? favorite author? Do you have an author that inspired/inspires you to write?
A.
I don't have one favorite, or even one genre. I love so many books it's frightening. I adore Georgette Heyer's fun Regency romps, but also love Marissa Meyer's amazing anime-like Lunar Chronicles, and Meg Cabot's delightful contemporary tales. The way Daphne Du Maurier almost hypnotizes the reader still baffles and amazes me. Then there's the incomparable SF writer, Frank Herbert — I could go on.
1
6.
Do you have any go to people when writing a book that help you with your story lines as well as editing, beta reading and such?
A.
My daughter, my critique group, and my bestie, author, Patience Griffin.
1
7.
Are you working on anything now?
A.
Yes, I am in the midst of writing the third installment of the Stranje House series! This time we are seeing the story unfold through Lady Jane's perspective.
18.
Tell us 5 things that make you smile
B.
My youngest son singing & playing the guitar
19.
Tell us 5 things that make you sad
20.
If you could travel anywhere in the world to visit a place so you could use it as a background for a book, where would it be?
A.
Wales... oh wait maybe Croatia ... or Verona ... oh gosh, anywhere, just buy me a ticket!
Thanks for stopping by today, Kathleen! Great having you with us!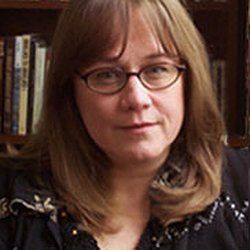 "I love adventure in books and in real life. I've roamed the Rocky Mountains, wandered the desert, enjoyed way too many classes in college, was stalked by a mountain lion, lost an argument with a rattlesnake, fell in love at least a dozen times, finally met and married my very own hero, and together we've raised four free-spirited children."

Award-winning author - Kensington published four of Kathleen's Regency romantic comedies, including MISTAKEN KISS, a Holt Medallion finalist. DIARY OF A TEENAGE FAIRY GODMOTHER, was a Golden Quill finalist. Her upcoming Historical YA series with TorTeen, A SCHOOL FOR UNUSUAL GIRLS, is a Junior Library Guild Selection and won a Marlene.

News and more at: www.Kathleenbaldwin.com


Website | Blog | Twitter | Facebook |Pinterest |

Goodreads
a Rafflecopter giveaway
Tour Schedule
Week One:
5/23/2016-
Once Upon A Twilight
- Interview
5/24/2016-
Stories & Sweeties
- Review
5/25/2016-
Curling Up With A Good Book
- Guest Post
5/26/2016-
Lisa Loves Literature
- Review
5/27/2016-
The Cover Contessa
- Interview
5/30/2016-
The Best Books Ever
- Review
5/31/2016-
A Dream Within A Dream
- Guest Post
6/1/2016-
Wishful Endings
- Review
6/2/2016-

BookHounds YA

- Interview
6/3/2016-
Pandora's Books
- Review