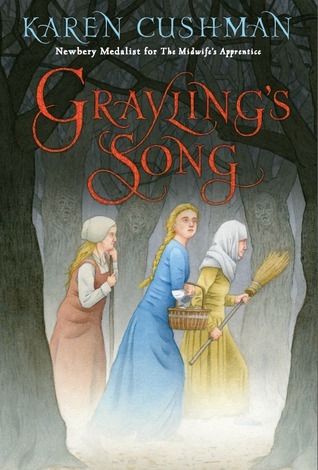 "When Grayling's mother, wise woman Hannah Strong, starts turning into a tree, Hannah sends Grayling to call "the others" for help. Shy and accustomed to following her mother in everything, Grayling takes to the road. She manages to summon several "others" — second-string magic makers who have avoided the tree spell — and sets off on a perilous trip to recover Hannah's grimoire, or recipe book of charms and potions. By default the leader of the group, which includes a weather witch, an enchantress, an aspiring witch, a wizard whose specialty is divination with cheese, and a talking and shape shifting mouse called Pook, Grayling wants nothing more than to go home.
Kidnapping, imprisonment, near drowning, and ordinary obstacles like hunger, fatigue, and foul weather plague the travelers, but they persist and achieve their goal. Returning, Grayling finds herself reluctant to part with her companions — especially Pook. At home she's no longer content to live with her bossy mother, who can look after herself just fine, and soon sets out on another journey to unfamiliar places . . . possibly to see the young paper maker who warmed her heart."
Title: Grayling's Song
Author: Karen Cushman
Publisher: Clarion Books
Expected Publication Date: 6/7/16
I would like to thank Clarion Books & NetGalley for a copy of this e-ARC to review. While I received this ebook for free, that has no impact upon the honesty of my review.
A classic coming of age story, Grayling could be any girl on some level. Granted the time period she lives in is far distant, and while little in her life is recognizable, that which remains is the basic stuff that is true for all, regardless of the era it occurs in. Grayling is faced with saving her mother, and soon discovers that it's not only her mother that requires saving, but most all wise women, cunning people, and those with powerful magics. Yet Grayling herself has no magic, so how is she to defeat a foe that managed to subjugate those with far more power than her? All Grayling thinks she has is what she's learned from watching her own mother.
The heart of the tale is about learning who you are, what you're capable of, and not only finding yourself but also trusting the inner you. So while Grayling meets many an interesting character, and has several adventures, all of those things are used to help lead her to the ultimate truth of discovering just who she is and what she's made of. And the answer she gets may surprise her, but it doesn't seem to surprise any of her traveling companions.
I enjoyed this story, as it was sweet and funny in places. Even though it's set in a different era it's filled with characters that are easy to relate to. It's quite simple to understand why Grayling likes or dislikes the characters she encounters on her journey. And though there are adults in her group of traveling companions, they frequently end up needing Grayling to be the voice of reason. This of course provides a powerful lesson for the readers, that no one, even adults, are always going to be perfect. The other really useful lesson revolves around Pansy, an incredibly annoying character. But of the various lessons that could be attributed to her involvement, the most important may be to treat others with respect. Or, it may be the importance of taking ownership for our actions. Or maybe even the fact that there are no real shortcuts to the valuable things in life — be they objects or goals to attain. So I suppose Pansy provides many very important lessons all by herself, and not a one paints her in a flattering light. For good reason, as you'll see once you meet her. Though this is Grayling's story, Pansy does seem to try to hijack it periodically. And sometimes she comes mighty close to succeeding, but in the end Grayling retains ownership of her story.
While this book is listed as Children's and Middle Grade level reading, I felt that it should have probably been one or the other and then been winnowed down to fit the target audience better. The trouble I had was that since it takes place in historical times, when people's lives were quite different, it seemed to give either conflicting messages, or simply poorly explained messages. Painting Grayling as a child when she begins her journey and then letting her up and leave to follow her dreams a short time later simply didn't make sense when viewed through the lens of society today. If the readers are aware how quickly kids grew up in Grayling's era, and how young they would marry and start families, then the discrepancy between her actions in the beginning and end might make more sense. But without that historical knowledge it makes the changes rather jarring and a bit confusing, or so I would think if I encountered this story without that knowledge of history. But that aside I found this to be an entertaining story.
Karen Cushman was born in Chicago, Illinois.
She entered Stanford University on a scholarship in 1959 and graduated with degrees in Greek and English. She later earned master's degrees in human behavior and museum studies.
For eleven years she was an adjunct professor in the Museum Studies Department at John F. Kennedy University before resigning in 1996 to write full-time.
She lives on Vashon Island, Washington with her husband, Philip.