"Expect a bundle of joy—er, trouble—in this hilarious, heartwarming story from the award-winning author of Stupid Fast Geoff Herbach

Taco's mom always said, "Today is the best day of your life, and tomorrow will be even better." That was hard to believe the day she died of cancer and when Taco's dad had to move up north for work, but he sure did believe it when Maggie Corrigan agreed to go with him to junior prom. Taco loves Maggie- even more than the tacos that earned him his nickname. And she loves him right back.

Except all that love? It gets Maggie pregnant. Everyone else may be freaking out, but Taco can't wait to have a real family again. He just has to figure out what it means to be a dad and how to pass calculus. And then there's getting Maggie's parents to like him. Because it would be so much easier for them to be together if he didn't have to climb the side of the Corrigans' house to see her..."

Title: Anything You Want
Author: Geoff Herbach
Publisher: Sourcebooks Fire
Expected Publication Date: May 3, 2016
I would like to thank

Sourcebooks Fire & NetGalley

for a copy of this e-ARC to review. Though I received this ebook for free, that has no impact upon the honesty of my review.
I'll admit that I was pretty skeptical after reading the first few sentences of the book. The language and cadence of Taco's speech and thoughts just didn't speak to me. Given that he's the narrator of the story that could have been a big problem. Luckily, as the story progressed I found myself more and more taken with Taco's exuberance for life and everything it contained. Yet I never was able to quite get past the impression of 'stoned surfer dude' that his speech and thoughts seemed to project.
Taco, Maggie, and Darius are all intriguing characters, each of whom grow in depth as the story progressed. But again Taco is clearly the central character around who everyone else revolves. That's not because he's selfish, because in fact he's an incredibly generous and thoughtful person. It's simply that this story is about Taco's life choices, and the lessons he eventually learns from them. And given the situation he and Maggie find themselves in I was surprised that Maggie's point of view wasn't more prominent. In fact Maggie was almost an afterthought throughout the story other than how Taco related to her, which was unusual. Normally stories about teen pregnancy issues are from the female's point of view and tend to be her story rather than his story. So in that regard this was uniquely creative.
Some of the messages are crystal clear, such as the consequences of having unprotected sex. Especially daily unprotected monkey sex. But there are more subtle messages as well, one of which comes up before the wild, monkey sex begins, yet it's most definitely related. And while the life lessons contained within are powerful and obvious, they are so well integrated with Taco's story that they don't feel like a treatise on the appropriate ways to behave lest you face certain penalties. But it's also about growing up, not just physically, but emotionally too. It's certainly not just Taco who is wrestling with the challenges that come with maturing. After their mother's death, Darius struggled for years to be a parent to Taco, while their father skipped out on them for all intensive purposes. But Darius was far to young to step in as a parent to his kid brother, and it's showing. His breakdown provides a great example to Taco about the cost of parenting and all that it takes; even if Taco doesn't consciously take note of the correlation.
Overall this is a pretty happy story, even with all the hardships Taco faces. And a huge part of that has to do his attitude towards life. An attitude his mom inspired, for she told him that every day is his best day. Today is his best day, tomorrow is his best day, etc.; which is how he manages to live in the now so well. In fact, some might say to well. And therein is yet one more of those life lessons that Taco is faced with, how to find the right balance to let him stay in the now while still keeping his eye on his future. Though I stumbled a bit at the beginning, I can comfortably say this book grew on me. Even if parts of it were more than a tad unrealistic. But then maybe that's part of its charm? Either way it's a fun read, complete with solid lessons that don't feel forced in any way, shape, or form. And I feel confident saying that Taco is tough to resist. I dare you to try. Go on, I dare you!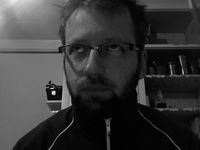 I am the author of the YA title, Stupid Fast (June 2011 from Sourcebooks Fire). I also wrote The Miracle Letters of T. Rimberg, a Novel from Three Rivers Press. When I'm not writing books, I'm writing for Radio Happy Hour or developing ridiculous musical bits.
When I'm not writing, I'm teaching writing at Minnesota State, Mankato, which means I write a lot of comments about writing on student writing.
Writing a lot of writing and reading about writing and writing on reading.