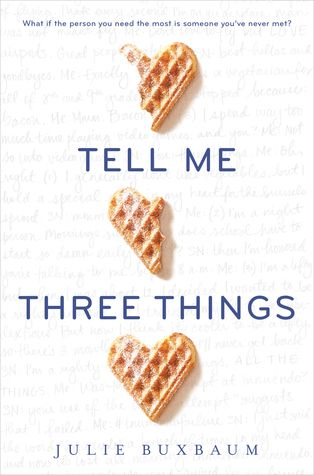 What if the person you need the most is someone you've never met?
Everything about Jessie is wrong. At least, that's what it feels like during her first week of junior year at her new ultra-intimidating prep school in Los Angeles. Just when she's thinking about hightailing it back to Chicago, she gets an email from a person calling themselves Somebody/Nobody (SN for short), offering to help her navigate the wilds of Wood Valley High School. Is it an elaborate hoax? Or can she rely on SN for some much-needed help?

It's been barely two years since her mother's death, and because her father eloped with a woman he met online, Jessie has been forced to move across the country to live with her stepmonster and her pretentious teenage son.

In a leap of faith—or an act of complete desperation—Jessie begins to rely on SN, and SN quickly becomes her lifeline and closest ally. Jessie can't help wanting to meet SN in person. But are some mysteries better left unsolved?
Title: Tell Me Three Things
Author: Julie Buxbaum
Publisher: Delacorte Press
Expected Publication Date: 4/5/16
Brooke's Review:
I want to thank Delacorte Press for providing me with a copy of this book to read and give an honest review. Receiving this book for free has in no way altered my opinion or review.
From the moment I read the blurb for this book, I knew I had to read it. I'm very much into contemporary romance right now and this one really hit the spot. The mystery factor was probably my favorite part. Though the book had some predictability to it, it didn't alter my love of the characters and the way the story moves.
Jessie has been uprooted from her life and thrown into a new one. New "mother," new school, new
"brother," new everything. She just wants her old life back. Then she receives a an email from a secret admirer who wants to help her adjust to her new surroundings. The friendship that ensues is quite unique: everything by email and the person knows exactly who she is but she has no clue who they are. I really liked Jessie. Her anger was completely understandable. She's also frustrated and I'm pretty sure scared. She has to start her life all over again, moving from comfortable to the unknown. while I never experienced being completely uprooted as a teen, I have absolutely gone through this change when entering college.
Buxbaum really made all the characters in this book relatable. I could see myself being friends with them. Each had their own personality traits and quirks. It was fun to watch Jessie figure out who was right and who was wrong to have in her circle. It was also interesting to watch her thought process as she tried to figure out who exactly her secret admirer was. It was also great watching her form her friendships and figure out exactly who was good for her. Even those she thought would never help in her life turned out to really be essential in her growth during the book.
Buxbaum's writing was easy to follow and flowed well. She adds a great amount of depth to her narration while still keeping other parts light hearted. I never found myself bored or wanting to put the book down. And despite my having figured out who the secret admirer was from the very start, I still loved the read.
I would gladly pick up another book by this author as this one really hit the spot for me. If you are a fan of Jennifer E. Smith and Kasie West, you'll enjoy this quickly paced, sweet tale of friendship, acceptance, and love.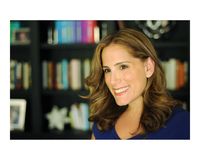 Please check out my two novels, THE OPPOSITE OF LOVE and AFTER YOU, both now out in paperback. My first YA novel, TELL ME THREE THINGS, debuts April 2016.
Please check out my website
www.juliebuxbaum.com
for more information about my books.
Or to follow my recent shenanigans, please check out my blog, JULIE HAS WRITER'S BLOG, at
www.juliebuxbaum.com/blog/
One of my favorite things about being a novelist is the opportunity to talk to reading groups. If you are part of a reading group and would like to set up a conference call, or maybe even a meeting in person, please check out the reading group form and the reading group guide on my website.