A boy without a voice.
A teen without a home.
A man without hope.
Kian knows the way his life is headed will be the death of him. It doesn't matter how many criminals he catches for Gordon's Bounty Detective Agency or how deep he tries to fall into the bottle – those eyes haunt him. All it took was one whisper of bad advice, one wrong choice, one mistake, to wipe out years of confidence he had struggled to build while living on his Grandmother's farm. Then Kian found the box of files overflowing with unsolved crimes. Those cold cases jolted his soul from its vegetative state and awakened his resolve. Kian knew those cases were meant for him to solve, but the last thing he expected to find within a few wrinkled folders was his ultimate redemption.
Redeem
Isis' Review:
I would like to thank

Donnielle Tyler

for an e-ARC of this book to review. Though I received this e-book for free, that has no impact upon the honesty of my review.
Being a novella this is a short story, so it goes by quickly. I got my copy without the benefit of the teaser material, so this review is based upon a cold reading. Even though I've read the first two books in the Caelian Cycle series I had no real frame of reference for this story beyond the main character's name. At least not until a ways into the story. This is Kian's backstory, his background prior to meeting Sadie - that relationship is covered in book two, Bound. While he's also in Lost, this novella brings you right up to his first contact with Sadie.
While Kian is interesting I felt as if there wasn't enough to anchor me to his character. I didn't really understand why he was all over the map, and it was difficult to find a reason to care, or a reason beyond knowing the role he plays in both books in the Caelian Cycle. In my opinion this novella shouldn't be read immediately after the second book in the Caelian Cycle, as it won't mean as much without that frame of reference to work from. Even then the issue that drives him is left unspoken, and if it's covered in the prior books I can't say I can recall it. Given the fact that it motivates his every move I'd like to know exactly what happened, or at the very least be assured that it would become clear in the next book. It's quite possible it was covered in either Lost or Bound, but given the number of books I read and the amount of time between readings it would be useful to have a reminder if the information was included in one of those books.
All told I wish that this had been a bit longer, providing a stronger framework for the reader to pull from. I like Kian, but too much of his motivation was left unspoken and unexplained for me to really get him, or get emotionally invested in this story. So while I'd have preferred either a recap of information that came before, or more depth and details to help round out this aside, I am hopeful that this will provide necessary information going forward in the series. Guess I'll just have to wait and see.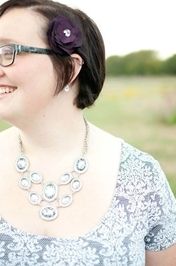 Hello! Donnielle here, obviously. I really don't like talking about myself, so lets get this party started. I spend most of my free time writing, but when I'm not writing, I spend my time reading, binge watching Netflix, homeschooling my two children, and hanging out with my husband.
A few fun facts about me:
1. I began writing when I was in junior high. A teacher approached me with a poetry book and I fell in love. Writing poetry has helped me express myself through some of the darkest times in my life.
2. I am always reading something and own hundreds of eBooks. I thank the technology gods for the invention of e-readers. Series are my favorite. I love it when I feel like I cannot stop reading a book. My favorite genre is sci-fi and paranormal.
3. I am a HUGE nerd and enjoy every medium of nerdom from comic books to Magic! The Gathering.
4. I am a serious introvert and need plenty of alone time so I don't go insane. Seriously! I will cut someone if they cut in to my "me" time.
5. I have a passion for holistic medicine and create many of my own household products. My kids and husband will ask for some "oils" when they aren't feeling well. I love growing herbs to make my own blends of herbal tea.
6. I read YA almost exclusively. There is just something about it that calls to my heart above other genres.
7. When I read paranormal it's either about shifters or faeries.
8. Writing has always been a passion and a dream. I had many jobs and they never fulfilled me the way writing has.