The Mystery of Hollow Places
by
Rebecca Podos
Publisher: Balzer & Bray
Release Date: January 26th 2016
Genre: Young Adult, Contemporary, Mystery
Rate:
INSERT YOUR RATE HERE
Synopsis:
All Imogene Scott knows of her mother is the bedtime story her father told her as a child. It's the story of how her parents met: he, a forensic pathologist, she, a mysterious woman who came to identify a body. A woman who left Imogene and her father when she was a baby, a woman who was always possessed by a powerful loneliness, a woman who many referred to as troubled waters.
When Imogene is seventeen, her father, now a famous author of medical mysteries, strikes out in the middle of the night and doesn't come back. Neither Imogene's stepmother nor the police know where he could've gone, but Imogene is convinced he's looking for her mother. She decides to put to use the skills she's gleaned from a lifetime of her father's books to track down a woman she's never known, in order to find him and, perhaps, the answer to the question she's carried with her for her entire life.
Rebecca Podos' debut is a powerful, affecting story of the pieces of ourselves that remain mysteries even to us - the desperate search through empty spaces for something to hold on to.
Today Rebecca has stopped by for a guest post and this is what we asked her:
You are going to be stranded on an island for a year. You can choose ten books to bring with you. Which ones do you choose and why?
On my website, I actually have a little portrait I drew of the most meaningful books to me, the ones I'd carry with me to a deserted island instead of unnecessary things like food and weaponry (okay, there are eleven books in the picture, but I'll throw a few more supplies overboard if I can keep them all.)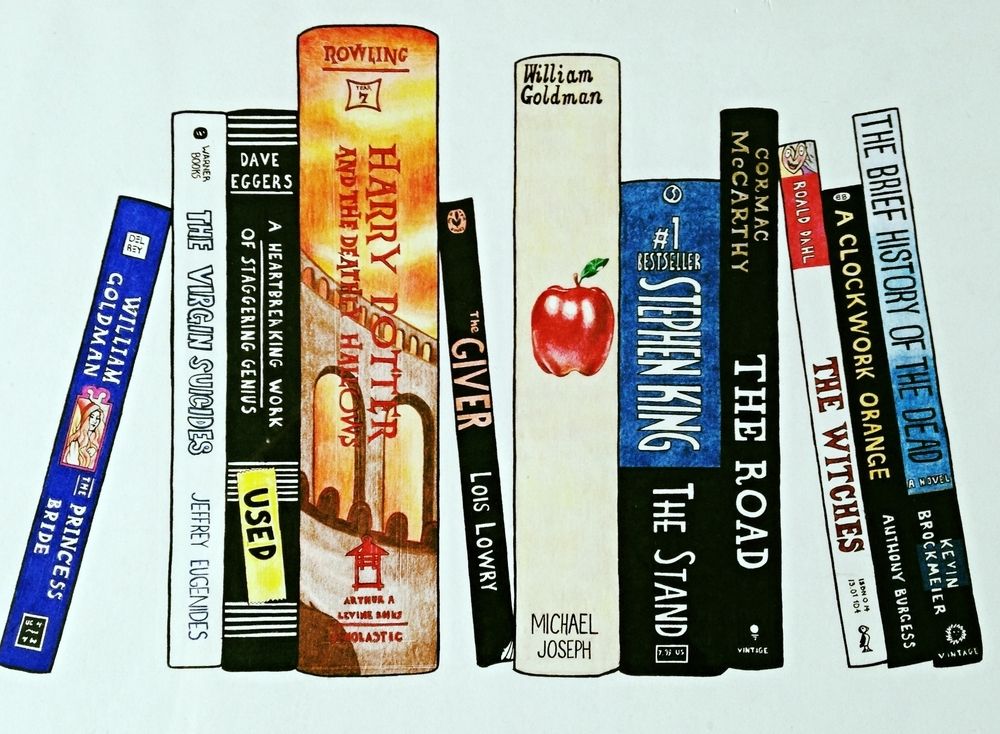 THE PRINCESS BRIDE
by William Goldman, an old favorite which taught me that life isn't always fair, that
you have to punch with your thumb outside your fist, and that love is the best thing in this world aside from cough drops.
THE VIRGIN SUICIDES by Jeffrey Eugenides, which breaks my heart every time I read it, but blows me away with its lyricism, and the respect it pays to its young characters.
A HEARTBREAKING WORK OF STAGGERING GENIUS by Dave Eggers. Sure, the title is facetious, but this memoir-ish book is self-conscious, always ambitious, and occasionally heartbreaking/staggering/genius.
HARRY POTTER AND THE DEATHLY HALLOWS by J.K. Rowling. I would bring all of them if I could, but as the capper to one of the series that taught me to love reading, it's a must-have. Okay, maybe I could ditch the epilogue, though …
THE GIVER by Lois Lowry. One of the books that shaped me, The Giver taught me to put my own pain in perspective. When I first read it, I began to understand the difference between a sprained finger and a broken arm, between hunger and starvation, between cold and frozen. It taught me that life contains real pain, and this is a damn important lesson for a nine-year-old suburbanite to learn.
BOYS AND GIRLS TOGETHER by William Goldman. This book was one of my first favorite adult novels, and for that it gets a spot in the boat.
THE STAND by Stephen King. When I was in high school, I would spend my summers methodically borrowing every single book by Stephen King, which weirdly made up like, half of my hometown library. This will always be my favorite. If a horror novel can make you cry, it's doing something right.
THE ROAD by Cormac McCarthy. Beautiful language, beautiful storytelling, and moments of hope so rare and bright amongst the bleakness of the characters' journey, they're transcendent.
THE WITCHES by Roald Dahl. I will always love Roald Dahl, who understood that kids were capable of, even eager to, read about the more sinister side of the world. This is definitely my favorite of his.
A CLOCKWORK ORANGE by Anthony Burgess, which I read in high school when I was assigned, and which blew my mind—I only started to write when I was fifteen or sixteen, and this had me obsessed about the things a writer could do with language, if they dared.
THE BRIEF HISTORY OF THE DEAD by Kevin Brockmeier. Brockmeier is one of my all-time favorite writers, for writing high concept ideas with emotionally resonant execution. And this is my favorite of his, one of my all-time favorites period.
What a fabulous list (though you did go over those 10 didn't you! LOL). I'm sure our readers would love to tell you the books they might bring, as well. So, what books would you bring?
Read an excerpt of THE MYSTERY OF HOLLOW PLACES on Epic Reads:
The Mystery Of Hollow Places | Books | Epic Reads
Rebecca Podos' debut YA novel, THE MYSTERY OF HOLLOW PLACES, is forthcoming from Balzer + Bray (HarperCollins) on 1/26/16. A graduate of the Writing, Literature and Publishing program at Emerson College where she won the M.F.A. Award for Best Thesis, her fiction has been published in Glimmer Train, Glyph, CAJE, Paper Darts, Bellows American Review, and Smokelong Quarterly. Past Awards include the Helman Award for Short Fiction, the David Dornstein Memorial Creative Writing Prize for Young Adult Writers, and the Hillerman-McGarrity Scholarship for Creative Writing. She works as a YA and MG agent at the Rees Literary Agency in Boston.
US ONLY