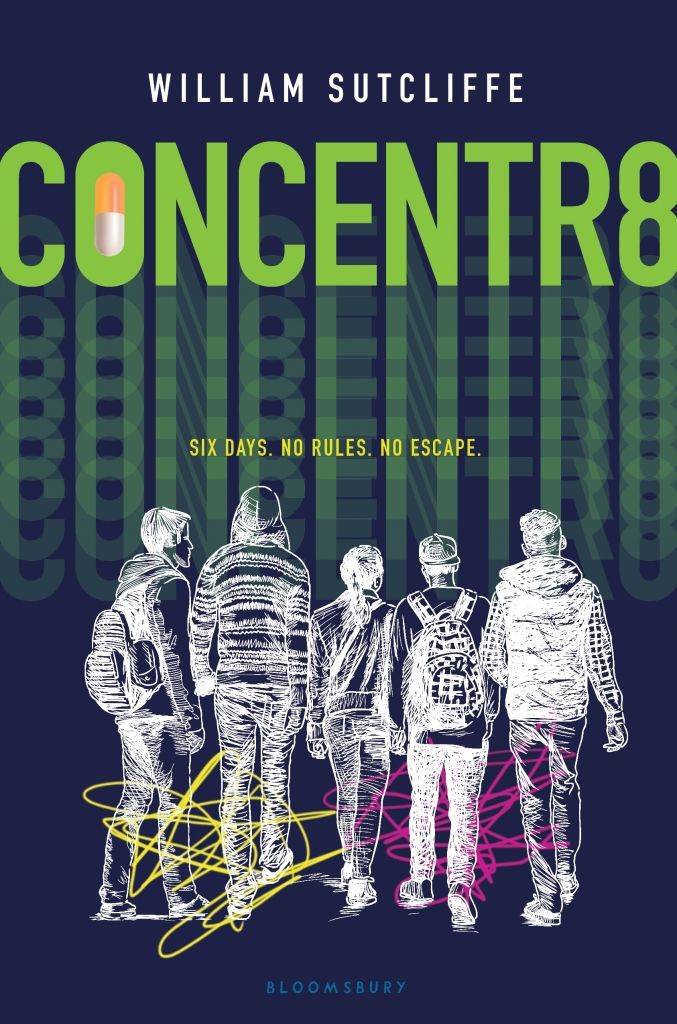 In a not-so-distant future London, riots have become the norm. But when the government suddenly stops distributing Concentr8--a behavioral modification "miracle" drug akin to Ritalin--the city's residents rise up fiercer than they ever have before.

Amidst the chaos, five teens pick a man seemingly at random and chain him up as a hostage in a warehouse. Blaze is their leader, and Troy has always been his quiet sidekick--the only person he has ever trusted. But even Troy didn't see this coming, and as their story unfolds over six tense days, one thing is clear--none of them will ever be the same again.

Told from the perspective of multiple characters in a world familiar to our own, this searing look at a group of teens who push back from the margins of society is perfect for fans of thoughtful fiction like Panic and The Program series.
Today we welcome William to The Cover Contessa for an interview!
Did you always know you wanted to be a writer or did you want to be something else?
When I was younger I wanted to be a musician for a while, but I wasn't nearly good enough. I think in my heart of hearts I wanted to be a writer from my late teens, and it still seems kind of incredible that it came off.
How long does it take you to write a book from start to finish?
From one to two years usually, but it varies depending on how much research is needed, and how much other stuff gets in the way. Life often gets in the way of writing, but life is what your writing is made of in the future, so I think it's all part of the process. As a writer, you are living and gestating future projects while you work on the idea that is currently on-screen.
How do you come up with themes for your stories?
I try to keep my eyes and ears open to the world around me. In a world full of distractions, I make sure that I take time to unplug, disconnect and sometimes just think.
Do you have a schedule of when you write?
I have three young children, so whenever nobody needs looking after, I sprint to my computer and write.
How are you able to balance other aspects of your life with your writing?
.
I'm not sure I do. Balance is a lovely goal, but at the moment I'm settling for invigorating semi-chaos.
What elements do you think make a great story line?
1) Interesting and engaging people. 2) Surprising things happen to them. 3) You care about the outcome. 4) These events make readers think about the world around them after they close the book.
What was the hardest thing about writing a book?
Getting through the inevitable periods of the process when it seems like the whole thing is useless.
How many books have you written so far? Do you have a favorite?
I've written seven books for adults or young adults, and two for children. It's impossible to choose a favorite.
Do you have a favorite character?
I am very fond of Troy in Concentr8, for his strength and willpower in the face of very difficult life circumstances.
I have an office at home, but when I'm getting interrupted too much, I often head out to local cafes. I quite like writing in cafés, where there's a bit of life going on around you, but nobody is going to bother you.
When deciding on how to publish, what directed you to the route you took?
I talk everything through with my agent. She's very experienced, and has always given me good advice.
Have you gotten feedback from family about your book(s)? What do they think?
My wife is always my first reader. She is also a novelist. She gives me invaluable help every time. And if

I need straightforward encouragement I have a Jewish mother, will tell me that whatever I've written is wonderful, even if it isn't.
What kinds of things do you like to do outside of writing?
I listen to music constantly, even when I'm writing, especially jazz, classical and electronica. I love sport, especially football. Movies and box sets, obviously. Walking. The usual, really.
What kinds of advice would you give to someone who wants to start writing?
Just do it. Don't wait for any help or instructions or some kind of invitation, just put words on the page and see where it takes you.
What is your favorite book? favorite author? Do you have an author that inspired/inspires you to write?
My favourite YA novel is probably Holes by Louis Sachar. The adult writer who inspired me to get started is Philip Roth.
Do you have any go to people when writing a book that help you with your story lines as well as editing, beta reading and such?
Are you working on anything now?
Yes. But I never talk about unfinished work.
Thanks so much for being here today, William. So great to have you with us!
William Sutcliffe
is the author of the young adult novel The Wall, which was published in 2013 to much critical acclaim, including being short-listed for the 2014 Carnegie Medal and long-listed for the 2013 Guardian Fiction Prize. He also wrote five adult novels, including the international bestseller, Are You Experienced, and a middle-grade novel, Circus of Thieves and the Raffle of Doom. William currently lives in Edinburgh.
a Rafflecopter giveaway
1/29:
Avid Reader - Review