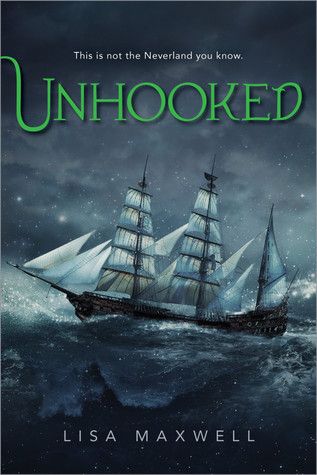 For as long as she can remember, Gwendolyn Allister has never had a place to call home—all because her mother believes that monsters are hunting them. Now these delusions have brought them to London, far from the life Gwen had finally started to build for herself. The only saving grace is her best friend, Olivia, who's coming with them for the summer.
But when Gwen and Olivia are kidnapped by shadowy creatures and taken to a world of flesh-eating sea hags and dangerous Fey, Gwen realizes her mom might have been sane all along.
The world Gwen finds herself in is called Neverland, yet it's nothing like the stories. Here, good and evil lose their meaning and memories slip like water through her fingers. As Gwen struggles to remember where she came from and find a way home, she must choose between trusting the charming fairy-tale hero who says all the right things and the roguish young pirate who promises to keep her safe.
With time running out and her enemies closing in, Gwen is forced to face the truths she's been hiding from all along. But will she be able to save Neverland without losing herself?
Title: Unhooked
Author: Lisa Maxwell
Publisher: Simon Pulse
Expected Publication Date: February 2, 2016
Brooke's Review:
I want to thank Simon Pulse for providing me with a copy of this book to read and give an honest review. Receiving this book for free has in no way altered my opinion or review.
So this is my second Peter Pan retelling in the last few months. The first one I read was from the POV of Captain Hook and it was phenomenal. It had me hooked back on this fairy tale I loved as a child. So given the chance to read more from this type of retelling I jumped at it. And since I'm a huge fan of Once Upon a Time, I love to read anything about Captain Hook! And I love retellings in general, so it really fit with me.
What can I say about Gwendolyn (Gwen...Wendy?)? I really enjoyed her character. She's a bit broken by all the moving she's done during her life and the lack of support she has received from her own mother. But she's also had to deal with a lifetime of her mother's craziness. I had empathy for her from the start. It's hard to deal with a parent who isn't really a parent. A parent who acts more like the child in the relationship. It causes the child to have to grow up way faster than they should. So Gwendolyn is quite mature for her age and resilient and strong. But she's ready to be set free of this life she's been shackled to. She wants to fit in somewhere, finally, and moving all over the place doesn't give her that opportunity.
When she and her mother, and her friend Olivia, arrive in London, she expects things to go as usual. But that's not quite what happens. She finds herself in another world, with people who fit in with the stories she's heard about Peter Pan. I love how Maxwell gets her there. And love how she's introduced to the characters. Honestly, it's hard to talk about this without spoiling anything.
I absolutely adored Captain Hook (Rowan) and Peter Pan. Their characters are unique and give you such a different look into who they are. I love the secrets that are revealed about each of the boys: where they came from, who they were before, who they have become. I definitely had a ton of empathy for Rowan, which I wasn't expecting at all. He was my favorite character in this book.
Gwen has a connection to Neverland she wasn't expecting. You see it right from the beginning of her arriving on the island. It's something that's unexpected, but oh so important to the story.
I will say that good and evil are not what you think they are in this story. There are so many twists and turns it's really hard to tell who Gwen can trust. And then Gwen finds out a secret about herself that she never saw coming, but makes total sense to her once it's revealed. And she has to take this new information and figure out how to use it.
The romance is done really well in this book. I loved how it built on itself and progressed. It didn't feel rushed or overly intrusive on the plot.
And Maxwell's writing is fantastic. It's beautifully written with the author showing you the scenes so thoroughly it's hard not to imagine yourself there with all the characters. And her ability to develop the characters is outstanding. She made them relatable and you know who you liked and who you didn't.
The story is wrapped up well, but definitely left open enough that the author could write another if she wanted to. I'm not usually a fan of the more open ended books, but it worked with this one!
Anyone who is a fan of A.G. Howard's Splintered will fall right into this book and not want to come up for air until it's done. With it's thrilling pace and intriguing plot, this book is sure to woo anyone who likes a fantastic fairy tale retelling!