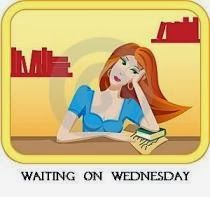 Waiting on Wednesday is a weekly meme hosted by Jill from Breaking the Spine that spotlights upcoming releases we are eagerly awaiting!
Title: Storm (Paper Gods #3)
Author: Amanda Sun
Publisher: Harlequin Teen
Expected Publication Date: June 30, 2015
After almost a year in Japan, Katie Greene has finally unearthed the terrible secret behind her boyfriend Tomohiro's deadly ability to bring drawings to life—not only is he descended from Kami, the ancient Japanese gods, but he is the heir to a tragedy that occurred long ago, a tragedy that is about to repeat.
=Even as the blood of a vengeful god rages inside Tomo, Katie is determined to put his dark powers to sleep. In order to do so, she and Tomo must journey to find the three Imperial Treasures of Japan. Gifts from the goddess Amaterasu herself, these treasures could unlock all of the secrets about Tomo's volatile ancestry and quell the ink's lust for destruction. But in order to complete their quest, Tomo and Katie must confront out-of-control Kami and former friend Jun, who has begun his own quest of revenge against those he believes have
wronged him. To save the world, and themselves, Katie and Tomo will be up against one of the darkest Kami creations they've ever encountered—and they may not make it out alive.
I'm a YA author and proud Nerdfighter. I was born in Deep River, Canada, a very small town without traffic lights or buses, and where stranger safety is comprised of what to do if you see
a bear—or skunk. I started reading fantasy novels at 4 and writing as soon as I could hold a pencil. Hopefully my work's improved since then.
​In university I took English, Linguistics, and Asian History, before settling into Archaeology, because
I loved learning about the cultures and stories of ancient people. Of course, I didn't actually become an archaeologist—I have an intense fear of spiders.
I prefer unearthing fascinating stories in the safety of my living room.
​The Paper Gods is inspired by my time living in Osaka and travelling throughout Japan. That and watching far too many J-Dramas. I currently live in Toronto with
my husband and daughter. When I'm not writing, I'm devouring YA books, knitting nerdy things like Companion Cubes and Triforce mitts,
and making elaborate cosplays for anime cons.