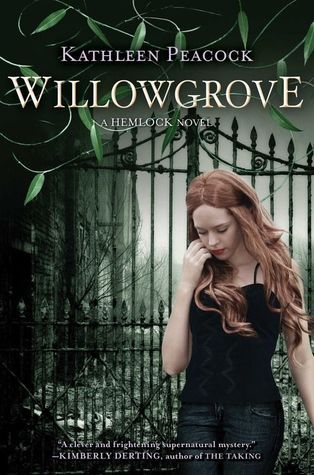 Willowgrove
is Kathleen Peacock's riveting conclusion to the Hemlock trilogy, a dark, romantic, paranormal suspense series that pits friendship against survival, and trust against love.
Ever since Mac's best friend, Amy, was murdered, Hemlock has been a dangerous place. But now that Mac, her boyfriend, Kyle, and Amy's ex, Jason, have investigated a mass breakout from Thornhill, a werewolf "rehabilitation" camp, the danger has only grown. Fear of the infection spreading is now at an all-time high, and anyone with a scar is suspected of being a wolf.
What makes Mac even more afraid, though, are the dark experiments that the warden of Thornhill was performing on wolves in a secret asylum called Willowgrove. Uncovering the truth about what happened may be the only way for Mac to save everyone she loves and end her nightmares for good.
Title: Willowgrove (Hemlock #3)
Author: Kathleen Peacock
Publisher: Katherine Tegan Books
Expected Publication Date: January 6, 2015
Brooke's Review:
I want to thank Harper Teen for providing me with an early copy of this book to read and give an honest review. Receiving this book for free has in no way altered my opinion or review.
I will say when I received this book for review I had not read the first two books in the series. So I dove into those and really liked them, especially the first book.
If you haven't read the first two books in this series, then I will warn you there are most likely spoilers for those books and you might not want to continue reading this. However, this will be a spoiler free review for this particular book.
This book picks up right where Thornhill left off. There has been a mass breakout from Thornhill and it has left our main character, Mac, curious as to how far the reaches of these camps actually go. Suspects pop up left and right and she's not sure who to believe, who to trust. The "rehabilitation" camps have proven to be so much more than what they show the public, and she wants to expose this and put an end to it.
Mac continues to have disturbing dreams about Amy. Dreams that keep giving her more and more clues as to what Amy's death really was all about. As Mac uncovers the truth, she is slammed by the realization that Amy was more of a pawn than anything else in this race between the werwolves and the groups that hunt them. Mac is unafraid to dive headfirst into things and bring them to the surface. She's strong and willing to sacrifice herself to make things right. At the same time, I did get a bit fed up with her constantly pulling away from Kyle and complaining about how she just cannot lose him at the same time. It got a bit old. At the same time, Kyle is constantly telling her that once things settle down he's gone, which made me even more mad because he thought by leaving he was keeping people safe when really it would make no difference in the end. I will say I didn't see much character development in these characters in this book. It was all pretty much hit on in the first and second books.
We do get more of the secondary characters in this book: Jason, Trey, and Serena. Jason still comes off as arrogant to me, even though he's had some great development. I love Trey's character. He's strong and wiling to stand for what he believes in. And Serena truly is a great friend to Mac.
My favorite part about this trilogy is that werwolves are known to the general public. No one is hiding them. The disease that causes people to turn into werwolves has been around for 12 years, so people have had time to get used to having this as part of their society. It doesn't mean people are not scared, but it's interesting to watch the characters talk about werwolves out in the open.
I also love how Peacock uses Mac's dreams to give us information on Amy and her death. Much of it is cryptic at times, but you really do get a great sense of forbidding and it kept me wanting to read and find out exactly what the mystery was all about. And Peacock has a way with describing the scenes in this book that make me feel like I'm right there; like I can see exactly what Mac is seeing. Some of the descriptions are eerily accurate to the point I had to go back and re-read to make sure I really was seeing what I was seeing!
There are quite a few plot twists and turns in this book. Some I had figured out from book 2, where I knew there were things that were just not quite right with certain characters. Some were more of a surprise to me.
Overall I really enjoyed this series. I think fans of paranormal will eat this right up, especially since it doesn't hide werwolves as a mystery that no one knows about. Fans of Stephanie Meyer, Carrie Jones, and Maggie Stiefvater will enjoy this great twist on a paranormal mystery that will keep you guessing who to trust through the very end.
The Official Stuff
Kathleen Peacock spent her teen years crushing on authors and writing short stories about vampires. She put her writing dreams on hold while attending college, but tripped over them when office life started leaving her with an allergy to cubicles. Her debut, HEMLOCK, is coming May 8th, 2012 from Katherine Tegen Books, an imprint of Harper Collins, and will be published in the UK under the title DEADLY HEMLOCK from Simon and Schuster Children's Books.
The Other (less official) Stuff
I'm obsessed with Chuck Taylors.
I make Bella Swan look graceful and coordinated.
I have a diploma in graphic design and have had illustrations published in Applied Arts, the premiere magazine for Canadian design and visual communications.
I used to think moleskin notebooks were made out of actual mole skin.
Never engage me in a debate about Star Wars unless you have plenty of time on your hands.
I like sentence fragments. And watermelon. Both are tasty.
Mood boosting songs: "I Don't Feel Like Dancing" by Scissor Sisters, "Via con me" by Paolo Conte, "When You Were Young" by The Killers.
I believe the Goonies really 'r' good enough.