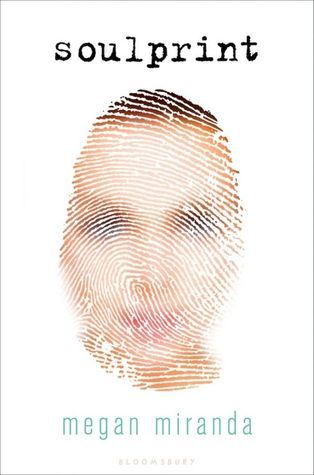 With the science of soul-fingerprinting a reality, Alina Chase has spent her entire life imprisoned for the crimes her past-self committed. In an attempt to clear her name, Alina unintentionally trades one prison for another when she escapes, aided by a group of teens whose intentions and motivations are a mystery to her. As she gets to know one of the boys, sparks fly, and Alina believes she may finally be able to trust someone. But when she uncovers clues left behind from her past life that only she can decipher, secrets begin to unravel. Alina must figure out whether she's more than the soul she inherited, or if she's fated to repeat the past.
This compelling story will leave readers wondering if this fictional world could become a reality.
Title: Soulprint
Author: Megan Miranda
Publisher: Bloomsbury
Expected Publication Date: 2/3/2015
Brooke's Review:
I want to thank Bloomsbury for providing me with an early copy of this book through Net Galley to read and give an honest review. Receiving this book for free has in no way influenced my opinion or review.
I have never read a Megan Miranda book before. I have heard good things about her writing, and I absolutely loved the concept of this book when I read the blurb. So I jumped in with both feet hoping it would meet my expectations and, in the end, I really enjoyed it!
Alina Chase is 17, and constantly running from her soul. You see, before she was born there was June. And when June died, Alina inherited her soul when she was born. Soul-printed as a baby and matched as June, the government has no intention of letting Alina run free to commit the same crimes June did when she was alive. Taken from her parents and placed in seclusion from the world, she lives isolated and alone, with only government agents surrounding her. She has everything she could ever need: food, a roof over her head, clothing, eduction. But what Alina really wants is to be able to live. And also to prove to the world that she is so much more than the image they have of June; that she is truly her own person.
Enter Cameron, Casey and Dom, teens hell bent on setting Alina free. They all have their own reasons for needing her, and not all of them have good intentions. I can say that I figured out part of the plot rather early on in the book and knew that there would certainly be betrayal at some point. With Alina on the run and not knowing who she can trust, she does make a few mistakes on her journey. But she ultimately learns from there, and in turn learns she is far more like June then she ever could imagine.
I really enjoyed Alina's character, though I found her to be a bit too easy around the rag tag group of teens who break her free. Growing up with no one to really call friend, I can see that she just wanted to have those bonds that other teens her age have. I like how her relationship with both Cameron and Casey progresses. How she slowly figures out what it means to trust and have friends and come to care about others (something she has never had the chance to do since being taken away from her parents).
I will say the first half of this book moved a bit slowly for me. There was quite a bit of Alina and the gang running away and hiding. And there were some parts I thought a bit unbelievable when the characters never actually got caught. But because I loved the idea of the plot, I pushed along, and I wasn't disappointed. There is a lot of action in the book, and just a bit of romance (not too much which was a nice change from many YA books I have read as of late). Miranda gives a lot of twists and turns, showing the true colors of all that surround Alina.
And the thing I think I loved the most about this plot was how it brings into question what makes a person tick. Is it nature or nurture. Do we perhaps inherit traits we may have had in a past life. Does our soul really make us who we are? Alina spends much time in the book trying to figure these things out. And the revelations she comes to will be both surprising and eye-opening.
In the theme of Sophie Jordan's Uninvited, Miranda calls into question the possibility of what could happen if we are to judge people by something as intangible as a soul. She weaves suspense and thrills into this intriguing and often heart pounding book. At times I was on the edge of my seat just knowing that things could not end up well. Miranda blends science and thrills in this high stakes game of learning who we really are and what price we may pay for what our souls have done in our past lives.
Megan Miranda is the author of FRACTURE, HYSTERIA, and VENGEANCE. She spends a great deal of time thinking about the "why" and "how" of things, which leads her to get carried away daydreaming about the "what-ifs." Megan has a degree in Biology from MIT and currently lives near Charlotte, North Carolina with her husband and two children.