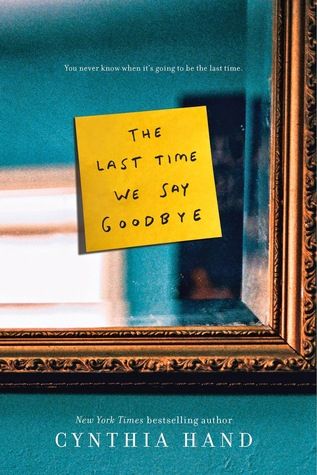 There's death all around us.
We just don't pay attention.
Until we do.
The last time Lex was happy, it was before. When she had a family that was whole. A boyfriend she loved. Friends who didn't look at her like she might break down at any moment.
Now she's just the girl whose brother killed himself. And it feels like that's all she'll ever be.
As Lex starts to put her life back together, she tries to block out what happened the night Tyler died. But there's a secret she hasn't told anyone-a text Tyler sent, that could have changed everything.
Lex's brother is gone. But Lex is about to discover that a ghost doesn't have to be real to keep you from moving on.
From New York Times bestselling author Cynthia Hand,
The Last Time We Say Goodbye
is a gorgeous and heart-wrenching story of love, loss, and letting go.
Title: The Last Time We Say Goodbye
Expected Publication Date: February 10, 2015
Brooke's Review:
I want to thank Harper Teen for providing me with an early copy of this book to read and give an honest review. Receiving this book for free has in no way altered my opinion or review.
I only know Cynthia Hand from her angel trilogy, which I really enjoyed. So when I heard she was writing something contemporary, I was a bit skeptical. I know it can sometimes be really hard for authors to change genres. But there was absolutely nothing disappointing in this book at all and my doubt was quickly laid to rest.
Lex is mourning the loss of her brother Tyler. He chose to commit suicide just seven months ago. During her process of grief, she has pulled away from her friends, choosing to hide her heartache from the world. She attends counseling and school, but has given up on her activities, her social life, and just living how she did in general. Now in the midst of her darkness, she feels and sees her brother more than ever before. And she holds a deep secret, one that she believes could have saved Tyler from what he chose to do.
I really enjoyed Lex's character so much in this book. At times she was frustrating and pig headed, at other times she opened up on the page and you could see straight through to her soul. She's very analytical, a math genius who thinks of things as very concrete. I loved her process of healing. How she learned that things were not quite how she saw them and that her brother was not quite who she thought he was. And we watch as Lex goes through the stages of mourning and how she comes to accept that while her life may never be the same because her brother is gone, that doesn't mean that her connection with him is lost.
One of my favorite parts of this book was the dream sequences where Lex and Tyler interact. Because we never get to actually meet Tyler, we rely heavily on Lex's flashbacks of who he was. But the dreams really give a deeper meaning to Lex's loss and show the reader the bond that existed between these siblings.
I will say it was hard for me to read a lot of this. Knowing the pain Lex must have been feeling and watching as she wrestled with a guilt that ate away at her daily. Even when her friends try to get her to open up, she turns away and has excuses.
There is a bit of romance in this book, but it certainly is not the center of what's going on. It did, however, show us how important friendship and forgiveness is. And how important it is not to bottle all those feelings up inside, but to let them out.
Many of the chapters begin with what is Lex's journal. Her therapist has asked her to keep it so that she can explore her feelings about her life and where it might be headed. And while she doesn't want to make the journal solely about Tyler, he plays a huge part in her flashbacks because she comes to terms with a lot of the lasts they had together or that she remembers of him.
There's so much to say about this book and I could go on and on and bore you to tears, but I won't. For anyone who has ever been exposed to what suicide does to those who knew the victim, I implore you to jump into Hand's book and experience the power people have to touch our lives.
Hand has written a story about how we really need to cherish every moment with our loved ones because we never know when we might not have them anymore. It's about remembering the good times, the bad times, and the last times. But most of all, it's about finding a way to forgive yourself and move on without having to totally let go. Don't go into this story lightly, it will wrench at your heart. And the sadness can be a bit overpowering. But the experience is well worth the hurt.
Cynthia Hand is the New York Times bestselling author of the Unearthly series with HarperTeen: UNEARTHLY, HALLOWED, RADIANT (an enovella) and BOUNDLESS. Currently she lives in southern California with her husband and two small children. She teaches courses in creative writing at Pepperdine University.