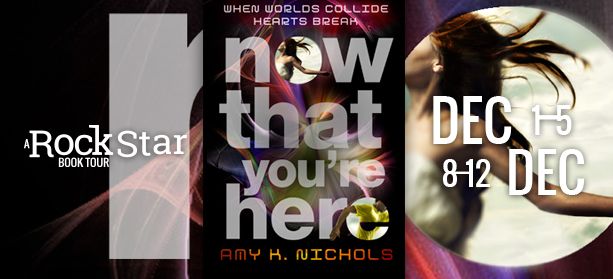 Welcome to The Cover Contessa's stop on the Now That You're Here blog tour!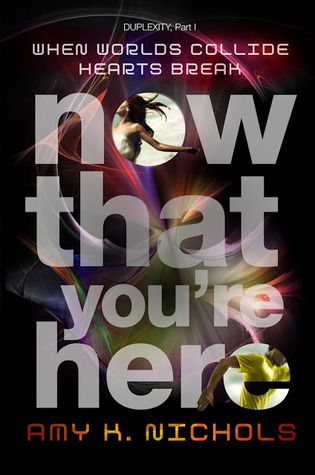 In a parallel universe, the classic bad boy falls for the class science geek.
One minute Danny was running from the cops, and the next, he jolted awake in an unfamiliar body--his own, but different. Somehow, he's crossed into a parallel universe. Now his friends are his enemies, his parents are long dead, and studious Eevee is not the mysterious femme fatale he once kissed back home. Then again, this Eevee--a girl who'd rather land an internship at NASA than a date to the prom--may be his only hope of getting home.
Eevee tells herself she's only helping him in the name of quantum physics, but there's something undeniably fascinating about this boy from another dimension . . . a boy who makes her question who she is, and who she might be in another place and time.
And, coming soon, Duplexity, Part II: While You Were Gone flips this story on its head and tells the tale of the alternate Danny and the alternate Eevee, living in Danny's parallel world.

Praise for Now That You're Here:

"The perfect blend of sci-fi and swoons, Now That You're Here is like no other book I've read. Riveting, romantic and utterly original, it kept me up late!" --Amie Kaufman, author of These Broken Stars

"Dynamic, dizzying, and downright daring, Now That You're Here kept me guessing until the end, and ready for the next." --Shannon Messenger, author of Let the Sky Fall

"Nichols infuses the story with a smattering of science fiction and science fact, while making a welcome departure from the stereotype of the book-smart outcast trying to fit in. These geeks own their intelligence like a badge of honor, using science to help a friend and explore strange new worlds. Riveting in its own right, the story sets the stage for a mirror-image sequel, which will follow the other Danny and Eevee." -- Publishers Weekly, STARRED

"While the world-jumping is fantastical, the personalities and characters (fully individual, without reaching trying-too-hard levels of quirkiness) ring true.... A debut with great characters and huge nerd appeal." -- Kirkus Reviews
Today we welcome Amy for an interview!
Amy, so great having you with us today! Let's get to know you a bit better shall we?


When did you know you wanted to be a writer?
Thanks so much for having me! Like many writers, I've dreamed of being a writer since I was a kid. My mom still has many of the stories I wrote when I was little. It took me years to get up the nerve to actually pursue it, though. In 2004, when my daughter was a year old and my husband was tired of hearing me whine about wanting to be a writer, I decided to participate in the 3-Day Novel Contest, a crazy writing marathon that takes place every year over Labor Day Weekend. Contestants write a novel in a weekend, beginning Friday at midnight and ending on Monday at midnight. I wrote my heart out that weekend, sent the manuscript in, and won third place. I took that as a sign it was time to pursue my dream.
When you sit down to write, do you have any things you need to have right by your side that you just can't write without?
I try not to get hung up on location or ritual, but I cannot live without my headphones. Not only do I usually listen to music while I write, but having my headphones on is a signal to my kids that mom is working and, unless it's broken, bleeding or on fire, they should try to figure out whatever it is on their own.
If you were something else in a parallel universe (not a writer), what would you see yourself as?
I love thinking about this! So, one of the theories about parallel universes is that when there's a decision point, the universe splits into two, one for each outcome. If that's true, then there's a universe where I'm the principal flutist in an orchestra in a major city (preferably London); a universe where I'm a doctor; a document examiner with a forensics lab; a professor of medieval literature; a famous artist. There's also one where I got crushed to death during Hogmanay (New Year's) in Edinburgh, Scotland, but I don't like to think so much about that one.
What was your favorite subject in high school?
It's a tie between band and English. I loved music (still do), and I loved reading (still do).
If you had to choose another profession (if writing just wasn't in your cards), what would it be?
Before becoming a full-time mom (and pursuing writing), I worked as a graphic and web designer. I still love doing design work, so I'd happily return to that. Or I'd go back to school and see if I had it in me to become a quantum physicist. That would be so cool!
If you could choose anywhere in the world to live, where would it be?
Scotland. In a heartbeat. Either in the highlands or on the Isle of Skye.
It's Halloween, you have to choose your favorite sci-fi character as your costume, who do you choose and why?
I would totally dress up as the tenth Doctor (Doctor Who). My hair is already short and brown, and I have his sonic screwdriver. Allons-y!
If you could choose to be any character in a book, who would you choose?
Ooh, that's a hard one. When I was a kid, I dreamed of being Lucy from The Lion, the Witch and the Wardrobe. I loved her sense of wonder and adventure, her confidence. Now I'd say Auri from Patrick Rothfuss' Kingkiller Chronicles, or Claire from Outlander. (See, it's my thing with Scotland again!)
Who influences you as a writer?
So many authors influence me through their books: Neil Gaiman, Patrick Rothfuss, Michael Ondaatje, Louise Erdrich, Audrey Niffenegger, A.S. King, Markus Zusak. But one author has literally influenced my writing and my journey toward publication: James Sallis, author of such novels as Drive and the Lew Griffin series. A number of years ago I signed up for a novel writing class he was teaching at a community college, and it literally changed my life. Over the years he's become my mentor and friend. I can say without hesitation that I wouldn't be where I am today if it weren't for him.
Tell us one random fact about you that we would never guess.
I've met Benedict Cumberbatch and Martin Freeman.
Fast questions:
Favorite TV show?
Sherlock. No, Doctor Who. No, Sherlock. Oh! Don't make me choose! *breaks down in tears of frustration*
Chocolate or vanilla?
Definitely chocolate.
Do you know how to ride a bike?
I love riding my mountain bike.
Favorite book to movie?
I'm going to cheat and say The Lord of the Rings trilogy of books/movies.
Lemonade or Iced Tea?
Iced tea (preferably green)
How do you take your coffee (or tea if you are a tea drinker)?
I drink both coffee and tea, but my favorite is strong black tea with sugar and milk, and a biscuit for dunking. Mmmmm…
Thanks so much for being with us today. It was great getting to know you!
Thank you! This was so much fun!



Brooke's Review:
I want to thank Random House for providing me with a copy of this book to read and give an honest review. Receiving this book for free has in no way altered or influenced my opinion or review.
Review can also be seen on
The Cover Contessa
I have to say that I am all about the science fiction. So when I read the blurb for this book, and it included all kinds of science, I just had to get my hands on it! And then I read that it involved parallel universes and I just love that. I always like to watch how the author puts the paradox on the page. And this book didn't disappoint with that. And it takes a totally unique view on the parallel universe theme!
I think the best thing the author did for this book was to tell it in dual point of view. I'm pretty sure there is no way we could have really understood what was going on without watching from both Danny and Eevee's POV.
Danny is in an interesting predicament. He's actually the one who traverses parallel universes. In one world he's a total loser who hasn't made anything of himself. But at the same time has a terrible home life which probably leant to his demise. On the other hand, Danny is truly smart in the parallel universe. And his family is intact. It's interesting to watch how Nichols compares and contrasts the two worlds as Danny bounces between them (though his experience with his true world is fairly limited - I'm sure we'll get more in the second book).
Eevee is pretty much your typical nerdy teen. She's totally into science. She's super smart, able to figure things out with pretty much the blink of an eye. Geeky and intelligent hardly begin to describe Eevee and her best friend Warren. They live for science.
I loved that while Nichols included romance in this book, it's certainly not the center of everything (though in the long run it holds a very important space). You certainly feel the build up between the characters, and the tug that each of them has towards each other. But it's more subtle as opposed to full on swoon.
The plot is complex and twisty, but not so much so that you can't follow it if you aren't a geeky science nerd. Things are explained in ways that make it easy to see where the characters come up with their ideas and theories. And the plot has some great twists and turns. I love that Danny experiences more than just the universe he seems to be stranded in. I also love that although it's totally different from what he's used to, and he has loss in it, he feels a pull towards wanting to remain there.
The book is fast paces and fun. It flowed easily. I will say there were parts when I was a bit bored with it, but I pushed through because I really wanted to see what happens in the end. And what happens is a bit of a cliffhanger. So of course I'm more than ready to jump into the next book and find out what happens to the characters. Lovers of Kasie West's Pivot Point will enjoy this quick fun debut read from Nichols.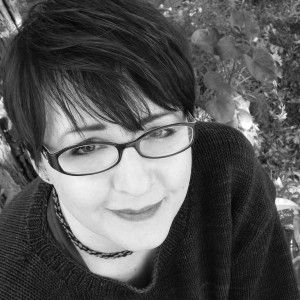 Amy K. Nichols lives on the edge of the Phoenix desert with her husband and children. In the evenings, she enjoys sitting outside, counting bats and naming stars. Sometimes she names the bats. NOW THAT YOU'RE HERE is her first novel. Visit her online at amyknichols.com.
a Rafflecopter giveaway
Tour Schedule:
Week One:
12/1/2014-
Reading YA Rocks
- Guest Post
12/2/2014-
Fiction Fare
- Review
12/3/2014-

Xpresso Reads

- Interview
12/4/2014-
Two Chicks on Books
- Guest Post
Week Two:
12/8/2014-
Page Turners Blog
- Interview
12/9/2014-
Once Upon a Twilight
- Review
12/10/2014-
The Cover Contessa
- Interview
12/11/2014-
The Best Books Ever
- Review
12/12/2014-
Me, My Shelf and I
- Guest Post