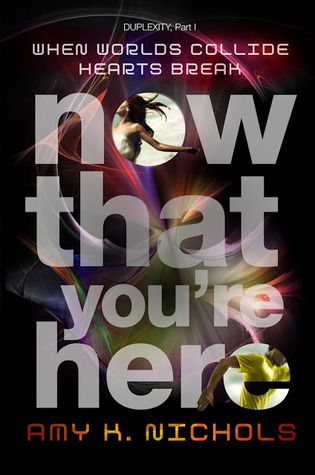 In a parallel universe, the classic bad boy falls for the class science geek.
One minute Danny was running from the cops, and the next, he jolted awake in an unfamiliar body - his own, but different. Somehow, he's crossed into a parallel universe. Now his friends are his enemies, his parents are long dead, and studious Eevee is not the mysterious femme fatale he once kissed back home. Then again, this Eevee - a girl who'd rather land an internship at NASA than a date to the prom--may be his only hope of getting home.
Eevee tells herself she's only helping him in the name of quantum physics, but there's something undeniably fascinating about this boy from another dimension... a boy who makes her question who she is, and who she might be in another place and time.
Title: Now That You're Here (Duplicity #1)
Author: Amy K. Nichols
Publisher: Knopf Books for Young Readers (Random House)
Publication Date: December 9, 2014
Brooke's Review:
I want to thank Random House for providing me with a copy of this book to read and give an honest review. Receiving this book for free has in no way altered or influenced my opinion or review.
I have to say that I am all about the science fiction. So when I read the blurb for this book, and it included all kinds of science, I just had to get my hands on it! And then I read that it involved parallel universes and I just love that. I always like to watch how the author puts the paradox on the page. And this book didn't disappoint with that. And it takes a totally unique view on the parallel universe theme!
I think the best thing the author did for this book was to tell it in dual point of view. I'm pretty sure there is no way we could have really understood what was going on without watching from both Danny and Eevee's POV.
Danny is in an interesting predicament. He's actually the one who traverses parallel universes. In one world he's a total loser who hasn't made anything of himself. But at the same time has a terrible home life which probably leant to his demise. On the other hand, Danny is truly smart in the parallel universe. And his family is intact. It's interesting to watch how Nichols compares and contrasts the two worlds as Danny bounces between them (though his experience with his true world is fairly limited - I'm sure we'll get more in the second book).
Eevee is pretty much your typical nerdy teen. She's totally into science. She's super smart, able to figure things out with pretty much the blink of an eye. Geeky and intelligent hardly begin to describe Eevee and her best friend Warren. They live for science.
I loved that while Nichols included romance in this book, it's certainly not the center of everything (though in the long run it holds a very important space). You certainly feel the build up between the characters, and the tug that each of them has towards each other. But it's more subtle as opposed to full on swoon.
The plot is complex and twisty, but not so much so that you can't follow it if you aren't a geeky science nerd. Things are explained in ways that make it easy to see where the characters come up with their ideas and theories. And the plot has some great twists and turns. I love that Danny experiences more than just the universe he seems to be stranded in. I also love that although it's totally different from what he's used to, and he has loss in it, he feels a pull towards wanting to remain there.
The book is fast paces and fun. It flowed easily. I will say there were parts when I was a bit bored with it, but I pushed through because I really wanted to see what happens in the end. And what happens is a bit of a cliffhanger. So of course I'm more than ready to jump into the next book and find out what happens to the characters. Lovers of Kasie West's Pivot Point will enjoy this quick fun debut read from Nichols.
Amy K. Nichols has been crafting stories for as long as she can remember. She is the author of YA science fiction novel Now That You're Here, to be published by Knopf December 9, 2014. The follow-up, While You Were Gone, will be published in 2015. She is mentored by award-winning crime novelist James Sallis and lives on the edge of the Sonoran desert with her husband and children. Amy is a member of SCBWI and SFWA, as well as the Class of 2K14 debut authors. Visit her online at
http://www.amyknichols.com