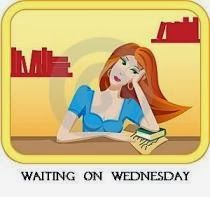 Waiting on Wednesday is a weekly meme hosted by Jill from Breaking the Spine that spotlights upcoming releases we are eagerly awaiting!
Title: Crimson Bound
Author: Rosamund Hodge
Publisher: Balzer and Bray
Expected Publication Date: May 6, 2015
Blurb:
When Rachelle was fifteen she was good—apprenticed to her aunt and in training to protect her village from dark magic. But she was also reckless— straying from the forest path in search of a way to free her world from the threat of eternal darkness. After an illicit meeting goes dreadfully wrong, Rachelle is forced to make a terrible choice that binds her to the very evil she had hoped to defeat.
Three years later, Rachelle has given her life to serving the realm, fighting deadly creatures in an effort to atone. When the king orders her to guard his son Armand—the man she hates most—Rachelle forces Armand to help her find the legendary sword that might save their world. As the two become unexpected allies, they uncover far-reaching conspiracies, hidden magic, and a love that may be their undoing. In a palace built on unbelievable wealth and dangerous secrets, can Rachelle discover the truth and stop the fall of endless night?
Inspired by the classic fairy tale Little Red Riding Hood, Crimson Bound is an exhilarating tale of darkness, love, and redemption.
(This is a standalone novel, not part of the Cruel Beauty Universe.)
When my older brother was thirteen, he started a writing club with his friends and wouldn't let me join because I was only eight. I promptly swore that I would become a writer and
make him sorry.
He still isn't sorry. (I checked.) But in 2014 I got to publish my first novel with HarperCollins, so I guess everything worked out okay.
Some other facts about me:
• I practice Shorinji Kempo, a Japanese martial art based on Shaolin Kung Fu.
• I got a B.A. in English at the University of Dallas, and an M.St. in Medieval English at Oxford. Naturally, I moved to Seattle and got a job with computers.
• I love some things more than T. S. Eliot's poetry. But not many things.
• I am represented by Hannah Bowman of Liza Dawson Associates.