Dead Over Heels
The end of the world just might be their perfect beginning…

Glenview, North Carolina. Also known―at least to sixteen-year-old Ava Pegg―as the Land of Incredibly Boring Vacations. What exactly were her parents thinking when they bought a summer home here? Then the cute-but-really-annoying boy next door shows up at her place in a panic…hollering something about flesh-eating zombies attacking the town.

At first, Ava's certain that Cole spent a little too much time with his head in the moonshine barrel. But when someone―or something―rotted and terrifying emerges from behind the woodpile, Ava realizes this is no hooch hallucination. The undead are walking in Glenview, and they are hungry. Panicked, Ava and Cole flee into the national forest. No supplies, no weapons. Just two teenagers who don't even like each other fighting for their lives. But that's the funny thing about the Zombpocalypse. You never know when you'll meet your undead end. Or when you'll fall dead over heels for a boy…
Amazon│Barnes & Noble│Kobo Books
Fantasy Cast: DEAD OVER HEELS
Alison Kemper
It's no secret—I'm a
huge
fan of THE WALKING DEAD. Especially Daryl from THE WALKING DEAD. *swoooon*
So when I set out to write DEAD OVER HEELS I knew I wanted my hero to be a teen version of Daryl. And when I started creating this fantasy cast, I thought,
Easy! I'll just pull up a teen photo of the guy who plays Daryl, Norman Reedus. He'll be the perfect Cole
! Wrong. Teen Norman was cute, but did not match my idea of Cole, who is a bit of a country boy with dark longish hair and blue eyes.
So off to the internet I went to look at pictures of cute guys (it's a rough life, right?). Anyway, here's a few to choose from.
COLE
Country singer Hunter Hayes?
Or no, maybe it's Chandler Riggs.
No, no, wait! Maybe we'd better just stick with Daryl, and you can imagine him at 16.
Three hot guys—take your pick for Cole!
AVA
Ava is a little easier to cast. In the novel, she has blond, curly hair and brown eyes. On the surface, she might seem like one of those typical suburban girls who hang out at the mall, but if you talk to her for five minutes, you'll realize she's incredibly smart. I picture her as smiley and bubbly—someone like Peyton List, who plays Holly Hills in the Wimpy Kid series (I think she's also on Jessie?). Plus, she'd look super cute with Chandler, right? Some Hollywood matchmaker should set them up.
BETHANY
Willow Shields who plays Prim in the Hunger Games series seems to get eclipsed by Jennifer Lawrence at every turn. But we've gotten a few glimpses of her real talent, and I'm guessing we'll see more of her in MOCKINGJAY
. She's got Bethany's sunshine blonde hair and I'm thinking she could totally pull off the attitude!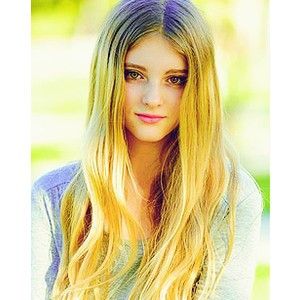 Alison Kemper grew up in South Florida, the only girl on a street with eleven boys. She spent most of her childhood paddling a canoe through neighborhood canals and looking for adventure. She usually found it. Sometimes the police were involved. And large dogs. And one time, a very territorial snake. Now that she's grown up, she lives in North Carolina and writes books. The books often include girls having adventures. With boys. Cute boys. And cute dogs too. But no cute snakes. Never cute snakes.
Her debut novel, Donna of the Dead, will be published by Entangled Teen in 2014 and followed by two companion books in the series. She loves to meet new people and talk books, so send her a friend request or connect with her on Twitter and Instagram.
a Rafflecopter giveaway