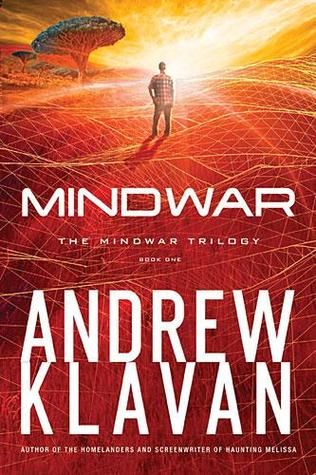 Mindwar
Rick Dial has the potential to be a hero. He just doesn't know it yet.

Rick's high school football team couldn't be stopped when he was leading them as their quarterback. He was going to Syracuse on a scholarship. But then his dad abandoned them and a terrible accident left him crippled.

Certain his old life is completely lost, Rick spends months hiding away in his room playing video games. He achieves the highest scores on so many games that he's approached by a government agency who claims to be trying to thwart a cyber attack on America that would destroy the technological infrastructure of the entire country. The agents say that the quick-thinking of a quarterback coupled with Nick's gaming experience make him perfect for this assignment. The problem is that there are no extra lives and this isn't just a game . . . but Rick doesn't have many other options at the moment.

Entering "The Realm" gives Rick the one thing he thought he'd never have again: a body that's as fast and as strong as he ever was before the accident. But the more time he spends in The Realm, the more questions he has. What secrets are these agents keeping from him? What really happened to his father? How many others have gone into The Realm already . . . and failed? And perhaps most important, is he the hero they think he is?
We welcome Andrew today for a guest post! Take it away!
GOOD GUYS/BAD GUYS
A lot of times I hear readers — and even some writers — say that bad guys are more interesting than good guys. I disagree. I think bad guys only seem more interesting sometimes because writers don't tell the truth about the good guys. That is, they write the bad guys with all of their flaws showing, but they write the good guys as if they were good all the way down, as if they had no bad inside them. That's not only boring, it's also totally unrealistic.
There's an old expression: "Don't compare your inside with another person's outside." In other words, don't look at someone else's good actions and compare them to your bad thoughts. Because we all have bad thoughts. The greatest hero in the world is a hero because he or she triumphed over his bad thoughts to do the right thing. He triumphed over his cowardice, his smallness, his envy, his greed and his pettiness — he triumphed over them, but that doesn't mean he didn't experience them. He did. Unless he's an android or an alien or something, believe me, he did.
So I try my best to write good guys who are recognizable inside and out. That is, my good guys and girls aren't brave because they feel no fear, they're brave because they triumph over their fear. They're not generous because they sparkle inside like a dish in a dish soap commercial. They're generous because when they felt the desire to be greedy, they fought it down.
In MindWar, Rick Dial is a troubled guy, a passionate hot headed macho man who's so angry at the bad things that have happened to him that he has a hard time rising above it. Personally, I think he's at least as interesting as the bad guy. Personally, I think he's more interesting.
Thanks so much for stopping by today, Andrew! It's been great having you here!
Andrew Klavan is a best-selling, award-winning thriller novelist whose books have been made into major motion pictures. He broke into the YA scene with the bestselling Homelanders series, starting with
The Last Thing I Remember
. He is also a screenwriter and scripted the innovative movie-in-an-app
Haunting Melissa
.
a Rafflecopter giveaway