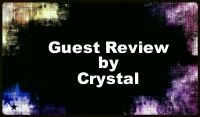 I live in the in between. Between what if and what is. It's how I manage. It's the only way I know. Everyone has their way. This is mine.
When high school, cell phone disruption forces a classroom ban, the words on a Post-it note spark a sticky romance between two unlikely friends. Transfer student Talia Vanderbilt has one goal at her new school: to blend in with the walls. Lagan Desai, basketball captain and mathlete, would do just about anything to befriend the new girl. One Post-it note at a time, Lagan persuades Talia to peel back her heart, slowly revealing her treasure chest of pain—an absent mother, a bedridden brother, and an abusive father. In a world where hurt is inevitable, the two teens search for a safe place to weather the storms of life
CRYSTAL'S REVIEW:
I received an e-copy of Swimming Through Clouds in exchange for my honest review:
Everyday Talia Vanderbilt rushes home from school to complete "the list" that her uber-controlling, abusive father leaves for her. Failure to complete the list before he arrives home from work is unacceptable and results in torturous burning that her wheelchair-bound brother, Jesse, is sometimes forced to watch.
Deeply ashamed of her scars and terrified of her father's retaliation, Talia speaks to no one and is horrified when given a partner for an assignment at school that requires each of the students to interview the other. Worse, the student she's assigned to, Lagan, actually wants to do a thorough report and seems genuinely interested in getting to know the silent Talia Vanderbilt. Of all the rotten luck…
Knowing absolutely nothing about her, the kind and very perceptive Lagan immediately understands that whatever is keeping Talia silent, terrifies her. He gently and sweetly coaxes her out of her shell with post-it notes and patience and they eventually form a deep friendship that quickly grows into much more. It's a sweet love story with a dark looming presence that keeps you cheering for them while looking over their shoulders as they steal time, kisses, and post-its.
Flitting easily back and forth between present time and a heart wrenching past; Paulus gives us the dark backstory in such a way that the reader has a better understanding of what is going on than our dear, sweet Talia. As the reader we know what her father, Gerard Vanderbilt, an Immigration Lawyer, is really up to, as well as the circumstances that brought her mother to the U.S. Paulus does an amazing job of giving a teenage girl's perspective with just the right amount naivety you would expect from a sheltered teenager.
When Talia and Lagan find that Jesse has a secret and has hatched a plan to be free of their father's reign over them – no matter what - they are forced to act quickly before any lives are lost. In a whirlwind everything changes and the stage is set for the sequel, Seeing Through Stones.
Slightly reminiscent of Rainbow Rowell's Eleanor & Park, Swimming Through Clouds is an emotional roller coaster that you don't want to end. I felt like the "How Are You Feeling Today" poster on my high school guidance counselors 's wall at every page. It was great!
Rajdeep decided to be a writer during her junior year in high school after her English teacher gave her an "F" but told her she had potential. She studied English Literature at Northwestern University, and she writes masala-marinated, Young Adult Fiction, blogging weekly at InSearchofWaterfalls dot com.
When Paulus is not tapping on her Mac, you can find her dancing with her four princesses, kayaking with her hubs, coaching basketball or eating dark chocolate while sipping a frothy, sugar-free latte. She secretly hopes to one day own a laptop that functions under water! Oops. The secret's out.