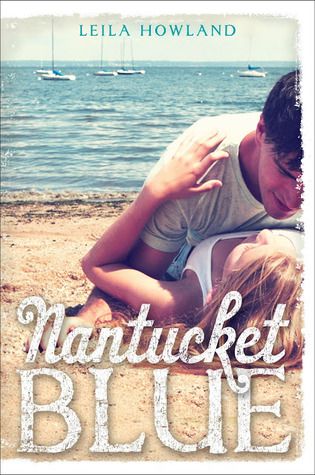 For Cricket Thompson, a summer like this one will change everything. A summer spent on Nantucket with her best friend, Jules Clayton, and the indomitable Clayton family. A summer when she'll make the almost unattainable Jay Logan hers. A summer to surpass all dreams.
Some of this turns out to be true. Some of it doesn't.
When Jules and her family suffer a devastating tragedy that forces the girls apart, Jules becomes a stranger whom Cricket wonders whether she ever really knew. And instead of lying on the beach working on her caramel-colored tan, Cricket is making beds and cleaning bathrooms to support herself in paradise for the summer.
But it's the things Cricket hadn't counted on--most of all, falling hard for someone who should be completely off-limits--that turn her dreams into an exhilarating, bittersweet reality.
A beautiful future is within her grasp, and Cricket must find the grace to embrace it. If she does, her life could be the perfect shade of Nantucket blue.
Title: Nantucket Blue (Nantucket #1)
Author: Leila Howland
Publisher: Disney Hyperion
Publication Date: May 7, 2013
RATING: 3/5 Stars
The Cover Contessa's Review:
I picked this book up because I have been looking for nice contemporary YA reads. I have been impressed for the most part by what has been suggested for me lately, so this seemed to slip right into that category and I thought for sure I would like it.
I have to say that I love the cover of this book. It's so simple but relays so much. The sand, the water's color, the two teens on the beach. I really love how the story is portrayed in the cover.
Cricket starts off this story with a bang. We meet her while she's playing a lacrosse game. It's intense and her personality comes through immediately: she's tough and confident and not afraid to go for what she wants. But when tragedy strikes her best friend, she kind of loses that oomph and fizzles a bit. She flounders and realizes that much of who she is has been based on her best friend, Jules. She's suddenly unsure of herself, so much so she becomes a bit annoying in her actions towards others. And it also forces her into a totally selfish place, where she cannot separate her needs and the needs of others.
Jules, well, I didn't get enough about her to really get to know her. Since the tragedy strikes her family, she's pretty much introverted the entire novel. She doesn't want to have anything to do with Cricket and feels Cricket has been moving in on her family, wanting to be a part of it. And Cricket has become part of her family, but now Jules needs her distance and Cricket has a hard time realizes and understanding this. Honestly, I didn't even really understand her. I needed more development from her to really see why it was she pushed Cricket so far away.
Zach, I love him. He's quirky and funny and just all around lovable. He flirts, but it's in such an underlying way you're not really sure if that's what he is actually doing. And I love that he's younger than the girls, it makes him more vulnerable. But Zach is so strong, so much stronger than anyone realizes. He totally understands himself and what he wants and he's not afraid to go after it.
The secondary characters in this book are great. Cricket's mom, who is quite distant. Cricket's Dad, who has taken on a new family and pretty much pushed Cricket away. And the people Cricket meets along the way, who help her realize what she needs and how she must break out on her own to get it: George, Gavin and Liz.
The pacing of the story is nice. It's slow in some parts. And I can say that Cricket tended to get on my nerves more than anything else. I wanted to really punch her at times. And it wasn't until the final 10% of the book when she realizes what she needs and that's to change how she is, to be less selfish. It was hard for me to wait that long for it.
Howland's writing is good. She draws you in right away with the sports scene and keeps you there with her witty characters. She portrays real life teen dramas in a way that is understandable and relatable. Teen selfishness is not unheard of for sure!
Overall this was a fun, easy and fast read. Definitely a read for people who like sweet contemporary YA.
LEILA HOWLAND loves to read, explore L.A., and engage in funny and meaningful conversations with her friends and family, especially her brother who calls from Washington D.C. whenever he's waiting for the bus. A lot gets discussed in those phone calls, but they tend to end abruptly when the bus shows up. She can really cut the rug, but wishes she could sing without people covering their ears. A graduate of Georgetown University, Leila spent five years acting in New York where she was a company member of the award-winning Flea Theater in Tribeca. It was a lot of fun and she often talks about "getting back into it." The closest she has come was a stint as an extra on The Young and the Restless in 2010. Leila now lives in Los Angeles with her husband and two dogs. She teaches high school English and blogs for HelloGiggles. NANTUCKET BLUE is her first novel.