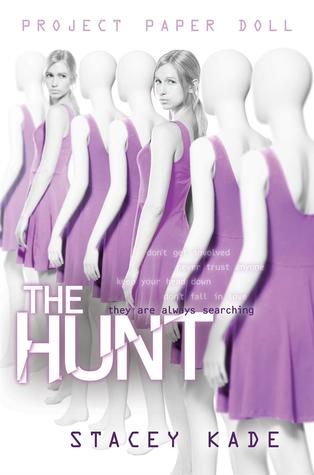 Ariane Tucker has finally escaped GTX, the research facility that created her. While on the run, Zane Bradshaw is the only person she can trust. He knows who-and what-she is and still wants to be part of her life.
But accepting Zane's help means putting him in danger.
Dr. Jacobs, head of GTX, is not the only one hunting for Ariane. Two rival corporations have their sights set on taking down their competition. Permanently. To protect Zane and herself, Ariane needs allies. She needs the
other
hybrids. The hybrids who are way more alien and a lot less human. Can Ariane win them over before they turn on her? Or will she be forced to choose sides, to decide who lives and who dies?
Title: The Hunt (Project Paper Dolls #2)
Publisher: Disney Hyperion
Expected Publication Date: April 22, 2014
RATING: 4/5 Stars
The Cover Contessa's Review:
I want to thank Disney Hyperion for providing me with an early copy of this book to read and review. I had an early copy of the first book in this series and I really enjoyed it. Receiving this book for free has in no way influenced my opinion or review.
I will say that I'm not a huge fan of the cover change for this book. But I knew what was inside the book would be totally awesome, so I can forgo a sweet cover to get to the meat of the story!
This books picks up immediately where the first one left off. Ariane and Zane have escaped from GTX and they are on the run. And this book is dual point of view, which I absolutely adored!
I love Ariane's character. She smart and sassy with just the right amount of naiveté to make her vulnerable. I like that she constantly questions what she is and how it affects her judgement on things. But I feel badly for her, at the same time, because it makes her feel so undeserving of things, like the love of others. She over analyzes a lot, but I think with her training and background it's understandable. I did get annoyed with all the times she wanted to just bust out on her own and leave everyone else behind. Like she couldn't rely on anyone else for fear they would get hurt, even when they told her they were willing to take that chance.
Zane, I just love him. He's sweet and honest and just a bit awkward. But he's totally committed to Ariane, even if she doesn't see it. And he is very loyal. He does have some self-doubt which I think makes him much more real and relatable. The way he thinks is so different from Ariane. She's more of a warrior whereas he thinks from the heart, he comes from a place of love and respect. It's totally honest and raw.
Kade introduces a few new characters: Zane's mom for instance. Plus Dr. Jacob's rivals and another group of hybrids who are to be used for the trials.
Once again Kade is amazing with her words. The plot was easy to follow and the pacing was spot on. I didn't want to put this book down once I started it, which didn't really surprise me since I really enjoyed the first book a lot. There is romance, but it's not the center of the story. It's just enough to make your route for it and hope that it works out. And Kade develops in a sweet and shy way. They did bicker quite a bit but I would think that under the circumstances that would not be so strange. And the action scenes are amazing. I can totally picture them in my mind. They kept me on the edge of my seat, wanting more! You really fear for Zane and Ariane's safety throughout the whole book!
And then Kade goes and ends the book on a cliffhanger. I was crying at the end, I will tell you that (but I don't want to spoil things so I won't tell you why). Kade could definitely pump up the development of some of the secondary characters in the third book if she wants and I hope she does. And I'm totally wondering where Kade is going with the ending she gave, so I must read the third book as soon as I can!
Overall I really am enjoying this series and really liked this book. I actually preferred this one.
For fans of Sci-fi with lots of action, this book is for you!
As an award-winning corporate copywriter, Stacey Kade has written about everything from backhoe loaders to breast pumps. But she prefers to make things up instead.
She lives in the Chicago suburbs with her husband, Greg, and two retired racing greyhounds, Tall Walker (Walker) and SheWearsThePants (Pansy). When she's not reading or writing, you'll likely find her parked in front of the television catching up on her favorite shows (Scandal, The Vampire Diaries, Almost Human, The Walking Dead, and Sherlock, among others.)
Stacey is the author of the The Ghost and the Goth trilogy (THE GHOST AND THE GOTH, QUEEN OF THE DEAD, and BODY & SOUL) and The Project Paper Doll Series (THE RULES and THE HUNT).