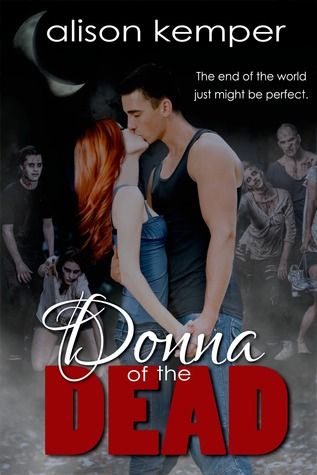 Donna Pierce might hear voices, but that doesn't mean she's crazy. Probably.
The voices do serve their purpose, though—whenever Donna hears them, she knows she's in danger. So when they start yelling at the top of their proverbial lungs, it's no surprise she and her best friend, Deke, end up narrowly escaping a zombie horde. Alone without their families, they take refuge at their high school with the super-helpful nerds, the bossy class president, and—best of all?—Liam, hottie extraordinaire and Donna's long-time crush. When Liam is around, it's easy to forget about the moaning zombies, her dad's plight to reach them, and how weird Deke is suddenly acting toward her.
But as the teens' numbers dwindle and their escape plans fall apart, Donna has to listen to the secrets those voices in her head have been hiding. It seems not all the zombies are shuffling idiots, and the half-undead aren't really down with kids like Donna…
Title: Donna of the Dead
Author: Alison Kemper
Release Date: March 4th 2014
Donna of the Dead by Alison Kemper came highly recommended, and so I was very excited to delve into this tale of zombies, guts, and gore. All I knew prior to peeking within the pages was that it was a 'refreshing addition' to the genre. What I hadn't anticipated was the humour.
My husband isn't a reader, and I drove him nuts whilst reading this book, with all my tittering and snickering and, often, laughing out loud—even more so when I tried explaining why I was laughing and he just deadpan stared at me like I'd lost the plot. If I had, I didn't care, because I was enjoying myself too much.
Donna of the Dead is fast paced and full of the usual zombie horridness and goofy, gorified fun, plus twists and turns, hints at 'wrongness' to amp up our suspicions and leave us squinting at certain characters waiting for them to make a wrong move. There's also some great tension in here, some seriously cute and sweet scenes, and a whole host of characters who all have unique personalities and traits that set each of them apart in their own right.
Though, of course, I have a niggle to make, otherwise I'd have rated it five stars, right? Well, there were a few things left unexplained, or dangling longer than a ball of infinitesimal string. Like a certain character who stays behind but we don't know what happens to him—I want to know, dammit! Or a certain character's mother and her work and what is really happening in that, AND how that ties into what was happening in Donna's hometown and to her—I want to know, dammit! Or the outcome of research we know will happen after the book has ended, due to certain samples being taken—I want to know, dammit!
So, as you can imagine, I'm rather hoping there will be a follow up. Because there are questions I need answering and threads I need tying. So … Ms Kemper???? Please????
4 STARS
Alison Kemper grew up in South Florida, the only girl on a street with eleven boys. She spent most of her childhood paddling a canoe through neighborhood canals and looking for adventure. She usually found it. Sometimes the police were involved. And large dogs. And one time, a very territorial snake. She now lives in North Carolina and writes books. The books often include girls having adventures. With boys. Cute boys. And cute dogs too. But no cute snakes. Never cute snakes.
Her debut novel, Donna of the Dead, will be published by Entangled Teen in 2014 and followed by two companion novels. She loves to meet new people and talk books, so send her a friend request or connect with her on Twitter and Instagram.