***Disclaimer: Due to sensitive issues of abuse, human trafficking, and adult scenes, The Rain Trilogy is intended for readers 18+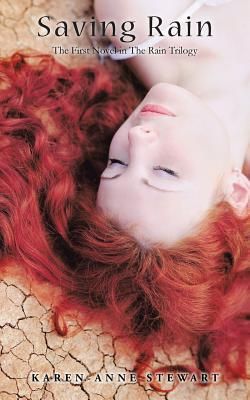 Raina has tried to forget her past, forget the pain, but when she finds herself staring straight into the fury blazing in her ex-boyfriend's eyes, her dark past comes rushing back. Furious with herself for actually having chosen someone like her father, she uses that anger to her advantage and fights for her life...and for her future that she prays will involve the man she can't seem to get out of her head. Kas is a natural leader, a fierce fighter, the type of man you send in when you need to get the job done. He is a courageous hero who is used to risking his own life to save others, but can he save the one who has captured his heart from her horrific past and the men who are hell-bent on destroying her? As Kas and Raina try to navigate through the twists and turns of a deviously intelligent human trafficking group, they find solace in each other's arms. Can they infiltrate the trafficker's tight ring, saving the innocent lives from imminent danger before it's too late?
Shattered when Raina runs after his marriage proposal, Kas is hell-bent to find her and bring her home, where she belongs. He will bend every law necessary to do so, willing to do anything to protect Raina from her demons and the men who haunt her, going as far as placing his career and life on the line to save hers. Raina will give up everything she has worked so hard to achieve, even flee the country to keep Kas from the wrath and powerful reach of her abusive father.
In the midst of the FBI team closing in on the Ghost, another ghost from Raina's past taunts her, promising that she will be his. Meanwhile, a different trafficking ring is gaining strength in New Jersey. Michael solicits Raina's help, needing her smooth, sultry voice to win the audition for the new singer in the ring leader's swanky night club. Raina knows her life is in jeopardy with the dangers of being undercover, but she is blindsided when she discovers that it's her heart that is threatened with a mortal blow.

Raina tries to heal from the nightmares of her dark past as the grisly bodies of innocent victims surface when the team gets closer to discovering the identity of the man responsible for the infuriatingly clever and powerful slavery ring. When Raina finally comes face to face with the Ghost, he quickly engulfs her in a twisted game of cat and mouse, delivering a veiled threat as he slips through her fingers. As the ghosts of her past and present ensnare her in their deadly web, Raina realizes the danger has just begun.


Finally able to put her harrowing past to rest, Raina looks forward to her future with Kas, but the Ghost has other plans. As the FBI team gets closer to taking down the largest human trafficking ring in the modern world, the Ghost begins a wicked game, making Raina the pawn and the target. Never before encountering a worthy adversary, he's fascinated by Raina and is enjoying the refreshing challenge of her intellect.
The danger ignites to a blazing new level, and Kas struggles between the need to finally exorcise the Ghost and his need to protect his wife. Tension mounts as an internal battle wages, tormenting Kas as he watches Raina put her all into taking down the man responsible for horrific sex slavery and gruesome deaths. When a new player takes control, Jefferson orders the end of the Ghost's game with Raina, which results in one final, devastating act, leaving Kas desperate and willing to do whatever it takes to save her...by whatever means necessary.
Guest Post:
First of all, I would like to thank you for allowing me on your amazing site today!

I listen to music all the time; it's a HUGE inspiration to me.

While writing The Rain Trilogy, I listened to a myriad of musical genres but some of my 'go to' groups were Imagine Dragons, Fall Out Boy, Match Box Twenty, Daughtry, and Nickelback.

There's just something about music blasting in my ears while I write that helps me get my head to where it needs to be for certain scenes.
Radioactive by Imagine Dragons reminds me of The Rain Trilogy every time I hear it come on the radio or I'm listening to it on my iPod.

With the grit of the books and the grit in the song, I find them to play nicely together.

Kas' FBI team goes after human trafficking leaders and handlers to dismantle their groups and rescue the survivors.

The song just has a feel to it that makes me think of Kas, Raina, Frank, Russo, Jake, and Austin gearing up for another day chasing the bad guys and tracking the Ghost.
My Songs Know What You Did in the Dark (Light Em Up) by Fall Out Boy:

This song is one of my favorite songs ever!

I love it!!!

When I wrote the raid and undercover scenes in the trilogy, I listened to this song over and over.

Light Em Up definitely got my head where it needed to be to write those scenes where Kas and his team kick some butt.
Push by Matchbox Twenty:

Push is one of those songs, in my opinion, that just never gets old.

There are so many ways a listener can interrupt these lyrics and a vast depth of emotion overtakes me each time I hear this song.

I get taken back to the time when it was newly released and I would crank up the radio and roll the windows down, and the time when I heard Matchbox Twenty in concert that I'll never forget.

I imagine Raina's character would feel every word of this song with her horrific childhood and her time with Chris.
These Hard Times by Matchbox Twenty:

This song is probably the song I listened to the most while writing The Rain Trilogy.

The rhythm was perfect for writing and the song seems to fit the trilogy well.

It's a song about change and needing to move on, or that's my take on it, anyway.
Overjoyed by Matchbox Twenty:

When I first heard this song, I immediately thought of Kas and Raina and how Kas is hell-bent on helping Raina heal and wanting so badly to give her the love she deserves, the love he feels for her.

My husband laughs when I hear this song because I get all teary eyed just thinking about the beautiful lyrics and the love shared between Kas and Rain.
Never Again by Nickelback:

This song is gritty and dark with the lyrics being about abuse.

The abuse scenes in The Rain Trilogy were incredibly emotional for me to write and I cried several times writing the hell Raina went through.
Because of You by Kelly Clarkson:

This song reminds me of Raina's struggle getting over her past with her father.

She was damaged the most by his emotional abuse.
Losing My Mind by Daughtry:

Daughtry is in my top two favorite bands.

I can honestly say that I haven't heard a song by Daughtry that I haven't loved.

Kas fell for Raina the moment he saw her, not in love but there was an immediate attraction that lingered with him and he couldn't stop thinking about her and those feelings only intensified until he did fall deeply in love when he takes her in his home to help her heal after Chris' attack.
Girl on Fire by Alicia Keys:

Raina is such a strong female character even with her fears and abusive past.

Rain's character wouldn't think of herself like the girl in the song, but, when I think of her, I absolutely picture her this way, so strong and resilient and ready to take on the world, especially when she takes on the Ghost in the final book in the trilogy, After the Rain.
Titanium by David Guetta and Sia:

This is another one of those songs that makes me think of the FBI team in the trilogy and all of the real life heroes that go out there every day, making sacrifices that most will never know about it.

Human trafficking is only growing and what these handlers do to the women, children, and even men, is sickening.

I tried to be very sensitive with the trafficking scenes while still showing the depravity of what they go through.

The Rain Trilogy is dedicated to the survivors and the heroes who help them.
Amrik:

I listened to Amrik's Spanish instrumentals while writing the romance scenes.

His music is beautiful and definitely sets the mood ;).

Although Saving Rain doesn't have any full intimate scenes, there is plenty of sexual tension.

Healing Rain does have those scenes but they are written more as a psychological parallel and a form of healing rather than for erotic purposes but they do get a bit more spicy in After the Rain.
I'm usually found with my iPod earplugs shoved in while I'm typing away on my laptop.

All the songs I listed above would most definitely be in my soundtrack pick for The Rain Trilogy if I'm ever fortunate enough for it to go beyond novels.

Thanks again for having me and a huge thank you to the readers!

I hope you fall in love with Kas and Raina!
Karen-Anne Stewart has always adored reading and has now fallen in love with writing. Her written works are The Rain Trilogy: Saving Rain, Healing Rain, and After the Rain. Her debut novel, Saving Rain: The First Novel in The Rain Trilogy, was a nominee for the Book Junkie's Choice Awards and is a nominee for the 2013 RONE Awards.

When Karen-Anne isn't writing, she enjoys spending time with her family and friends, hiking, and visiting new places. She fuels her addiction of creating new stories by her only other addiction, caffeine, and listening to a myriad of musical genres. Tucked away near the Blue Ridge Mountains, Karen-Anne lives with her husband, daughter, two dogs, and their cat. She plans on writing new adult romance as long as her fingers maintain dexterity.
Author Links:
a Rafflecopter giveaway