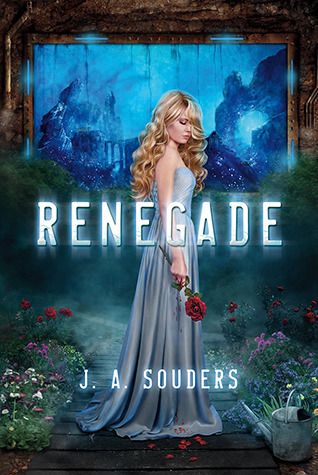 Blurb from Goodreads:
Since the age of three, sixteen-year-old Evelyn Winters has been trained to be Daughter of the People in the underwater utopia known as Elysium. Selected from hundreds of children for her ideal genes, all her life she's thought that everything was perfect; her world. Her people. The Law.
But when Gavin Hunter, a Surface Dweller, accidentally stumbles into their secluded little world, she's forced to come to a startling realization: everything she knows is a lie.
Her memories have been altered.
Her mind and body aren't under her own control.
And the person she knows as Mother is a monster.
Together with Gavin she plans her escape, only to learn that her own mind is a ticking time bomb... and Mother has one last secret that will destroy them all.
Title: Renegade (Renegade #1)
Author: J.A. Souders
Publication Date: November 13, 2012
Publisher: Tor Teen
The Cover Contessa's Review:
I want to thank Tor Teen Publishing for sending me a copy of this book to read and give an honest review. I have to say that I have seen it around and was wondering about it. So I was happy to have a chance to read and review this book. Receiving this book for free has in no way influenced my opinion or review.
I must start with the cover of this book. It is what drew me to add it to my TBR. Forget the blurb, which I just skimmed because I wanted to read it no matter what! The cover is totally and completely gorgeous. The colors are fantastic, capturing the underwater world we come to know during the course of the book. And it also captures Evie's garden, which is so much a part of who she is. It's perfect.
Evelyin Winters is an interesting character. She seems so simple when you first meet her. She believes she has the perfect life and that nothing could be better than what she knows. But she harbors, deep down inside, a monster and secret that she doesn't' remember. When the signs of this "monster" begin to surface, she is very conflicted. You can feel this in her demeanor throughout the book. She's unsure of what to believe, of what is real and what has been fed to her. When you first me her, it's almost as if she is programmed to respond as she does. And then you are enlightened as to why she seems so simple, so easily forgetful. I will admit that I was torn with liking and disliking Evie's character throughout the book, but I am sure that was the point.
Gavin was not as developed as I would have liked to see him be. He's sweet and extremely hard headed. He makes up his mind and nothing can change how he feels. He becomes fiercely attached to Evelyn and will do whatever it takes to protect her from the evils that lurk in the underwater world of Elysium. What I loved most about Gavin was that he was a simple character; he didn't have all these secrets he was hiding to make him so complex you needed a huge background to understand him. He was a surface dweller, period. Perhaps in future books we will see more of his life above the water.
Mother, well, she's a piece of work for sure. I totally and completely dislike her. She certainly has psychotic tendencies. She has to be in control and wants her world to be perfect. Anyone who goes against her rules will pay the consequences, which can be very harsh. She has trained her people to obey and believe she is doing everything for them. In fact, she is more worried about her ability to lead and have people follow than what is good for the people surrounding her. This includes the "Daughter of the People" who happens to be her daughter, Evelyn.
The Utopian world Souders paints is truly unique and a bit creepy. Who would think to take a group of people, put them below the sea and try to create a perfect society? Well, she did and it makes for an interesting and totally different read. I love the world she creates, with it's sectors, and the palace grounds with their view of the under water life. I love that she creates a world that is self-sustaining with no need for outside influence. And as the story unfolds, we see the kinks that come in such a system and watch as the perfect world slowly crumbles and falls to pieces right before our eyes. I did feel like I needed a bit more of a background on how the world was formed. Even after Evie finds out this hidden information, it is not enough to help me really understand why the world was necessary. I think the fact that Souders has created such a complex world actually lends to not totally understanding the world. There is so much to explain, but it is glossed over, when it really needs to be investigated. My biggest pet peeve is the use of technology. They obviously have it throughout their facility, yet it is only shown to be part of their lives here and there. Why would a perfect society not use such ideas when it would make them all the more superior?
The romance in this book is sweet and simple. I will say that the short time did give me a bit of the insta-love feel. I could not understand how Gavin was so quick to want to save Evie from what he felt would be her doom. But he did, nonetheless, and it was intriguing to watch. And to see Evie slowly understand that her "tingling" feelings was something she needed to come to terms with was also interesting.
My biggest pet peeve with this book is that the main characters always got away. They were always able to outsmart or fight the bad guy and not get caught. It was unrealistic to me and I felt like they needed to get caught so that they could learn a lesson, learn what they did wrong so they would not do it the next time. But this never happened.
As for Souders writing, it was good. I would not say it was spectacular. I found she used a lot of the same descriptions. Sometimes the repetitiveness of the character's inner monologue was a bit much. I did understand what she was trying to do: Evie needed to have these bouts of mind control issues to show us just what she was going through. But I did feel that at times it was a bit too much and could have been slimmed down. Her pacing was good. I didn't feel the need to stop because I was bored, but I also didn't feel like I wanted to stay up late into the night to finish it. And it was nice that the book had an ending. Can it go into a second, sure it can. But it doesn't need to.
Overall this was a fairly enjoyable read and I'm looking forward to seeing where Souders takes it from here.
J.A. Souders was born in the heartland with an overactive imagination and an over abundance of curiosity that was always getting her into trouble.
Because she never grew up, she decided she'd put her imaginary friends to work and started writing. She now lives in the land of sunshine and palm trees with her husband and their two children and is an active member of the RWA, SFWA, YARWA and SCBWI.
She is represented by Natalie Lakosil of the Bradford Literary Agency and her debut novel, RENEGADE, will be released Fall 2012.
**For REVELATIONS ARC requests please contact my publicist at aisha.cloud (at) Tor (dot) com. Thanks!