Because of what you are, the Believers will hunt you down.

A storm is brewing on the streets of LA, one that has intensified since a tragic and deadly confrontation claimed an innocent life.

While Gabriel Stewart trains his army of teen psychics to stop Alexander Reese--the obsessed leader of the Believers--the fanatical church becomes more bent on the annihilation of all Indigo and Crystal children. They're silencing the voices of the telepathic hive, one soul at a time, with frightening experiments cruelly executed on vulnerable minds.

When the Believers torture a mysterious homeless boy, Oliver Blue, they brainwash him into betraying his own. The boy becomes a deadly pawn to take Gabriel down. As the fires of chaos burn around him, Gabe is running out of time. He'll need to confront his past--and the man who made him--before the hope of peace for the future is silenced forever.
Crystal Fire
(The Hunted #2)

by
Jordan Dane

Release Date: 11/26/13
Harlequin Teen
Swoon-worthy Scene with Kendra Walker & Rafael Santana
Excerpt from Crystal Fire
In this scene, Kendra and Rafe are practicing a memory invasion tactic on each other, to hone their ability to attack the mercenaries of the Believers, the secret organization hunting them. They've isolated themselves in the high meadow behind the Stewart mansion, away from the others. After she broke through Rafe's barriers, Kendra got a glimpse of his dark past and things he'd never told her.
Kendra felt the suffocating heat of Rafe's intense grief all around her as she drifted through the shadows of his darkness. Feeling his pain only reminded her of what she had done—the secret that no one else knew. Rafael was far stronger than she had ever known. He didn't talk much about his past and neither did she, but maybe this was his way of letting her in.
She wandered through his mind for what felt like hours, but time had no meaning here. She had to find her way out. When she couldn't take any more, she stopped moving and shut her eyes tight.
She clenched her fists and felt her body stiffen as she pictured the Bristol Mountains—and Rafael waiting for her on the other side. When she broke off her connection to his hellish memories, the sudden shift from darkness to bright sunlight blinded her and a rush of sound punished her ears. She collapsed to the ground and felt the prickling sting of grasses against her skin.
"Oh God," she panted.
She squinted into the sun and held up her hand to shield her eyes. After she realized she'd come back, she stared at Rafael in stunned silence. He scrambled to his feet and rushed to her side to hold her hand.
"What did you see?" he asked. "Did you get in?"
Kendra still felt haunted by the darkness in Rafael. She took a deep breath and struggled to calm the pounding of her heart as she stared into his dark eyes.
"No." She shook her head. "You were too tough. Maybe next time."
She chose to lie, for his sake and for hers. How could she describe what she'd seen and felt without hurting him?
"Yeah, next time," he said.
After Rafael helped her up, he looked as if he wanted to ask her more, but he stopped. An abused and broken boy reflected in his eyes. Why had she never seen that before? Rafael had survived his father, endured his life on the streets and risen to a better place because of his love for Benny. Kendra hoped there was a heaven for him. He deserved it. He'd already done time in hell.
But did he have it in him to keep fighting?
"You wanna try it on me?" she asked.
She tried to sound up for it, but from the look on his face and the slump of his shoulders, she knew what he'd say.
"No." He shook his head. "I gotta…get out of here."
Rafael left her standing on that cliff, watching his back as he left.
Rafael
. She called out to him, telepathically, but he never answered her. What should have brought them closer—her seeing every secret he had and even how he loved her—only made her feel that they were further apart.
He needed to be loved by someone special and deserved someone whole, who could help him get over his busted life—not be a reminder of it. Even if he didn't blame her for what happened to Benny,
she
did. As she watched Rafael walk away, she realized she was as crippled as he was.
How could she help him…
or anyone
?
Photo courtesy of Croco Designs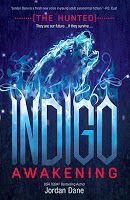 Bestselling, critically-acclaimed author Jordan Dane's gritty romantic thrillers are ripped from the headlines with vivid settings, intrigue, and dark humor. Publishers Weekly compared her intense novels to Lisa Jackson, Lisa Gardner, and Tami Hoag, naming her debut novel NO ONE HEARD HER SCREAM as Best Books of 2008. She also pens young-adult novels for Harlequin Teen. Formerly an energy sales manager, she now writes full time. Jordan and her husband share their Texas residence with two lucky rescue dogs.
Website
http://www.JordanDane.com
Twitter
http://www.twitter.com/JordanDane
Facebook
https://www.facebook.com/JordanDaneAuthor
Pinterest
http://pinterest.com/jordandane/
ADR3NALIN3
http://adr3nalin3.blogspot.com
Fringe Dweller
http://jordandanebooks.blogspot.com
a Rafflecopter giveaway