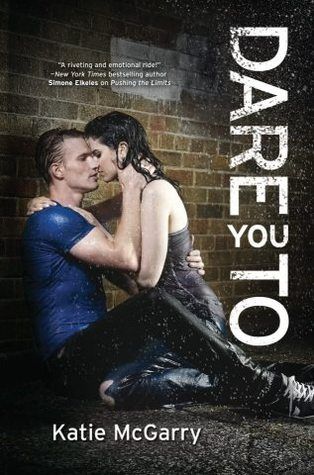 Ryan lowers his lips to my ear. "Dance with me, Beth."
"No." I whisper the reply. I hate him and I hate myself for wanting him to touch me again....
"I dare you..."
If anyone knew the truth about Beth Risk's home life, they'd send her mother to jail and seventeen-year-old Beth who knows where. So she protects her mom at all costs. Until the day her uncle swoops in and forces Beth to choose between her mom's freedom and her own happiness. That's how Beth finds herself living with an aunt who doesn't want her and going to a school that doesn't understand her. At all. Except for the one guy who shouldn't get her, but does....
Ryan Stone is the town golden boy, a popular baseball star jock-with secrets he can't tell anyone. Not even the friends he shares everything with, including the constant dares to do crazy things. The craziest? Asking out the Skater girl who couldn't be less interested in him.
But what begins as a dare becomes an intense attraction neither Ryan nor Beth expected. Suddenly, the boy with the flawless image risks his dreams-and his life-for the girl he loves, and the girl who won't let anyone get too close is daring herself to want it all…
Title: Dare You To (Pushing the Limits #2)
Author: Katie McGarry
Publication Date: May 28, 2013
Publisher: Harlequin Teen
The Cover Contessa's Review:
I want to thank Harlequin Teen for providing me with a copy of this book to read and review. Receiving this book for free has in no way influenced my opinion or review.
So I never thought I would get into a contemporary series, but this one has just sucked me right in. I started the first book thinking I would just kind of like it because all my friends had said how amazing it was. But my past experiences with contemporary reads has lead me down a bad road. Boy was I surprised to get pulled right into Echo and Noah's world and LIKE it! So, when the chance came to read book #2, and learn a bit more about Beth (who was a bit mysterious in the first book), I jumped at it. And it did not disappoint in the least. As a matter of fact, I loved this book even more than the first book!
Beth Risk, well, she's not your typical girl. She gruff and unpredictable. She has attitude that is built higher than the Empire State Building, and she is not letting anyone break through that wall. She has such a tough exterior you would never think there might be something softer underneath. Yet, when she gets yanked out of her home and taken to live with her long estranged Uncle, her life gets turned upside down, leaving her vulnerable and unsure of just who she is. As much as she wants to put on a front, we see her slowly break and slowly become the girl who hides beneath that hard exterior. Her growth and development in this book is unbelievable. From a girl who was dragged down by drugs and thugs, to someone who finds her self-worth and realizes that she is not only capable of giving love, but also of receiving it from the most unexpected places.
Enter Ryan Stone. Wow, this guy, he's just so unexpected. You meet him as the typical jock: tall, handsome, funny, lots of charisma. I never thought I would like him. As a matter of fact, I wasn't sure how McGarry was going to pull that off because I was pretty dead set against knowing him when I started reading. But below that oh so perfect exterior is a guy who wants to break out of the mold his father has placed him inside. He wants to be his own man, but doesn't know how to go about doing that without upsetting the applecart. So, when he meets Beth, it's quite a challenge for him to put aside how people want him to act and break into how he wants to act. He is fiercely loyal and will do anything and everything to protect her. On top of that, he's sweet and caring, and did I mention swoon worthy. And he has so much depth, which I wasn't expecting. He loves baseball, but he also loves writing, and he wants to keep his avenues open, despite being groomed to only do one thing all this life. Ryan took my heart and totally ran with it, twisted it up into knots and then set it free to fly. He made me want to go back to high-school and see what it was I might have missed from the jocks I never dared give a second glance!
And the secondary characters are great. Of course we see some of those we met in the first book: Echo, Noah and Isaiah. But we also meet a few who are fresh and give a life to this book that the first book didn't have; particularly Logan. This boy is a dare taker and I want to know more of him! And I kind of fell for Uncle Scott during this whole book as well. While he gets mad at Beth, you can see how much he cares for her, how much he wants for her to love him back and become his family again. He wants to protect her and keep her from having a life he knows will only kill her more quickly. He does go about it in very heart wrenching way at times, but it's only because he wants what is best for her.
The plot moves so fast in this book. I only put it down so I could do my job, care for my children and get just the tiniest bit of sleep! Otherwise, the book was in my hand as Beth and Ryan's story unfolded and enveloped my heart. There are intense action scenes where you're sure things are going to fall apart at the seams, scenes where is seems there is no way it could end good. And then there are romantic exchanges that have your heart spring and pumping out of your chest. Best of all, it's not insta-love. No, not at all. As a matter of fact, it takes almost the entire book for Beth to really realize that Ryan is serious about her and that he wants to be with her because of her, not because of some stupid dare he was asked to complete. Katie takes two teens who don't feel they are worthy of love and happiness and turns the tables so they can have the lives they deserve. The unfurling of their love and dreams is amazing.
McGarry's writing is clean and easy to read. She doesn't use any superfluous editions in her writing. She cuts straight to the point, eliminating a need for any kind of information dump (thank goodness). Everything she writes is wonderful from her spot on descriptions of baseball and the run down apartment of Beth's mother, to how she developed these totally believable characters. Everything is easily relatable and, truth be told, I can picture the towns, the people, and the story taking place in real life. McGarry has an uncanny way of making you become totally attached to her characters, like you are reading the diary of your best friends.
This book was a fantastic read. I loved it even more than the first one. I think anything McGarry touches will turn to gold and can't wait for whatever she has planned in the future!
KATIE MCGARRY was a teenager during the age of grunge and boy bands and remembers those years as the best and worst of her life. She is a lover of music, happy endings, and reality television, and is a secret University of Kentucky basketball fan.
Katie would love to hear from her readers. Contact her via her website, katielmcgarry.com, follow her on Twitter @KatieMcGarry, or become a fan on Facebook and Goodreads.