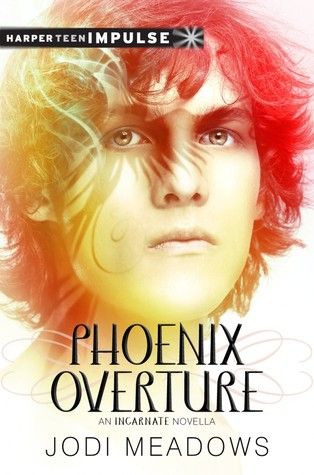 This breathtaking and lyrical novella captures a thrilling and momentous decision for a young man and the people he loves. Told from the perspective of Sam, the sensitive musician from Jodi Meadows's Incarnate series, lifetimes before he meets Ana, Phoenix Overture is a story of love and loss, strength and courage, and facing the consequences of the hardest of decisions.
Phoenix Overture offers existing fans a deeper insight into a favorite character and the intriguing history of Heart, while new readers will find a stunning introduction to this rich world and the romantic, captivating fantasy of the Incarnate series.
In the wilds around the Community where Sam and his family have taken shelter, life is dangerous. Dragons, trolls, centaurs, and other monsters fill the world. The word comes from the council that everyone must leave and journey to rescue their leader, Janan, who has been abducted by a mysterious new enemy in the north. Faced with overwhelming threats that bring death and destruction, Sam and the others reach the northern Range and, reunited with Janan, are given an unimaginable opportunity. Although it would give them the privilege to live and learn and love without fear, the choice is not without its own dire consequences. And lives—though not theirs—are sure to be lost. Just how much are they willing to give up to save themselves?
HarperTeen Impulse is a digital imprint focused on young adult short stories and novellas, with new releases the first Tuesday of each month.
Title: Phoenix Overture (Newsoul #2.5)
Publication Date: September 3, 2013
Publisher: Harper Impulse
The Cover Contessa's Review:
So, when I found out that Jodi would be writing a novella to go along with this series, I squeed. When I saw it was from Dossam's POV, I jumped around for joy! I just love Sam. I didn't even care what it was about so long as I could see things from his POV.
And this was not disappointing in the least. I think the most interesting thing about this novella is it's from Sam's POV as a young boy of 15. I was not expecting that in the least. The novella read a bit like a middle grade read because he was younger in this story, but it was not at all boring. I loved Sam's voice.
The story shows us his relationship with his mother, father and brother and how it affected him. How he was always a bit of an outcast because of his love of music. And the story demonstrates how the music shaped him and was always part of his life from the very beginning, even before we were introduced to him.
It's a story of courage and remorse. A story of looking inside and finding out who you are and using that to make yourself happy, and to make the people around you understand who you are. It's sad and heart wrenching at times, giving us a key look into Sam's quiet and reserved nature (born of mistrust and fear).
The book also introduces us to Stef as his young friend. It's interesting to see how they met and how their friendship was borne and solidified.
It's so hard to review a novella because you don't want to spoil anything for the reader who has not read the books as of yet. I will say that this novella could certainly be read prior to starting the series, as it might give more insight into who Dossan truly is. It also introduces us to the world of Heart at it's beginnings. Any way you choose to read it, you won't be disappointed in Meadow's writing and prose.
This just made me that much more excited for Infinite!
Jodi Meadows lives and writes in the Shenandoah Valley, Virginia, with her husband, a Kippy*, and an alarming number of ferrets. She is a confessed book addict, and has wanted to be a writer ever since she decided against becoming an astronaut.
*A Kippy is a cat.
The unofficial stuff:
Like many writers, I've always wanted to do this professionally. You know, after I decided against being an astronaut.
Unlike many writers, I didn't skip straight from picture books to adult novels. I have fond memories of going to Bookstop every month for the latest Baby-Sitters Club (which I kept reading, even after I realized they were never going to let the paranormal elements be real), and even fonder memories of hanging out in my middle school library. The librarians probably knew exactly what they were doing when they suggested book after book and discussed them with me at length. I, of course, had no clue they were turning me into a book addict, but it worked out for the best. Once I found the books where magic and other fantastic elements were real, I was hooked.
When I was twenty, I met a boy, moved 1,500 miles, and married him all within six months. I now realize that was crazy and dangerous, but it seemed natural at the time and, again, worked out for the best. Not only did we stay madly in love, he worked full time at a hard job so I could stay home to write books and, hopefully, one day get published.
The other crazy thing we did was fall in love with ferrets. They have their own bedroom.
My hobbies, aside from spending all my money on books and Kippy/ferret treats, revolve around yarn. I love crocheting, knitting, and spinning. In addition to several handspindles, I share my living room with a spinning wheel named Bob.