Today I am super excited to promote this most awesome book by the amazing Emily Fallon!


More information about The Bear Who Saw Everything :
In this roughly 2,500 word short story written by a 13-year-old, you meet Henry, a teddy bear, and the narrator of this story. By some fluke, he's alive, he can think and feel. He's presented to Bellatrix, a teenaged girl who goes by the nickname Bell and is currently undergoing chemotherapy. Throughout this story, you get to meet Bell, and find out her story through Henry's eyes.
A large portion of the proceeds from this short story will be donated to This Star Won't Go Out, a cancer foundation dedicated to providing financial aid to families of children undergoing cancer treatment. More information about them can be found here :
http://tswgo.org/index.html
.
You can find this story here :
http://www.amazon.com/dp/B00F9H1G2U
.
I'm excited to welcome Emily today for an interview! So let's hear what she has to say!
Before I answer these questions, let me thank the person who runs The Cover Contessa, Brooke. She's really awesome & kind – as anyone who runs this amazing site must be - and I owe her a lot of thanks.
1. Did you always know you wanted to be a writer or did you want to be something else?
I've always wanted to be an author. I believe there was a brief time when I was about four when I wanted to be an author and a princess - I had high aspirations - but author has always been my dream career.
2. How long does it take you to write a book from start to finish?
This short story only took about an hour and a half, since it's only 2,500 words(although I spent a while editing).
3. How many books have you written so far? Do you have a favorite?
I've wrote lots, but I've only published one, which is The Bear Who Saw Everything. It is definitely one of my favorites, and will always have a special place in my heart.
Typically in my room, at hours when I should be sleeping. I have a dash of insomnia, so I often end up writing for a long time at night.
5. When deciding on how to publish, what directed you to the route you took?
My book is only 2,500 words, so it of course couldn't be print published, and I'd read a lot about indie publishing, so I thought I'd give this a shot – and I really, really like the indie publishing route!
6. Have you gotten feedback from family about your book? What do they think?
I don't like family reading my writing, so I originally was against it, but my parents had to be involved in the whole publishing thing, since I'm a minor, so they knew about it and they really wanted to read it, and finally I let them - as long as they didn't read it anywhere near me! They both loved it.
7. What kinds of things do you like to do outside of writing?
I'm a big reader, I love reading, and do that a lot when I'm not writing. I also have five hermit crabs, and take care of them.
8. What is your favorite book? Favorite author? Do you have an author that inspired/inspires you to write?
John Green and Cassandra Clare are a couple of my favorite authors. I will always admire Dr. Suess though, as his were some of the first books I read and made me want to write.
9. Do you have any go to people when writing a book that help you with your story lines as well as editing, beta reading and such?
Yes, definitely. I had the most awesome beta of all time for The Bear Who Saw Everything, I even thank him in the acknowledgements for all his help. Having another set of eyes on it who viewed it with brutal honesty really helped.
10. Are you working on anything now?
Yes. I'm editing a couple of stories, and writing a few more. I'm also trying Nanowrimo, which is where you try to write the first draft of a 50,000 word novel during just the month of November, so we'll see how that pans out!
Emily, it was SO great having you here today! Good luck with your book and best of luck in the future as an author!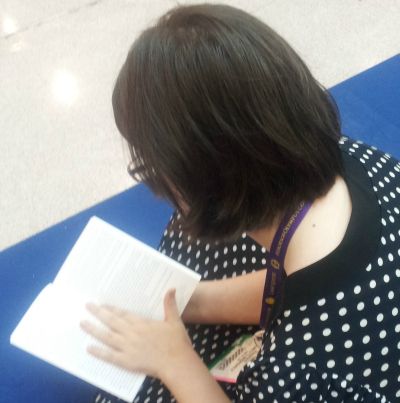 Emily Fallon is 13 and lives in Ohio with her family and five hermit crabs. She recently published her first short story, which is now available for Kindles everywhere, and can be found via this link :
http://www.amazon.com/dp/B00F9H1G2U
. She also spends far too much time on twitter, if you want to you can tweet her @EmilyWritesALot.