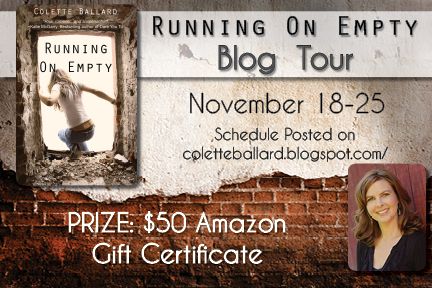 Welcome to the Running on Empty Blog Tour!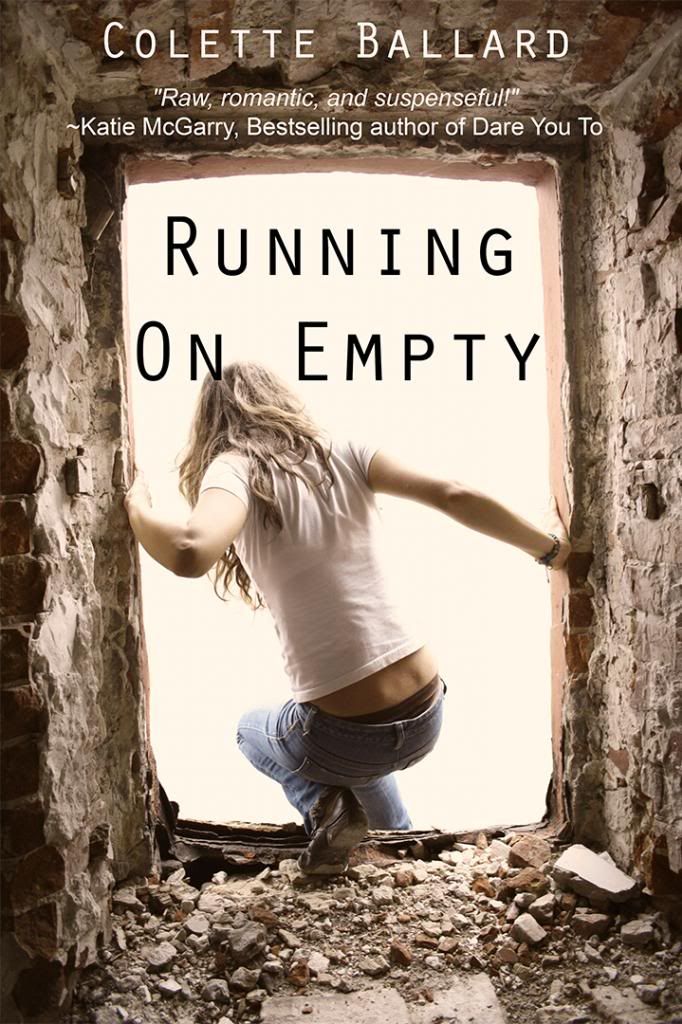 What does it feel like when you die—in those final moments? Do you feel the physical pain, or just the pain of your regrets? What does it feel like when you realize you can't answer these questions because you're not the victim?
You're the killer.
River Daniels lives an ordinary life as a high school junior growing up in the confines of rural Texas until her boyfriend's brutal attack leaves her both a murderer and a fugitive. When River's closest girlfriends come to her aid, they make a hasty decision to not only help her, but leave their own troubled lives behind and join in her escape. The girls manage to elude police for months, but with every near-miss, River's life spirals further out of control, until she finally hits rock bottom. Realizing she must stop endangering her friends and find evidence proving she acted in self-defense, the girls decide to make a risky move. River must face her ugly past and the one person she was protecting the night her world caved in, the guy she has loved for as long as she can remember.
Blurb
: "Raw, romantic, and suspenseful!" -- Katie McGarry, Bestselling author of Dare You To
Today, the author, Colette Ballard has dropped by for a guest post. She's going to tell us what she's thankful for this season!
Take it away, Colette!


What I'm honestly thankful for this season…
What I'm honestly thankful for this particular season besides the "typical" things like food, shelter, health, family, friends—and believe me, I am sincerely grateful for all of those things—but since this is a book blog I'm going to skip over all the acknowledgments and just say it…
I am freaking thankful that this book I've thought about, slaved over, cried over, obsessed about for years of my life is about to be released out into the wild!!!!
Deep breaths…in a brown paper bag…
That said, I am prepared for the fact that my book won't be an easy one for some to accept because it contains some tough real-life issues that many teens face. There is definitely some darkness, a messed up relationship, some language, drinking, drugs, and a particularly steamy make-out scene…
But for all of those things, my hope is that someone, somewhere will relate to this story. Maybe they'll see themselves in a dysfunctional relationship, maybe they'll know someone who has been through a similar situation, maybe they'll just enjoy escaping their world and experiencing a new one. The content isn't all heavy, there are plenty of light moments, some humor, and there's also a love story—maybe not the rainbows and unicorns kind, but the kind that makes you believe that even through tragedy, there is hope.
And for me, if just one person sees a glimmer of optimism they didn't see before, it would make every ounce of energy I've poured into this book worth it. So besides all the "typical" things I'm thankful for this season, and in addition to my debut release, I would be most thankful for that.
Oh, and while I'm being honest, I'd be pretty thankful if I sell a few books.
Thanks so much for stopping by today, Colette!
Colette grew up on a dairy farm in rural Kentucky. She survived the high school experience back in the day when Aqua Net was bought in bulk and mullets were cool. That's also when she realized that her constant daydreaming wasn't a curse, but a useful skill—one she used like a lethal weapon to combat her frustration over the haunting question: What does the alphabet have to do with math anyway? Unfortunately, her ninja daydreaming skills only increased her desire to write—not her algebra grade.
After surviving the hairstyles and torturous math classes of her high school years, she wandered a bit—even moving to the farthest northwestern corner of the United States, then to the farthest southeastern corner. She finally settled in the one red-light town she started in, where she continues to live today with her husband and three children.