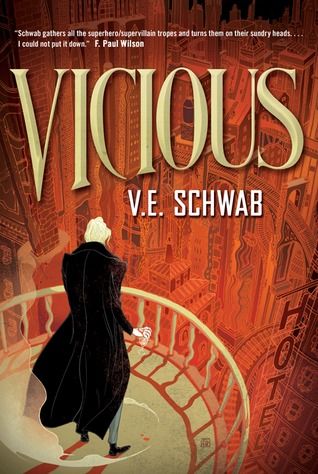 Blurb from Goodreads:
A masterful, twisted tale of ambition, jealousy, betrayal, and
superpowers, set in a near-future world.
Victor and Eli started out as college roommates—brilliant, arrogant, lonely boys who recognized the same sharpness and ambition in each other. In their senior year, a shared research interest in adrenaline, near-death experiences, and seemingly supernatural events reveals an intriguing possibility: that under the right conditions, someone could develop extraordinary abilities. But when their thesis moves from the academic to the experimental, things go horribly wrong.
Ten years later, Victor breaks out of prison, determined to catch up to his old friend (now foe), aided by a young girl whose reserved nature obscures a stunning ability. Meanwhile, Eli is on a mission to eradicate every other super-powered person that he can find—aside from his sidekick, an enigmatic woman with an unbreakable will.
Armed with terrible power on both sides, driven by the memory of betrayal and loss, the archnemeses have set a course for revenge—but who will be left alive at the end?
The Cover Contessa's Review:
I would like to thank Net Galley and Tor for providing me with a sneak peek sample of Vicious (just the first 100 pages). Receiving this preview for free has in no way influenced my thoughts or review.
I have to say that I tried to get a copy of this lovely when I was at BEA but they ran out! It just goes to show how awesome Victoria's writing is and how much people want to read what she has to put on a page! I promptly came home and pre-ordered it!
I have to comment on the cover of this book. I'm usually not a comic book cover type girl, but this one I love. I don't think I fully understand it's meaning yet (perhaps because I've only been able to read the first 100 pages of the book), but I'm sure it will become more clear to me once I get the entire book in my hands! I do see how this might relate to the present part of the book, but I'm still not sure so I must read more to find out!
Let me just say that Victoria is an amazing writer. I had the pleasure of reading an ARC of The Archived and fell in love immediately with her writing. I can see how Schwab's writing for this book is for a more mature audience. It jumps right off the page into your head and pulls you along so flawlessly. I did not want to put Vicious down; I was immersed in it's plot and wrapped up in the characters. I jumped in as soon as I got approved and finished in just a few hours (kids and life did get in the way a bit or else I'm sure I would have been done in a shorter amount of time). Schwab has an extraordinary ability to intrigue her readers. At no point does her writing lag and to be honest I could not find a good place to put the sample down to do other things when I needed to. That is the sign of a great writer.
As for the story line, well, there's nothing sparkly and flowery about it. It's a dark tale for sure with such an ominous overtone it's a bit scary. There are bad guys and evil and yet you want to read their story and see where it all connects. Told from the past and present tense in alternating chapters, the story of Victor and Eli slowly unfolds. Since I have not read the entire book, I cannot tell you where the past and present intersect, but I am totally intrigued and really need to find out, SOON! I could not help but think of the 1980's movie Flatliners as I read this. The similarities were certainly there, although the methods were a bit different than the movie. But I really pictured it in my mind as I read it.
Now the book seems to be labeled in some places as YA, but it is in no way a YA book. I would say more NA or adult in style and genre for sure. And I am not much of a NA or adult reader, but this one, well, it just pulls you right in and makes you want to read it. Yup, that good! And I wasn't sure I would like it, because of its blurb's similarity to a comic book, which I'm really not into. I expected it to be more choppy but it wasn't. It flowed so well and really told a story.
As for the characters, I am very fascinated by them.
When we first meet Victor, he seems rather sinister. He has an almost animalistic quality to him. I wasn't sure if he was supernatural or human at first. And yet, as the story moves along we see that he has a compassionate side to him despite the fact that he feels he's been slighted. He's lost 10 years of his life to prison, although we are not told why and after reading the preview I still don't know (which just makes me want to finish the story so I can know why!). And Victor has a jealous streak that slowly seeps into the story, causing a bit of rift between him and his best friend, Eli.
Eli, on the other hand, seems to be rather taken with himself. He's confident and sure to the point that he is totally cocky. It's almost as if he feels he deserves everything in life without working for it. And he gets away with the cockiness, even where his professors are concerned. This made me not really like him. I felt like he only cared for himself and cared nothing for Victor. To the point where I felt badly for Victor. Victor certainly senses this, yet they still become good friends. They share a high intelligence and a common interest in science and the "otherworldly" or what they call ExtraOrdinaries (or EOs).
This preview is a huge tease for the rest of the book. Schwab is slowly letting you in on the story, building and building. You feel a sense of doom, of something coming to a head, you're waiting for the ball to drop at any minute! And the preview ends on a cliffhanger! I shouted "WHAT?!" when I got to the last page! Schwab builds a totally believable world with relatable and realistic characters. I'm going to try my hardest to get a copy of this so I can finish it. I don't think I can wait until September to find out what happens.
5 out of 5 stars for this preview!
Victoria is the product of a British mother, a Beverly Hills father, and a southern upbringing. Because of this, she has been known to say "tom-ah-toes," "like," and "y'all."
She also tells stories.
She loves fairy tales, and folklore, and stories that make her wonder if the world is really as it seems.